2. Test System - Configuration
In order to test the new XP2-6400 dual channel kit of 2x512MB2x1GB modules, we used our ASUS motherboard, the P5WD2-E Premium, based on the Intel 975X chipset, and the Intel Pentium 4 Extreme Edition 3.73GHz processor. Below are some screen shots from CPU-Z v1.33.1.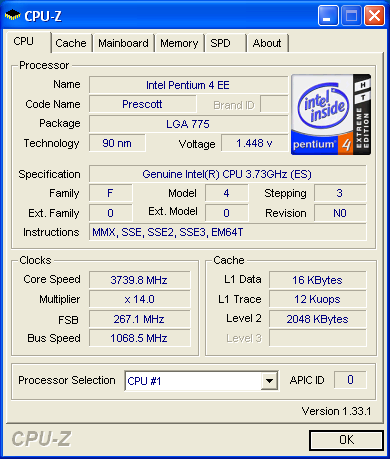 The memory, according to Mushkin, is capable of running at 800MHz with CL 4-4-3-10 timings. The first measurements were taken with the modules set according to SPD.
- SPD
Serial Presence Detect (SPD) is information that describes the memory module's size, data width, speed, and voltage, and is stored on the memory module itself. When your computer boots up, the BIOS uses this information to configure the installed memory at maximum reliability and performance. This is also convenient for ordinary, everyday users, who may not want to be bothered with or don't know how to set the memory timings. If the timings are not set correctly, the computer may not start up at all or can cause exception errors in the operating system.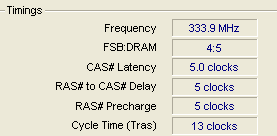 - 800MHz CL 4-4-3-10
We also set the memory to its certified speed and timings, according to Mushkin, which is 800MHz and CL 4-4-3-10.
- 930MHz CL 4-4-3-10
Finally, we tried to reach the limit for this memory, without changing the timings. By overclocking the CPU, we could set the memory to 930MHz!
The memory can also run at 1000MHz or even at 1050MHz, with looser timings, of course. As we can see, the modules can definitely fullfil the needs of just about every type of user.
Here's a rundown of our testbed:
System Specifications

CPU: Intel Pentium 4 ED 3.73GHz
Cooler: Thermaltake Blue Orb II
Case: none
Motherboard: Asus P5WD2-E PREMIUM
Power supply: Thermaltake PurePower 520W
Memory: Mushkin XP2-6400 2x512MB Dual Channel
VGA: ASUS EAX1600XT Silent
Hard Disk Drive: WD800JD 80GB 7200RPM
OS: Windows XP Pro SP2
Drivers: Catalyst 6.4
DirectX: v9.0c
Benchmarks & Applications used
Memtest86+-1.65
Sisoft Sandra 2005
PcMark05
Performance Test V5.0 ( PassMark)
Half Life 2 - VST
CPU-Z v1.33.1