MSI NX8600GTS-T2D256E-HD-OC
7. Overclocking, final thoughts
Passing to DX10 and VISTA (32bit), things were somewhat difficult for most of 8600GTS based cards. We tried to max out every detail that each game/benchmark offered and get an idea of the worst case scenario.
Company Of Heroes offers D3D10 shader support and the game is really stunning. At this benchmark, MSI 8600GTS OC performed higher than both Gigabyte 8600GTS Passive and Asus EN8600GTS Top.
Call Of Juarez is one of the first titles with full DX10 support. The Benchmark gives rather low frame rates for all tested cards.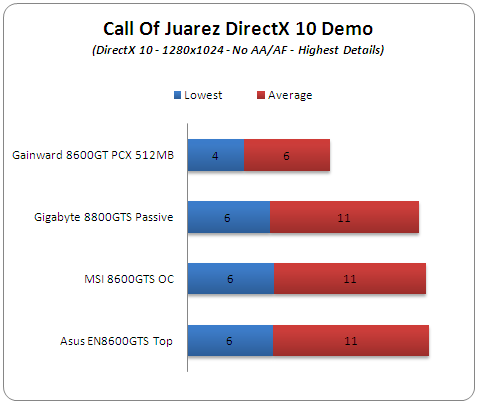 Under VISTA and DX10, users can enable Very High details for Crysis. That implies a massive performance hit, since most cards performed 50% less compared to what we got under the DX9 benchmarks with all details set to HIGH.
Lastly, Lost Planet is also affected when all details are maxed out. We don't suggest enabling both HDR & High details since the result is rather unplayable with an 8600GTS card series.