MSI NX8600GTS-T2D256E-HD-OC
6. Benchmarks - DX10
Now its time to see how the graphics card performs under various games.
The Crysis demo showed that 8600GTS series need to lower the visual details or the resolution in order to get a decent frame rate. Despite the low frame rates, the game was playable at 1280x1024 with all details set to HIGH. The MSI 8600GTS OC card scores an average of 13.66FPS rendering speed, while the Asus EN8600GTS Top was faster with 14.34FPS.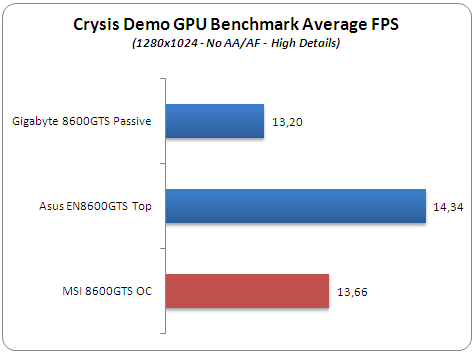 Passing to Half Life 2 Episode 2, the difference between the Asus EN8600GTS Top and the MSI 8600GTS OC was very small, down to a single FPS.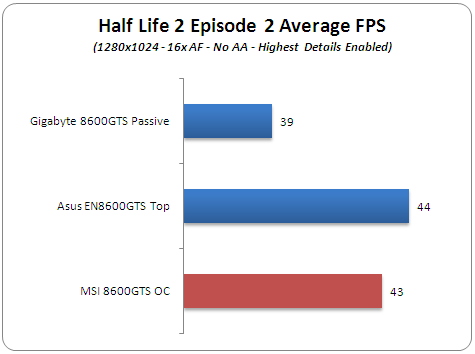 All tested 8600GTS graphics cards, had exactly the same performance in Lost Planet...
Lastly, in Unreal Tournament 3 the MSI 8600GTS OC performed very good with an average of 60FPS, with all details maxed out.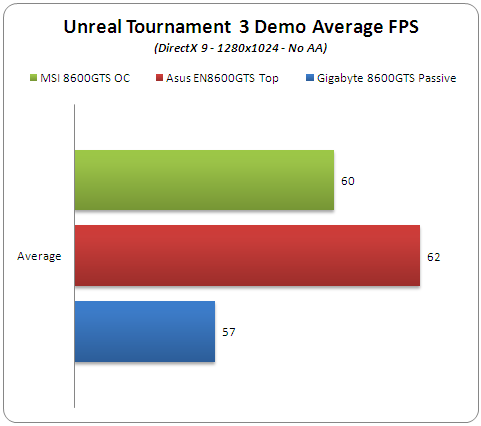 Below we can find in details, the average performance for each graphic card under the various sub-benchmark.