15. Bundled Software
MSI has loaded this mainboard with a lot of features, and CoreCenter is used to control some of them from within the Windows OS. According to MSI: CoreCenter merges MSI features FuzzyLogic and PC Alert. It provides user more advanced overclocking options by extending the Voltage selection, increasing the frequency adjustable range CPU/AGP/DDR/PCI. It monitors every temperature inside the system, control it according to system current loading and need.
CoreCenter is mainly used for overclocking and changing BIOS settings, but it also provides a lot of information that can be useful, since it actually monitors all the information from on-board sensors.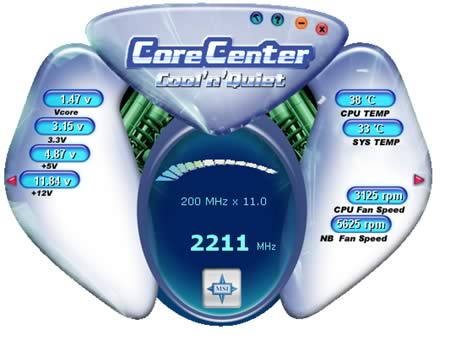 The software's main display pretty straight forward. You can see the temperature, voltage, operating frequency and fan rotation speed. The small red arrows are used to expand an option for more advanced features.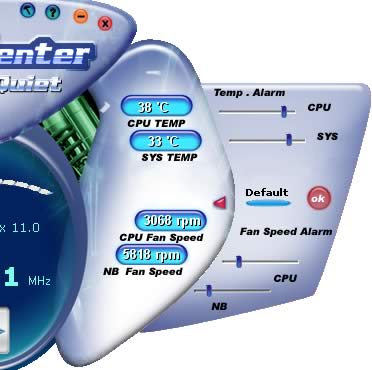 As you can see, you can easily change temperature and fan speed alarms. This is handy if you want to fool around with your mainboard but want to be sure that you won't put your CPU in any danger.
The red arrow on the left will reveal information about voltage, PCI-E frequency and FSB frequency.
You can also change the Cool'n'Quiet setting.
You will also find MSI DigiCell on the installation CD. DigiCell can launch almost any application that MSI offers and can be used for updating the board, overclocking it, changing audio and power settings, and much more.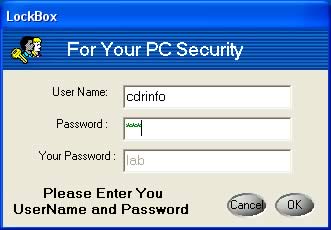 There are two utilities that can be used to store and manage passwords....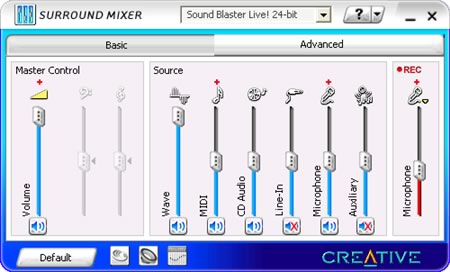 ... and of course, last but not least, the amazing sound console from Creative.