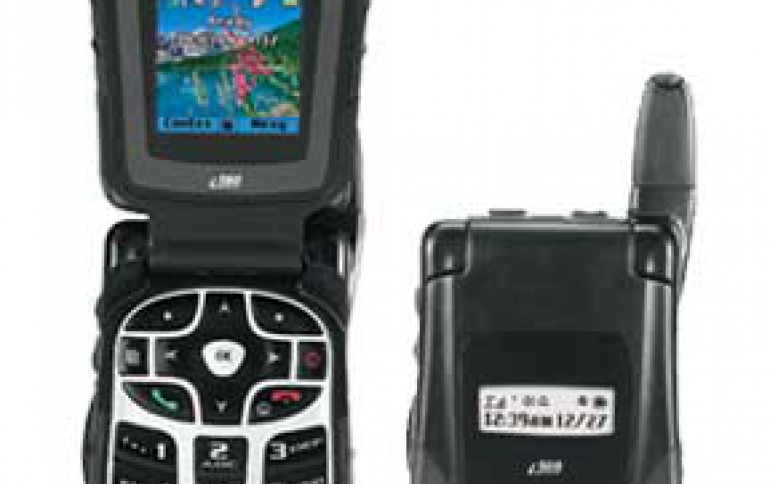 Motorola i560 Rugged Nextel Phone Announced
The Motorola i560 Flip-Style Handset Offers Advanced Walkie-talkie Services, Java Capability, an External Display and Multimedia Messaging Service Motorola Inc. (NYSE:MOT) and Nextel Communications Inc. (NASDAQ:NXTL) today announced the Motorola i560, a rugged flip-style mobile phone that delivers multiple ways to communicate and to increase productivity.

The Motorola i560 is designed for anyone who exposes a handset to extreme conditions, from construction and public safety workers to rock climbers and cyclists. The Motorola i560 is certified to meet military standards for dust, shock, vibration, temperature extremes, low pressure and solar radiation. Its external display allows information such as incoming calls, time and date to be quickly viewed without the need to open the phone.

The Motorola i560 provides Nextel's unmatched walkie-talkie capabilities, including Nextel's coast-to-coast Nationwide Direct Connect? and country-to-country International Direct Connect(SM) services. The Motorola i560 also offers the Group Connect(SM)(1) service, enabling group walkie-talkie conversations with up to 20 participants nationwide, and the Direct Talk(SM) service, allowing short-range walkie-talkie communications in areas without network coverage (depending on specific conditions such as terrain)(1).

The Motorola i560 fully supports Java?, allowing users to run many applications that range from business tools to games. It is also equipped with Nextel Multimedia Messaging(2) service, enabling messages to include text, images and audio altogether.

"The Motorola i560 includes features that Nextel customers asked for in a flip-style rugged handset, including our Group Connect and Direct Talk walkie-talkie services, Java capability and an external display," said Blair Kutrow, vice president, Voice Services and Subscriber Devices, Nextel.

"This rugged Motorola handset is tough on the inside and outside. It can tackle hard jobs with advanced communication features and Java productivity applications, and it can stand up against external elements such as dust, shock and extreme temperatures," said Rey More', senior vice president and general manager, Motorola's iDEN? Mobile Devices.

Some of the many other features of the Motorola i560 include an internal color display, speakerphone, voice recorder, voice-activated dialing, GPS capabilities(2) and an Internet microbrowser(2). The airplane mode allows the network signal to be turned off during flight while certain applications such as the date book can still be accessed.

The Motorola i560 is available through all Nextel distribution channels, including retail stores, at a price of $149.99, with a two-year service agreement, new activation and credit approval. Taxes, fees, early termination fee, phone setup fee and other charges apply.