Mitsubishi Electric and NTT DOCOMO Achieve First 27Gbps Throughput in 5G Outdoor Trials
Mitsubishi Electric Corp. and NTT DOCOMO, INC.have achieved a 5G mobile telecommunications proof of concept for 27Gbps and 25Gbps maximum throughputs via one mobile terminal over communication distances of 10m and 100m, respectively, using the 28GHz radio frequency.
The demonstration was conducted during joint outdoor field trials using 28GHz-band massive-element antenna systems and 16-beam spatial-multiplexing technology with 500MHz bandwidth. The trial took place in Kamakura, Kanagawa Prefecture Japan from September 10 to 28, 2018.
For outdoor trials using the 28GHz band, Mitsubishi Electric used an antenna system with 16-beam spatial-multiplexing technology. Base-station antennas installed on the wall of a building directed beams to mobile-terminal antennas installed on the rooftop of a vehicle.
The massive-antenna of the base station was a 256-element phased array antenna x 16 (4096 elements), supporting 16 data streams. The mobile-terminal antenna was a patch antenna x 8 x 2 polarization.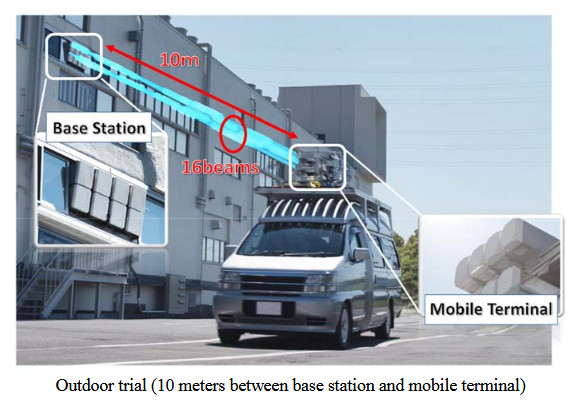 The trial was the first successful wireless downlink transmission at maximum data rates of 27Gbps and 25Gbps for per one mobile terminal when the communication distance was 10m and 100m, respectively.
Conventional 4G spatial multiplexing technology has limited multiplexing order, so Mitsubishi Electric and DOCOMO developed beamforming technology in an analog domain and inter-beam interference reduction technology to suitably separate overlapping beams with digital signal processing at the base station. The result is 16-beam spatial multiplexing, which has been unachievable with 4G.
The developed beamforming technology enables beams to track a mobile terminal by switching the preset beam. The inter-beam interference reduction technology
estimates the channel at the base station and controls the transmitting signal to adaptively reduce inter-beam interference as channel conditions over time. Together, the two technologies enable 16-beam spatial multiplexing in outdoor mobile environments.
The test achieved the goal of the Japanese government's research and development project to help realize 5G mobile communications based on high data-rate and low-power-consumption radio-access technologies and using an ultra-high-frequency band and extra-wide-bandwidth massive MIMO. The developed technologies are expected to enable wireless communications at ultra-high data rates of more than 20Gbps to moving vehicles with numerous passengers, such as buses.
The companies also plan to start indoor trials using 28GHz band in multipath-rich environments during fiscal year ending March 31, 2019.