Microsoft Takes On Chromebooks With Education Windows 10 Devices starting at $189
This week at Microsoft will show new Windows 10 and Windows 10 S devices from Lenovo and JP, starting at just $189, providing more options for schools and alternatives to Chromebooks.
Microsoft's new Windows 10 devices are giving schools tools like touch, inking, and 3D as well as free accessibility technology like Learning Tools, which improve reading comprehension by 10 percentile points for students of all abilities. The company will showing new 2-in-1s under $300 and notebooks under $200. The new devices include:
The Lenovo 100e, a new Intel Celeron Apollo Lake powered PC, starting at $189 USD.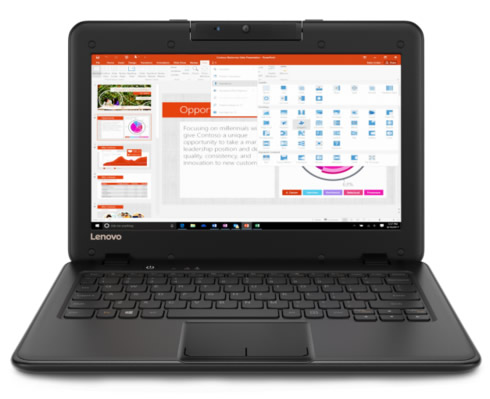 The Lenovo 300e, a 2-in-1 convertible PC with pen support, starting at $279 USD.
The Classmate Leap T303 laptop with Windows Hello, starting at $199 USD.
The Trigono V401 2-in-1 with pen and touch, starting at $299 USD.
These new devices join the already available HP ProBook x360 11 EE 2-in-1 ($299 ) device, and the recently released HP Stream 11 Pro G4 EE PC starting at $225 USD. They are all spill resistant and ruggedized, have long battery life and have faster connectivity.
With Intune for Education, it's easy to set up and manage Windows devices. With Microsoft 365 Education schools can get Microsoft's complete software solution with free Office 365 Education and starting next month, with purchase of certain Microsoft 365 Education licenses, they can also get free Professional Development.
Microsoft will also add new capabilities to the free Office 365 for Education software, enabling any student to write a paper using only their voice and making it easier to access Teams via mobile devices. And the company is also making STEM learning fun with a new Chemistry update to Minecraft: Education Edition and new mixed reality and video curricula from Microsoft's partners like BBC Worldwide Learning, LEGO Education, PBS, NASA, and Pearson.