Microsoft Ignite: The New Edge, Office Tools, Bing, Azure Synapse system and More
Microsoft announced new capabilities to Office, search, and Edge at its Ignite conference Monday, including rollout plans for its Chromium-based Edge browser, a tool to read your email aloud in the Outlook app, corporate insights driven by Microsoft Search, and more.
Edge browser and Bing for businesses
Microsoft is focusing on people in businesses and introduced the new Microsoft Edge and Microsoft Bing.
The company announced that the release candidate of the new Microsoft Edge for Windows and macOS can be downloaded right now with general availability targeting Jan. 15 in more than 90 languages. Microsoft Edge runs on the same Chromium web engine as Google's Chrome browser.
New experiences to Microsoft Search in Bing are coming to save you time searching for information inside your company's intranet. Type in the address bar to search for people, using natural language, such as by their title, team name and office location. You can also search for office location, with answers that show floor plans for directions. You can get definitions for company acronyms and use a broad set of question and answers to find internal company information.
Like Bing, you'll be able to use semantic search for natural-language queries. Under the hood, Microsoft's calling this new Microsoft 365 service, which pulls information from unstructured content like legal contracts and employee agreements, "Project Cortex". It will automatically add metadata and classify topics into objects, allowing them to be more easily shared. All of these new "Project Cortex" capabilities are available in private preview for now.
Along with Accenture, BA Insight and Raytion – Microsoft is starting the Microsoft Graph connectors preview program today. This expands the reach of Microsoft Search for Microsoft 365 customers, with the addition of over 100 connectors including Salesforce.com, ServiceNow, Box and more, that will become available in H1 2020.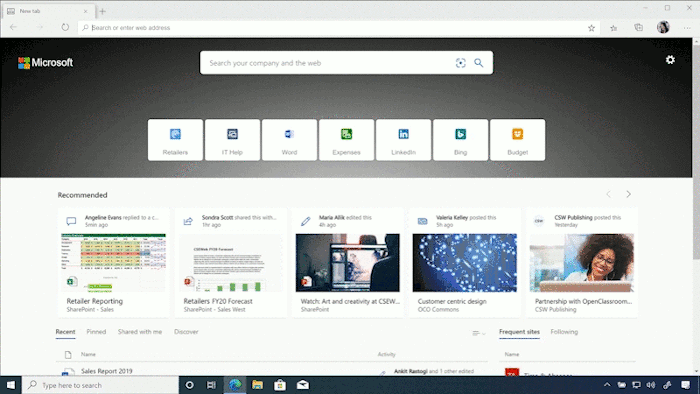 Microsoft also announced a new ability to access Microsoft Search in Bing on your mobile phone. Knowledge workers will have the ability to search for company information on the go.
Microsoft Edge starts with tracking prevention on by default, so you don't have to take any actions to immediately start having a more private browsing experience. With SmartScreen and Tracking prevention, Microsoft helps protect you from phishing schemes, malicious software and new types of malware like cryptojacking. Microsoft Edge and Bing also now offer new InPrivate mode across your entire web experience so your online searches and browsing are not attributed to you.
New features such as Collections can be enabled as part of the Microsoft Edge preview builds, that let you easily collect web content, organize your research and export that content into Word and Excel so that you can use the power of those applications to analyze information and collaborate.
For IT Professionals, Microsoft also announced three new capabilities:
The expansion of the Microsoft FastTrack deployment program to deploy the new Microsoft Edge in Q1 2020.
The expansion of the App Assure program to cover Microsoft Edge in Q1 2020. If your site works in Internet Explorer 11, Google Chrome, or the current version of Microsoft Edge, then it just works in the new version of Microsoft Edge. And if it doesn't work, Microsoft will help you fix it at no additional cost.
A new security baseline for the new Microsoft Edge. Security baselines are pre-configured groups of security settings and default values that are recommended by the relevant security teams. Microsoft Edge has its first security baseline now in preview, making it easy for IT professionals to have a recommended starting point for security and compliance policies.
Natural language queries for Excel: A search bar at the top will work in a Bing-like, conversational manner—you should be able to ask natural-language queries and receive useful information in return. It's rolling out to Office Insiders at the moment.

Office Scripts become smarter: You can record a macro of your actions in a notebook and then apply them to others. Scripts can be stored in OneDrive, shared, and combined with up to 300 connections and actions, Microsoft says. It will be in public preview for the web by the end of the year.

A new Office app for iOS, Android: There's a new Office app that is designed to serve as the focal point for mobile document creation and editing, much as the mobile Outlook app houses both email and its calendaring application.
Users will also be able to do a variety of common on-the-go tasks, such as converting images to text, creating and signing PDFs, and sharing files between devices. The new mobile Office app will enter public preview for iOS and Android on November 4.
Outlook's new features: Play My Emails, Meeting Insights, a new meetings scheduler, Cortana's daily briefing, and even improved Message Recall. What's significant is that many of those new features are coming to the Outlook mobile app, too. In addition, a smarter, context-aware Cortana appears to be constrained to Outlook, however, specifically Outlook for iOS, and goes live for iOS on November 4.

Microsoft describes "Play My Emails" as a "voice-forward feature that intelligently reads out your email and shares changes to your day— ideal for commuting or multitasking—helping you get time back so you can focus on other things." You'll be able to reply to emails with simple voice commands and easily navigate messages with new, larger tap targets optimized for mobile use, Microsoft said. Play My Emails also allows you to adjust Cortana with a new voice option that uses neural voice technology to sound more natural.
Play My Emails is the first Cortana-related capability aimed at workers and under the umbrella of Office 365, where Cortana has met specific requirements set out in the Office 365 section of the Microsoft Trust Center and Online Services Terms.
Play My Emails is rolling out in Outlook for iOS starting today, with Android planned for spring 2020. Initially, Play My Emails will be available to Microsoft's customers in the U. S.
Microsoft is also cracking down on what mobile data can be accessed via a corporate and personal email account. Even Outlook lock screen notifications will be encrypted until unlocked, Microsoft says.
On the desktop, Outlook is also adding support for Meeting Insights, a feature called "Up Next," and inferred locations, all of which are designed to help manage your day. If you add a personal calendar, users will be able to see what time you've blocked out for a dentist appointment, for example, and not schedule over it. They'll all be available by the end of the year.
Cortana, now less a digital companion than an office assistant, now can automatically book your meetings with Scheduler, yet another tool for tracking down open times on shared calendars.
Finally, Microsoft's touting Message Recall, the ability for "users... to recall messages they've already sent."
New cloud tool for analyzing business data
Microsoft announced a new service aimed at helping large businesses put to use the huge amounts of data stored in corporate systems.
The Azure Synapse system is part of the company's cloud computing unit, which has driven the company's shares up over the past five years. The tool is meant to help companies build out systems that analyze large amounts of data to make better business decisions, such as whether a digital marketing campaign is driving more traffic to stores and websites.
The Synapse aims to solve two problems for businesses building those systems.
The first is that businesses need different software tools to analyze data held in systems like customer databases versus newer systems like website monitoring tools, where clicks are recorded as a long stream of numbers and time stamps. The Synapse tool is designed to handle both kinds of data.
In addition, the Synapse system automatically handles some of the tasks for building out a system to analyze data, reducing the amount of work needed from computer programmers. Deutsch Bank and Unilever are among the customers testing the system, Microsoft said.
With Azure Synapse, data professionals of all types can collaborate, build, manage, and analyze their most important data with ease, all within the same service. From Apache Spark integration with the SQL engine to code-free data integration and management, Azure Synapse is built for every data professional.
Azure Synapse delivers insights from all your data, across data warehouses and big data analytics systems, with speed. With Azure Synapse, data professionals can query both relational and non-relational data at petabyte-scale using the familiar SQL language. For mission-critical workloads, they can easily optimize the performance of all queries with intelligent workload management, workload isolation, and limitless concurrency.
With Azure Synapse, enabling business intelligence and machine learning is a breeze. It is deeply integrated with Power BI and Azure Machine Learning to expand the discovery of insights from all your data — from Dynamics 365 to Office 365, to SaaS services that support Open Data Initiative — and apply machine learning models to all your intelligent apps.
The Azure Synapse studio provides a unified workspace for data prep, data management, data warehousing, big data, and AI tasks. Data engineers can use a code-free visual environment for managing data pipelines.
Azure has advanced security and privacy features in the market. These features are built into the fabric of Azure Synapse, such as automated threat detection and always-on data encryption. And for fine-grained access control, businesses can help ensure data stays safe and private using column-level security and native row-level security, as well as dynamic data masking to automatically protect sensitive data in real-time.
Azure services when and where customers need them
Microsoft launched a preview of Azure Arc, which offers Azure services and management to customers on other clouds or infrastructure, including those offered by Amazon and Google.
As more business operations and applications expand to include edge devices and multiple clouds, hybrid capabilities must enable apps to run across on-premises, multi-cloud, and edge devices, while providing consistent management and security across all distributed locations.
John "JG" Chirapurath, general manager for Azure data, blockchain and artificial intelligence at Microsoft, said the new service is both an acknowledgement of, and a response to, the reality that many companies face today. They are running various parts of their businesses on different cloud platforms, and they also have a lot of data stored on their own new or legacy systems.
In all those cases, he said, these customers are telling Microsoft they could use the benefits of Azure cloud innovation whether or not their data is stored in the cloud, and they could benefit from having the same Azure capabilities – including security safeguards – available to them across their entire portfolio.
"We are offering our customers the ability to take their services, untethered from Azure, and run them inside their own datacenter or in another cloud," Chirapurath said.
Azure Arc is a set of technologies that unlocks new hybrid scenarios for customers by bringing Azure services and management to any infrastructure.
Azure Arc extends Azure management capabilities to Linux and Windows servers, as well as Kubernetes clusters on any infrastructure across on-premises, multi-cloud and edge. Customers can now have a consistent and unified approach to managing different environments using robust, established capabilities such as Azure Resource Manager, Microsoft Azure Cloud Shell, Azure portal, API, and Microsoft Azure Policy. With Azure Arc, developers can build containerized apps with the tools of their choice and IT teams can ensure that the apps are deployed, configured, and managed uniformly using GitOps-based configuration management. Finally, Azure Arc makes it easier to implement cloud security across environments with centralized role-based access control and security policies.