Microsoft ComfortCurve Keyboard
1. Introduction
Most users have at some point, used a Microsoft mouse or keyboard, or both. I am a great fan of Microsoft's Internet Keyboards and when mine broke down after heavy use, I looked for something new... Microsoft has introduced a new series of keyboards with "curves" that are supposed to provide greater ease of use and comfort. Let's meet Microsoft's Comfort Curve Keyboard 2000.
- Microsoft Comfort Curve Keyboard 2000
Work with your hands in a more natural position with this compact ergonomic keyboard. Just plug it in and start typing - more comfortably.
Spill-Resistant Design: Enjoy a drink while you work—this keyboard is designed to withstand an accidental spill.
Ultra-Thin Profile Keys: The notebook-like, sleek design of these keys feels and looks great.
Comfort Curve Keyboard Layout: The stylish, curved design of this ergonomic keyboard helps your hands and wrists rest more naturally for greater comfort.
Internet Hot Keys: With the touch of a button you can quickly access the Internet.
Easy Set-Up and Use: Just plug in this keyboard and start typing—it's that easy to use.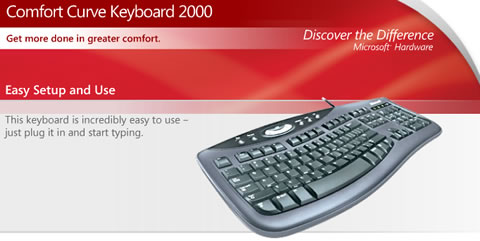 - Product requirements
Operating system:
Windows Vista™/Windows XP Pro/Home/Media Center Edition/Tablet PC Edition/Windows 2000
Mac OS X v10.1.5–10.3 (excluding Mac OS X v10.0)
Processor:
233 MHz or higher
128 MB RAM or higher
Other:
USB port
Internet Hot Keys are supported for use with: Browser support (only with software installed): Microsoft Internet Explorer version 5.0 or later; MSN® Explorer versions 7.0 or 8.0; Netscape Navigator versions 6.1, 6.2, 7.0; and AOL versions 7.0, 8.0, 9.0.
Multimedia Hot Keys are supported for use with: Versions of Microsoft CD Player, Microsoft Deluxe CD, Microsoft Windows Media® Player, and certain versions of other popular media players and browsers.
Multimedia Hot Keys are supported for use with: iTunes.
- Specifications
Product Dimensions
Length 18.9 inches (480 millimeters)
Width 8.4 inches (213 millimeters)
Depth/Height 1.2 inches (30 millimeters)
Cable Length 60 inches +/- 6 inches (1530 millimeters +/- 150 millimeters)
Weight 39.4 ounces (1117 grams)
Product Feature Performance
QWERTY Key Life: 1,000,000 actuations per key
Hot Key Features: Mail, Web/Home, Search, and Calculator
Hot Key Life: 500,000 actuations per key
Media Key Features: Mute, Volume -, Volume +, and Play/Pause
Media Key Life: 500,000 actuations per key
Typing Speed: 1000 characters per minute