LG Display Unveils Ultra-thin LCD TV Panel
LG Display announced today that it has succeeded in developing the world's thinnest 42- and 47-inch LCD TV panels. The 42- and 47-inch LCD TV panels employ LG Display?s edge-lit LED (light emitting diode) backlight system instead of the commonly used CCFL (Cold Cathode Fluorescent Lamp) to realize a panel thickness of 5.9mm.
LG Display?s proprietary LGS (Light Guide Sheet) technology enabled the company to reduce the thickness of the Light Guide Plate (LGP) by more than half. LGP changes the direction of light beams.
In addition, the 42- and 47-inch LCD TV panels weigh in at a mere 6.1kg and 7.3kg each, about 50 percent lighter than the same size of conventional CCFL-backlit product.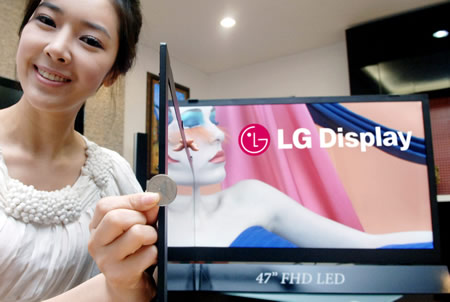 The displays can reproduce a rich range of natural-looking colors with color saturation level of 80 percent (NTSC). The panels feature LG Display?s 120Hz technology with a motion picture response time (MPRT) of 8ms, eliminating motion blur and boasting full HD (1920X1080) resolution.
LG Display?s CTO and Executive Vice-President Chung In-Jae said, "The development of the world?s slimmest LCD TV panel demonstrates our leading edge-lit LED backlight technology that enables thinner designs in addition to our direct-lit type LED backlight assembly which delivers superior picture quality."