Kingston MobileLite G3 Card Reader
2. Working with the device
The Kingston MobileLite G3 is available online for just €10 (amazon.co.uk) and retails in the slim plastic case you see below:
The Kingston MobileLite G3 is made out of hard plastic and it has a retractable front and back cover designed to protect both USB3.0 port and the card slot. We would like to see a more solid design here as the cover is a little bit loose so it can be accidentally retracted.
There is also a Blue LED activity indicator,but due to the thickness of the middle plastic section, it is actually not visible unless you work in the dark with almost no ambient light.
In addition, the device is not very slim so it might block nearby ports.
Below you see the bare USB 3.0 port with the front part retracted:
The other side includes card reader slot, which is compatible with SD/SDHC/SDXC, microSD/SDHC/SDXC and MSPD (Memory Stick Pro Duo) cards: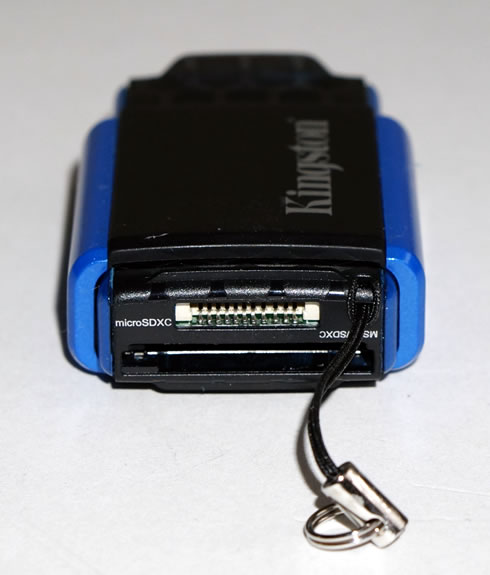 Benchmarks
The Kingston MobileLite G3 is compatible with almost all the available operating systems, including Windows XP and up to Windows 8 and MacOSΧ/Linux: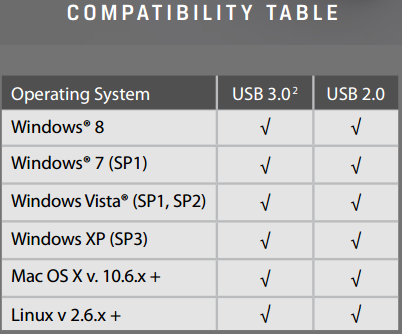 For our simple transfer rate benchmarks we used a Kingston UltimateXX 233X UHS-1 32GB SDHC card and connected the G3 to the USB3.0 and the USB 2.0 ports of a Gigabyte Z77X-D3H motherboard.
Below you see the results we got from the CrystalDiskMark benchmark under Windows 7 x64 SP1 :
Below you see the performance of the same same SDHC card attached to an older USB2.0 card reader. The Kingston MobileLite G3 card reader allowed for high sequential as well as random 512K read and write speeds, the reading of 4K/4K QD32 were somewhat slower.