Kingston DataTraveler Ultimate 3.0 G3 32GB
3. Benchmarks
We tested the DataTraveler Ultimate 3.0 G3 USB drive in the following PC:
Intel i5-2500K with default cooler
Gigabyte Z77X-D3H with the latest available bios
4x2GB Kingston 2133MHz HyperX rated memories
Seagate 7200.12 500GB 7200rpm
Windows 7 x64 SP1 with all latest updated installed
Using the Sisoftware Sandra application, we confirmed that the drive has a single logical FAT32 partition and the available storage capacity is with 29.28GB: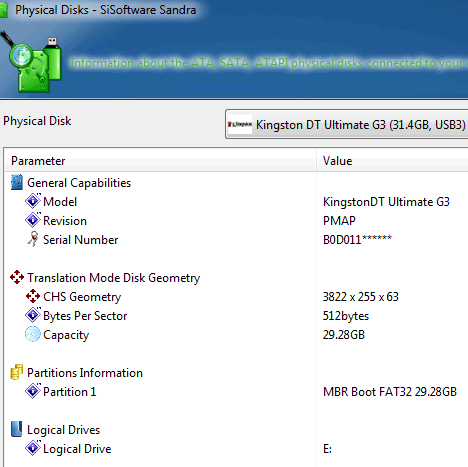 The first benchmark we used was the CrystalDiskMark v3.0.2. The software provides throughput data based on sequential reads and writes, and random (512K/4K/4KQD32) reads and writes of various sizes. The drive surprised us with a reading speed of 205.5MB/sec for sequential reading, while the average writing speed was 93.80MB/sec. Both results are much higher than the rated speeds by Kingston:
The Sisoftware Sandra has confirmed the previous very high results. At the the "Physical Disks" test, the drive's exceeded the 190MB/sec:
The drive also worked like charm at the "File System I/O" test returning very high IOPS:
We continue our tests with the HDTachRW software. It shows the potential read speed which you are likely to experience with the SSD. The software measures the sequential read speed, the random access speed and sequential write speed.
Since the drive's default partition could not be deleted, we couldn't perform the write test, so we disabled. The average reading performance of the drive was 163.6MB/sec with a burst speed of 210.5MB /sec:
We move on to the HD Tune Pro software, another utility we used to measure the drive's reading and writing performances. The average sequential reading speed was 186MB/sec.
Besides the transfer speed tests, HD Tune's file benchmark also includes block size tests.Thee data patterns available that can be used during the write process: zero, random and mixed, which is a combination of zeroes and random data. Of course, using these different data patterns makes sense when testing mainly SSDs, which use a compression techniques in order to improve their performance when compressible data is used.
For these devices the results are typically highest when writing zeroes and lowest when writing random data.
We start with a sequential transfer speed of a 500MB file using zeros in the writing part. The average sequential writing speed for the Kingston drive was 64.508 MB/s, which is lower than what the previous benchmarks reported:
Selecting the "Random" or the "Mixed" data patterns had no serious impact to drive's sequential read or write performance:
Lastly, we used ATTO Disk Benchmark. With 8MB files the drive returned 194MB/sec in the reading test and and 60MB/sec in the writing part. The highest writing performance was reported with 64KB files (95.805MB/s). The highest reading speed was 194.871 MB/s, when we used 8MB files: