Kingston HyperX Beast 2133 4x2GB Kit Review
1. Features, package
Kingston has recently announced the HyperX Beast memory series, which features a new heat spreader designed to maximize thermal dissipation for increased reliability. The memory offers the largest capacities available today and speeds of up to 2400MHz. It is Intel XMP- ready (Extreme Memory Profiles) and designed to work with third-generation Intel Core i5 and i7 processors and the latest AMD performance and gaming processors.
We have in our labs Kingston's KHX21C11T3K2/8X, a kit of two 512M x 64-bit (4GB) DDR3-2133 CL11 SDRAM (Synchronous DRAM) 2Rx8 memory modules, based on sixteen 256M x 8-bit DDR3 FBGA components per module. Total kit capacity is 8GB. Each module kit has been tested to run at DDR3-2133 at a latency timing of 11-12-11 at 1.6V. The SPDs are programmed to JEDEC standard latency DDR3-1333 timing of 9-9-9 at 1.5V. Each 240-pin DIMM uses gold contact fingers and requires +1.5V.
XMP TIMING PARAMETERS
JEDEC: DDR3-1333 CL9-9-9 @1.5V
XMP Profile #1: D3-2133 CL11-12-11 @1.6V
XMP Profile #2: D3-1600 CL9-9-9 @1.5V
- Main features
Capacities 8GB–64GB (with 8GB, 16GB and 64GB kits)
Speeds of up to 2400MHz
1.5V & 1.65 V operating voltages enable stable overclocking
Compatible with Intel XMP auto-overclocking function
Designed to work with P55, H67, P67, Z68, H61 (AG), X79 and Z77 Intel chipsets; as well as A75, A87, A88, A89, A78 and E35 (Fusion) AMD chipsets
Carefully selected premium chips for maximum performance and overclockability
Dynamic black design and sharp edge accents
100-percent factory tested
All Kingston memory modules are backed by a lifetime warranty
- Package
The retail package for the Kingston KHX21C11T3K2/8X kit (4x2GB) can be purchased for about € 65-70 at the retail market, although you could find it for a little less in online stores.
Below you see the slim plastic package - typical for memory kits. It keeps the memory module secure while it is also easily recognizable with the large "HyperX" logo on the from side: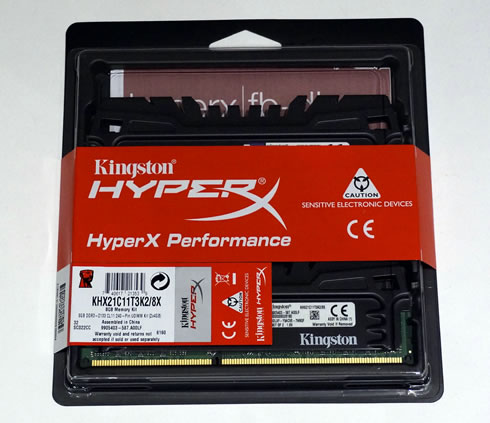 The HyperX Beast memory kit features a special heat spreader from Kingston that not only offers higher cooling efficiency but also adds a cool, and aggressive look. At the front side of each module there is a sticker with information and the memory's timing profiles:
The other side is all-black with the "HyperX Beast" logo and the company's brand name on the aluminum heat spreader.
Notice that the heat spreader is short at just 46.4mm in order to allow easier installation in systems with large aftermarket air coolers and water cooling loops.