Kingston DataTraveler HyperX 3 64GB
3. Benchmarks
We ran the benchmarks on the following PC:
Intel i5-2500K with default cooler
Gigabyte Z77X-D3H with the latest available bios
4x2GB Kingston 2133MHz HyperX rated memories
Seagate 7200.12 500GB 7200rpm
Windows 7 x64 SP1 with all latest updated installed
The Kingston DataTraveler HyperX 3 64GB comes pre-formatted (FAT32) and offers 58.8GB of free storage:.
We used the latest CrystalDiskMark 3.0.2 to get an idea of the drive's sequential speeds. While the drives' specs rate this drive at 225MB/sec reading, 135MB/sec writing, the CrystalDiskMark gave higher speeds at both tests. The 512K/4K/4K QD32 writing speeds were somewhat low, as it typically happens with most USB flash drives:
The 0-fill test returned lower performance in all the tests.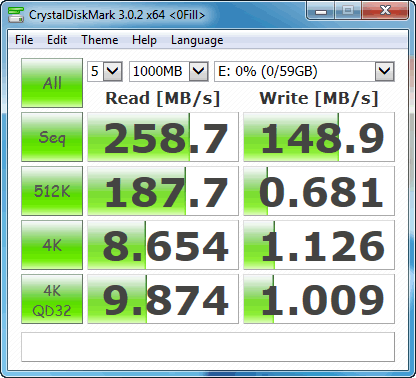 Passing to the AS SSD Benchmark, we confirmed the sequential reading/writing speeds of the flash drive. But the 4K/4K-64Thrd scores remained very low, meaning you'll have to wait more when you are dealing with small files.
Below you see the drive's reading and writing performance with files partially or fully compressed:
The ATTO Disk Benchmark confirmed the drive;s slow performance with small files. The drive's performance peaked with 64KB and 128KB files: