Kingston 32GB MicroSDHC U1 review
2. Benchmarks
The Kingston 32GB MicroSDHC U1 can be found in stores in the package you see below. Both the nicroSDHC card and its adaptor are included in the package: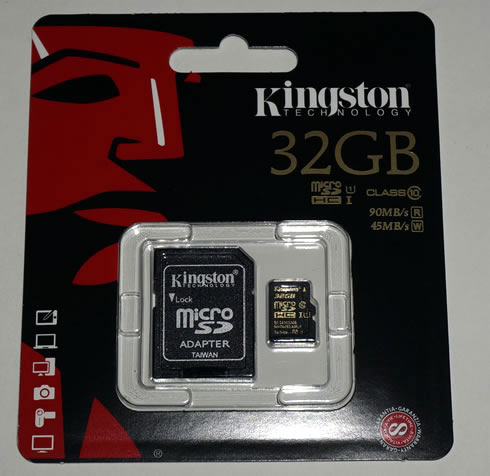 With the provided host adapter, the microSDHC card can be used like a SDHC card.
The benchmarks below were conducted with the microSDHC/adapter connected to a PC via a card reader, also provided by Kingston (Kingston reader USB 3.0). The sequential read and write speeds we got matched the card's specs quoted by Kingston, at 89 MB/s and 44.3 MB/s for read and write, respectively. However, reducing the block size for the random read test to 4 KB significantly impacts performance, which tops out at a mere 5.32 MB/s.
Randomly writing 512 KB or 4K blocks is not a strong suit for the microSDHC card, as the throughput dropping to zero-point-zero-something MB/s.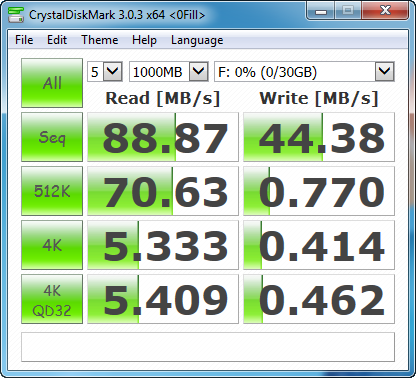 ATTO Disc Benchmark also gave a pretty stable 85.5 MB/s and 41.3 MB/s performance for write/read, but with files larger than 32MB:
Kingston's 32GB MicroSDHC U1 card is fast, at least in the sequential transfer tests. Achieving the maximum throughput from requires the use of a UHS-I-enabled device or, better still, a USB 3.0-connected reader. So you can expect to transfer the entire capacity of the card to a PC in around 8-9 minutes when allied to a decent USB 3.0 card reader.
The provided adapter allows you to read the microSDHC card in a SDHC card reader.
The card retails online at Amazon .com for $23.