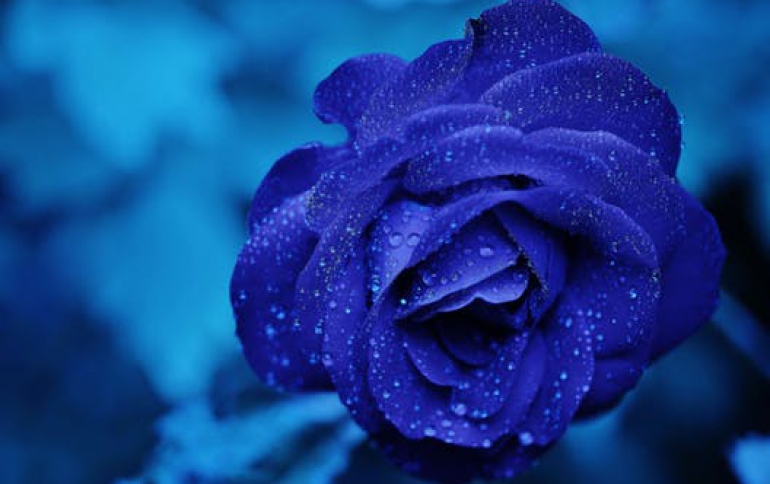 The JBL Xtreme 2 Speaker and Google Assistant-optimized Everest Headphones Debut at CES
HARMAN at CES 2018 introduced the JBL Xtreme 2 portable Bluetooth speaker and the launch of the JBL Everest 710GA, 310GA and 110GA around-ear, on-ear and in-ear wireless headphones with built-in Google Assistant.
JBL Xtreme 2
The JBL Xtreme 2 features a new design coupled with several enhancements compared with the original JBL Xtreme: enhanced sound quality, larger bass, and up to 15 hours of playtime.
The Xtreme 2 features JBL Connect+, allowing users to wirelessly link one-hundred or more Connect+-enabled speakers. The Bluetooth streaming capability allows up to 2 users to connect to the same speaker.
The IPX7 rated, fully waterproof design is complemented by rugged fabric in colors including Midnight Black, Forest Green, and Ocean Blue. Integrated hooks, a metal base, and a bottle opener added to the carrying strap.
The JBL Xtreme 2 incorporates a noise and echo cancelling speakerphone, allowing it to be used to make calls in any environment when paired with a smartphone. It also features a USB charging port, allowing users to charge any smartphone or tablet.
The JBL Xtreme 2 Features
Wirelessly connect up to 2 smartphones or tablets
Built-in rechargeable Li-ion battery supports up to 15-hours of playtime, allowing customers to charge their smart phone or tablet via a USB port.
IPX7 Waterproof
JBL Connect+: Has the power to connect up to 100 JBL Connect+-enabled speakers together.
Lifestyle Material: Integrated metal hooks and durable fabric material
JBL Bass Radiator: See and hear improved acoustic and bass quality through updated drivers and passive radiators.
Available in Midnight Black, Forest Green, and Ocean Blue.
Speakerphone: Equipped with noise and echo cancelling speakerphones
The JBL Xtreme 2 will be available on JBL.com and select retailers for $299.95 starting spring 2018.
JBL Everest Headphones
Samsung's HARMAN also today announced the launch of the JBL Everest 710GA, 310GA and 110GA. The around-ear, on-ear and in-ear premium wireless headphones combine legendary JBL Pro Audio Sound with built-in Google Assistant.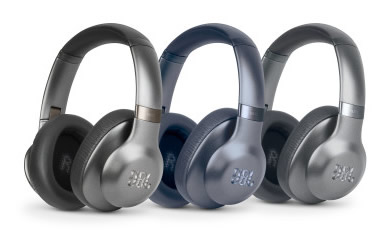 After a setup on Bluetooth enabled smartphones and tablets, the JBL Everest GA headphones, along with the Google Assistant, are ready to provide assistance. Now featuring the Google Assistant, users can take full control of music with the use of voice control and receive notifications without needing to look at their smartphone or tablet. To access the Google Assistant, download the Assistant on your phone, connect the headphone and then touch the sensors located on the ear cup. Once activated, listeners can control volume, get access to meetings and events, and enjoy tracks on-the-go by stating simple phrases like, "volume up/down," "tell me about my day" or "play pop music."
JBL's Pro Audio Sound promises to deliver "impeccable sound." The wireless headphones' battery gives audiophiles more flexibility to listen to the entertainment of their choice for 8 to 25 hours, depending on the model. Additionally, a quick recharge feature enables users to quickly juice up the battery to maximum capacity.
The on-ear and around-ear Everest GA models incorporate a curved headband to eliminate pressure on the ears, while the ear cushions are crafted with lightweight, memory-foam materials to maintain an effortless fit. Depending on the model, the wireless series offers a variety of on-trend metallic shades including Gunmetal and Mountain Silver.

The JBL Everest 710GA, Everest 310GA and Everest 110GA will be available starting spring 2018.
JBLEverest GA Features
Product
Everest 710GA
Everest 310GA
Everest 110GA
Price
$249.95
$199.95
$99.95

Bluetooth 4.1

Yes

Legendary JBL Pro Audio Sound
Yes
Ergonomics
Yes
ShareMe 2.0
Yes
No 
The Google Assistant
Yes
Style
Around-ear
On-ear
In-ear
Colors

Gunmetal,
Mountain Silver

 

Gunmetal, Mountain
Silver, Copper Brown,
Rocky Purple

Gunmetal, Mountain
Silver, Steel Blue

Battery Life
25 hours
20 hours
8 hours
Accessories
Hard Carrying Case

Hard Carrying
Case

 

S, M, L
Ear-tips
Updated Iconic JBL L100 Loudspeaker
HARMAN is introducing the JBL L100 Classic, a modern take on the all-time best-selling JBL L100 loudspeaker. As with the legendary L100 3-way bookshelf loudspeaker released in 1970, itself a consumer version of the popular JBL 4310 Pro Studio Monitor, the new L100 Classic follows on the heels of the 4312SE 70th Anniversary Studio Monitor model launched in 2016.
The new L100 Classic loudspeaker system features a 1970's-style retro design, with vintage JBL styling including an iconic Quadrex foam grille in a choice of three colors - black, orange, or blue - all with a black and bronze JBL logo. The enclosures are finished in a satin walnut wood veneer with black front and rear panels.
The original L100 production run included the L100, along with the subsequent L100A and L100 Century evolutions that quickly followed and ran thru the end of production in 1978. That fundamental compact 12-inch 3-way design is maintained in the L100 Classic with improvements made to the transducers, enclosure tuning, and crossover network design. It has been designed by Chris Hagen, the same acoustic system engineer that created the L100T3 in 1988.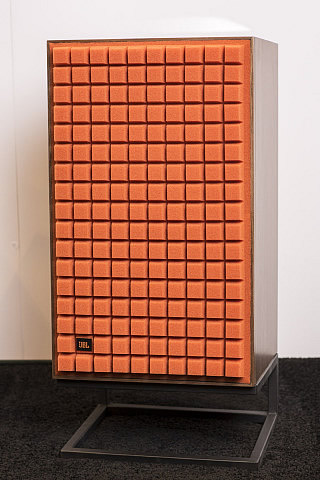 The L100 Classic uses the newly developed JT025Ti1 1-inch (25mm) Titanium dome tweeter mated to a waveguide with an acoustic lens for optimal integration to the JM125PC 5-inch (125mm) cast-frame, pure-pulp cone midrange driver located directly below. The vertical HF and MF transducer arrangement is slightly offset to the right of the woofer below, with HF and MF attenuators located on the upper left of the front baffle. Low frequencies are delivered by the 1200FE 12-inch (300mm) cast-frame, white pure-pulp cone woofer operating in a bass-reflex enclosure system that is tuned via a single, front-firing port tube with flared exit. Connections are made via a pair of gold-plated binding post terminals located on the rear-panel.
This passive, 3-way bookshelf loudspeaker measures approximately 25.5" H x 15.5" W x 13.75" D and can be oriented either vertically or horizontally. Optional black metal floor stands are available with included adjustable carpet spikes.
The L100 Classic will be available in Spring 2018 at an MSRP of $4,000 per pair.
Allure Portable Digital Assistant Speaker
HARMAN also today introduced the Harman Kardon Allure Portable with Amazon Alexa Voice Service. Serving as a companion to the original Harman Kardon Allure, this new speaker provides a great design and exquisite Harman Kardon sound in a portable form factor.
The Allure Portable produces sound to fill up any room featuring 20W 2 x 1.75 inch full-range drivers and 2 passive radiators.
Just like the original Harman Kardon Allure, the new portable device is hands free and controlled by voice commands. Far-field voice technology allows users to issue commands from across the room, whether at home, in a hotel or at the office, and still be heard by the speaker.
Harman Kardon Allure Portable with Amazon Alexa ($199) will be available for purchase starting spring 2018 on www.harmankardon.com and www.amazon.com. The Harman Kardon Allure ($249.95) was announced at IFA 2017, and is also available for purchase now.