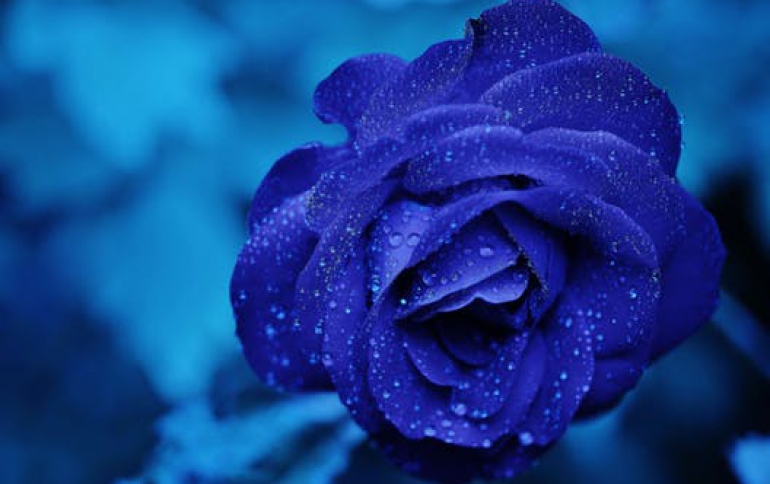 CES: Garmin Launches Speak Plus Dash cam With Alexa, Forerunner 645 Music Watch
Garmin is showing the Speak Plus with Amazon Alexa dash camera along with the Forerunner 645 Music GPS running watch at CES 2018.
Garmin Speak Plus
The in-vehicle device is enabled with Amazon's cloud-based Alexa voice service for hands-free access to music, news briefings, sports scores, GPS navigation from Garmin, and more. The Garmin Speak Plus will automatically record and save files when an incident is detected, and introduces advanced driver assistance features that include Forward Collision and Lane Departure Warnings.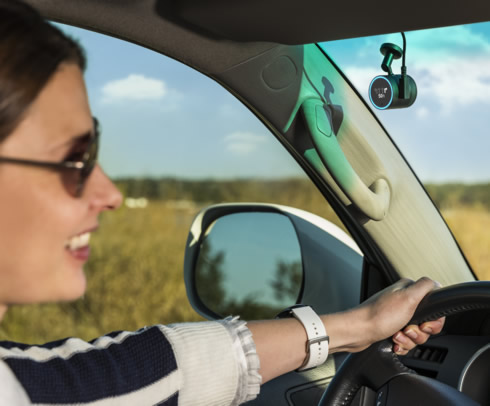 The new dash cam gives Garmin Speak Plus users increased awareness on the road. It offers alerts like Forward Collision Warnings that lets drivers know if they're too close to the vehicle ahead; Lane Departure Warnings if the driver drifts off the road or into oncoming traffic; and "Go Alerts" to notify drivers when stopped traffic ahead begins to move. At just an inch and a half in size, the compact Garmin Speak Plus features a familiar LED light ring - reminiscent of the Amazon Echo - and an OLED display showing lane guidance arrows to guide drivers to their destination.
Like its predecessor, drivers can ask Alexa to play songs from several free- and subscription-based music services, including Amazon music, Pandora and Sirius XM. With the purchase of a Garmin Speak or Garmin Speak Plus device, new subscribers can are offered a two-month subscription to the Amazon Music Unlimited Family Plan. Services such as Spotify are expected to be included as additional streaming services become available. In addition, drivers can activate Garmin turn-by-turn directions to shops, restaurants, and more with the simple phrase.
Garmin Speak Plus works in conjunction with the Garmin Speak app and a Bluetooth-enabled smartphone with a suitable cellular data connection. Drivers can then use Bluetooth or an AUX cable (not included) to hear audio through their vehicle's speakers - accept or ignore incoming calls, hear a tune, and more. The vehicle-dedicated device does not rely on a Wi-Fi hotspot to function.
With a suggested retail price of $229.99, Garmin Speak Plus will be available starting mid-February through Garmin, Best Buy, Amazon and other retailers. A special limited time pre-order price of $199.99 will be available from Jan. 8 to Feb. 10.
Garmin Forerunner 645 Music
The Garmin Forerunner 645 Music is a GPS running watch with integrated music that gives athletes the freedom to enjoy their favorite tunes on a run or during a workout without having to take a phone along.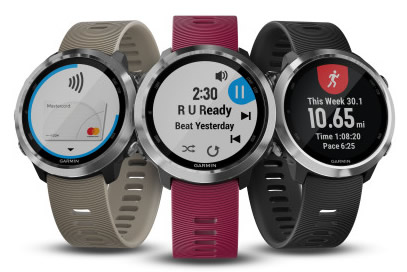 In addition to 24/7 heart rate monitoring2, it includes advanced running dynamics, performance monitoring tools, connected features and thousands of ways to customize with free watch faces, widgets, data fields and apps through the Garmin Connect IQ store.
Featuring similar high-end fitness, wellness and smart connectivity features as on previous Forerunner devices, the Forerunner 645 Music gives users an extra pep in their step with on-device music storage, up to 500 songs. Download offline playlists from select music streaming services, including iHeartRadio, Deezer and more, or transfer music from a computer directly to the watch. Once the playlist is loaded, pair the Forerunner 645 Music with a set of compatible Bluetooth headphones and go.
Garmin Pay, a contactless payment solution, means athletes can leave their cash and credit cards at home and still stop for a bite to eat along their route.
Athletes can better prepare for a race or training cycle with the help of training features provided by Firstbeat. Training status automatically evaluates previous exercise and fitness levels to let athletes know if they are training productively, peaking or overreaching. Measuring exercise volume from the last seven days, training load helps users determine if they are training in the right zone and whether their sessions are too easy or hard. Additionally, the anaerobic training effect metric will tell athletes how their hard work and training is improving their ability to push the limits.
Clipping the Running Dynamics Pod to the waistband allows users to see all six running dynamics, including cadence, ground contact time, stride length and more on their watch without the need for a chest strap. Built-in GPS and GLONASS let athletes track how far, how fast and where they run - no phone connection required. Go for a ride, swim, walk and more to take advantage of even more features available on the Forerunner 645 Music. Furthermore, users can view and follow downloaded courses on their wrist, race a previous activity and train with simple intervals or follow complex workouts. In the pool, the Forerunner 645 Music will track distance, pace, stroke, personal records and more.
When paired with a compatible smartphone, it automatically uploads to Garmin Connect, an online fitness community where users can track workouts, sleep patterns, join online challenges to compete against friends and earn virtual badges. Directly from the wrist, users will be able to receive and respond to text messages, invite friends to follow their runs in real time with LiveTrack, and view social media updates, emails and more.
The Forerunner 645 Music features up to 7 days of battery life in smartwatch mode and up to 5 hours in GPS mode with music. Weighing roughly 42 grams, this is the first Forerunner to feature a stainless-steel metal bezel and always-on Garmin Chroma Display and is housed under chemically strengthened glass. It is available with a black or cerise band and has a suggested retail price of $449.99. An option without integrated music capabilities - the Forerunner 645 ? is available with a black or sandstone band with a suggested retail price of $399.99.