1. Features, specifications
Bluetooth is everywhere – you can't go down the street or on the highway without seeing dozens of folks walking around with their Bluetooth headsets – chatting away.
Bluetooth Stereo Headphone/Headset combos are also becoming more and more popular. Not much new and "revolutionary" has been brought to the table – until now. The Jabra BT 8030 is a very unique and perhaps "groundbreaking" device. It functions as a Bluetooth Headset, a Bluetooth Headphone and as Bluetooth Stereo Speakers – that is a bunch of versatility in one device.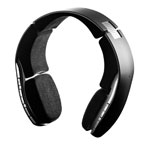 Here is the "Official line" from Jabra:
First ever Bluetooth speaker and headphone combo!
Connect the BT8030 to your Bluetooth cell phone, PC and media player for a new way to wirelessly enjoy music. Easily transforming from headset for personal enjoyment to speakers for shared listening, its full, rich sound make it ideal for any music lover.
Complete with a mic for speakerphone capabilities, the BT8030 offers flexibility for wherever you go. And its convenient carrying case holds and protects it while not in use.
First ever Bluetooth speaker and headphone combo
— Have music from your Bluetooth-enabled mobile phone, PC or media player.
32 hours of streaming music
— Listen to your favorite tunes for more than a day straight without a charge.
240 hours of standby
— With up to 10 Days of standby on a single charge, this headset is ready for action whenever you are.
Unique design
— Easily transforms from comfy headsets for personal listening to stylish speakers for sharing music.
Dual Bluetooth connectivity
— Simultaneously hook up a mobile phone and a music player without wires!
Speakerphone capabilities
— Hold conversations through the built-in microphone.
Zirene® POWER BASS software
— Provides realistic bass notes to complete a full-spectrum of premium life-like sound.
Bluetooth compliance
Bluetooth 2.0
Supported Bluetooth profiles
Headset, Handsfree, A2DP, AVRCP
Compatibility
Jabra BT8030 is compatible with all devices that can transmit audio via the Bluetooth interface (A2DP). The BT8030 can be connected via the USB interface for music playback from a PC.
Operating range
Up to 33 feet
Paired devices
N/A
Music time
8 hours in headset mode and in speaker mode
Talk time
8 hours in both handsfree- and speakerphone mode
Standby time
240 hours
Charging time
3 hours
Weight
310g
Dimensions
L1.54 x W.71 X D.47 inches
Microphone
2 pcs ECM type. 1 for handsfree and 1 for speaker phone.
Frequency response
200 Hz to 3400 Hz
Includes:
Jabra BT8030 Stereo headset/speaker
Mains AC switched mode charger
Illustrated user manual on Mini CD
Quick Start Guide
Mini USB connector cable