Interview with Mr Lawrence Chang of Kingmax
- Can you give us a little background regarding Kingmax and your involvement with the company.
The Kingmax Group, formed in Taiwan in 1989, set a division of labor by creating a number of companies: Kingmax Semiconductor Inc., which produces and markets memory products; Kingpak Technology, which specializes in package testing and PCBA production; and Kingmax Digital, which produces and markets flash memory products.
Since its founding, the Kingmax Group has been devoted to providing the best storage product solutions worldwide. Through OBM marketing around the globe, Kingmax has been honored with recommendations and prizes from virtually every industry media outlet, and has received the recognition of consumers all over the world. Kingmax rose to the ranks of the world's top five memory module producers in a 2003 survey by iSuppli.com, and in issue No. 665 of the Taiwan IT magazine PC Week, Kingmax was ranked Taiwan's number one brand-name memory module manufacturer in 2003.
One of the keys to Kingmax's success lies in the fact that the Kingmax Group is the world's first memory module manufacturer to have its own packaging and testing equipment. Group subsidiary Kingpak Technology Inc. holds first-class facilities and top-notch technical personnel. Kingpak has integrated the group's comprehensive R&D team, which maintains knowledge of core technologies and utilizes Kingmax's vertically-integrated, production flow processes such as upstream dicing, packaging, testing, product development, and design. Therefore, Kingmax is able to continually create unique, high-end patented technologies while guaranteeing consistent, outstanding product quality.
Despite its success, the Kingmax Group has not remained satisfied with its current achievements. In 2001, the group formed Kingmax Digital Inc, which focuses on R&D and marketing for flash memory storage card products. Kingmax Digital's work includes its revolutionary proprietary PIP (Product in Package) packaging technology for SD and MMC cards. With their unique packaging produced under a single-step process, durable plugging and unplugging feature, and waterproof, pressure-resistant, and heat-resistant functions, Kingmax's storage card products have truly become the top choice for enjoying a 'digital' lifestyle.
In order to meet consumer needs worldwide, the Kingmax Group, in addition to its headquarters in Hsinchu, Taiwan, has established dedicated factories in Taipei, Mainland China, Hong Kong, the US, and Australia, all of which have received ISO9001/QS9000/ISO14000 certification. Our ability to offer customers rapid-response and professional services has solidified Kingmax's position as a leading international brand.
Mr.Lawrence Chang, KINGMAX's VP of Sales & Marketing, is in charge of the Sales Dept, Marketing Dept and PM Dept as well and has worked for Kingmax for over 8 years.

Mr.Lawrence Chang
- How does Kingmax differ from the competition?
Here are our main differences from others:
1. Branding (KINGMAX) management
2. Channel management
3. Excellent after-sales service & global lifetime warranty
4. Rigorous and complete test procedures (IC test, Module test, MB compatibility test)
- What is Kingmax's position in the memory market?
In a survey by iSuppli in 2004, KINGMAX Semiconductor was ranked among the top eight memory module makers of the world. Compared to 2003, KINGMAX Semiconductor has 30% growth of total revenue in 2004. And, we target USD$300M for total revenue in the year (2005) and overall sales are expected to grow by at least 30%.
- What are Kingmax's strengths and weaknesses?
Strengths:
1. Turn-key Manufacturing Process:KINGMAX is the world's first manufacturer to have a dedicated factory with advanced memory packaging and testing facilities. Thus,KINGMAX is able to minimize its costs and maintain complete control of its products' time-to-market,while remaining a stable source for global market needs.
2. With its patented TinyBGA packaging technology and small physical size, great heat dissipation capabilities and stability of its memory products,KINGMAX has challenged and overcome technological barriers by more than doubling memory capacity. This is why KINGMAX has a distinctive edge over its rivals with its new generation, high bandwidth DDR2 memory products.
Weaknesses:
In the past KINGMAX has put more efforts in the Asian territories. Following on the heels of the success in Asia, from now on, KINGMAX will be also working to strengthen its foothold in the European market. In response to future needs in the European market, we will build up an excellent sales & marketing channels over Europe, providing clients with the most advanced technology and products of the highest-quality.
- Can you briefly give us a run down of Kingmax module product line.
Designed according to a diversity of user needs, KINGMAX's full line of module products is divided into three categories:
TinyBGA Series:
- KINGMAX's special TinyBGA packaging technology, which allows for higher memory capacity and the best heat dissipation
- Flawless compatibility with all memory platforms
- Unique look with colorful module design
SuperRAM Series:
- Perfect compatibility
- Best value in terms of cost and performance
- Wide availability, with stable supply and expedient delivery
Hard-core Series:
- Ideal specifications for overclocking and gaming enthusiasts, which make it the top choice
- The most efficient data transmission for overclocking and gaming enthusiasts
- The highest quality, compatibility and stability which contribute to peak computer efficiency
- What do you consider to be your Flagship module product?
1. High-Capacity DDR1&DDR2 SO-DIMM
2. High-Speed Mars DDR2-667/800 Long-DIMM
3. SDRAM products for PC upgrading (KINGMAX will still keep supplying constantly)
- What has been your most popular module product for each category according to sales.
1. TinyBGA module: computer enthusiasts & new-generation users favorite (reliable, top quality and unique design)
2. SuperRAM module: price-conscious users favorite (excellent compatibility/performance and low cost)
3. Hard-core module: gamers & power users favorite (exceptional overclocking ability)
- What do you have planned for the future and where do you believe the market is heading?
Within 3 years, we're quite confident to be in the top three memory module makers of the world. Regarding the future market, we expect that big module makers will certainly get huger due to the gradual consolidation of market share, technologies and so on.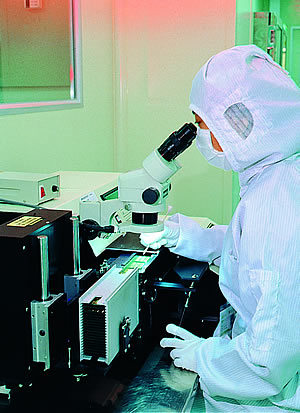 - Your opinion on hardware in general (trends, future developments, difficulties).
We think that the demand of DDR2 memory, from the Q3 of this year, will be getting upward obviously and will repidly replace DDR1. (In Q2 of next year, the ratio of market size for DDR2 and DDR1 will be 60% and 40% => will probably become 70% and 30% at the end of next year). In the new era of High-Bandwidth DDR2 memory products, "compatibility" will be undoubtedly critical. Our mature R&D and design, manufacturing, and testing experience over the last five years with TinyBGA memory modules is further testament that the best reliability and stability are integral to the new KINGMAX DDR2 memory products. All of KINGMAX's DDR2 memory products undergo a rigorous testing process to ensure 100% conformity and are covered by its global lifetime warranty ensuring product quality.
- Where are your key markets today and where do you see them being 5 years from now?
To meet our strategy and to average the revenue, our sales ratio of the module products for pan-Asia, pan-Europe and pan-Americas, in forthcoming 5 years, will be adjusted to 40%, 35% and 35% respectively (compared to 60%, 10%, 30% currently). Also,we'll be paying much attention to sales & marketing channel management in the near future.
We thank Mr Lawrence Chang, VP of Sales & Marketing Division at Kingmax, for this most interesting interview.