Intel Says Its New 730 SSD Series Is The Fastest-ever Consumer Drive
Today, Intel announced its next-generation SSD, the 730 Series, which features an overclocked controller clock for increased performance for digital content creation, video editing and gaming. Intel's new "flagship" SSD with an overclocked processor is offering a maximum of 550MB/s performance, 50 microseconds latency along with up to 89,000 input/outputs per second (IOPs) random reads.

Intel increased the controller clock speed from 400MHz to 600MHz, and increased NAND bus speeds from 83MHz to 100MHz, compared to its predecessor - the SSD 530 series. By overclocking the processor, Intel says the 730 Series SSD is now its highest performance consumer drive boasting up to 550MB/s sequential read and 450MB/s sequential write speeds.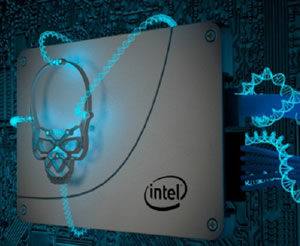 Intel has chosen to not to release user-customizable SSD, which could be overclocked. The company had teased PC enthusiasts with an overclocking technology for SSDs last September. According to the plan, users would be able to push the performance from SSDs by increasing the controller clock speed and the NAND flash memory chip speed.

It seems that the specific methods could threaten the data stored on the drive and also shorten the life of the SSD, so Intel decided no scrap the SSD overclocking plans, saying that it could not offer a full warranty on a product whose performance could be manipulated by users. Instead, the new 730 SSD series comes natively overclocked.

The SATA 3 drive comes in 240GB and 480GB capacities. It uses a third-generation Intel controller, 20nm-lithography NAND and optimized firmware. Intel says that the higher-grade NAND flash memory can sustain up to 70GB of writes per day versus Intel's more standard 20GB-per-day drive sustainability.

Intel also underlined the performance gains when the new SSD is used in RAID configurations. For instance, by combining two 730 Series SSDs in a RAID 0 configuration, the capacity remains the same as a single drive, but performance doubles to more than 1,000MB/s.

The new SSD will hit the market March 18. MSRPs are $249 for the 240GB and $489 for the 480GB models - fairly high.

Specifications


Capacities: 240GB, 480GB
Components: Intel 20nm NAND Flash Memory.Multi-Level Cell (MLC)
Form Factors: 2.5 inch
Thickness: 7mm
Weight: Up to 78 grams


SATA 6Gb/s Bandwidth Performance (Iometer Queue Depth 32, 128KB3 IO)

Sustained Seq Reads/writes:

240GB: Up to 550 / 270 MB/s
480GB: up to 550 / 470 MB/


2Drive RAID-0 - SATA 6Gb/s Bandwidth Performance (Iometer Queue Depth 32, 128KB3 IO)
Sustained Seq Reads/writes:

240GB: up to 136,000 IOPs / 136,000 IOPs
480GB: up to 168,000 IOPs / 145,000 IOPs

SATA 6Gb/s Read and Write IOPS (Iometer Queue Depth 32)

Random 4KB Reads / Writes

240GB: up to 86,000 IOPS / 56,000 IOPS
480GB: up to 89,000 IOPS / 74,000 IOPS

2 Drive RAID-0 - SATA 6Gb/s Read and Write IOPS (Iometer Queue Depth 32)

Random 4KB Reads / Writes

240GB: up to 136,000 IOPs / 136,000 IOPs
480GB: up to 168,000 IOPs / 145,000 IOPs

Latency (average sequential)

Read: 50 μs (TYP)
Write: 65 μs (TYP)


2.5 inch: 5V or 12V SATA Supply Rail
Power (5V / 12V)

Active: 5.0W / 5.5W
Idle: 1.3W / 1.5W



Temperature

Operating: 0° C to 70° C
Non-Operating: -55° C to 95° C


Compatibility

Intel SSD Toolbox with Intel SSD Optimizer
Intel Data Migration Software
Intel Rapid Storage Technology
SATA Revision 3.0
ACS-2 (ATA/ATAPI Command Set 2)
SSD Enhanced SMART ATA feature set

Reliability

Uncorrectable Bit Error Rate (UBER): < 1 sector/ 1017 bits reads
Mean Time Between Failure (MTBF): 2 Million Hours
Shock (operating and non-operating): 1,000 G/0.5 msec