Intel Pentium 4 3.73Ghz Extreme Edition
12. Overclocking
In order to overclock the CPU, we manually started step by step to increase the FSB, beginning from the default 266. Finally, we found that the system was running properly only up to 4.27Ghz. Higher speeds had as a result, the famous blue screens.
Overclocking forced the memory to run from 711Mhz and 4-4-4-7 timings to 460Mhz and 5-5-5-15.
At 4.27Ghz and idle state, the CPU temperature was close to 52°C. FYI, the P4 660 when overclocked at 4.00Ghz had a temperature of 44°C.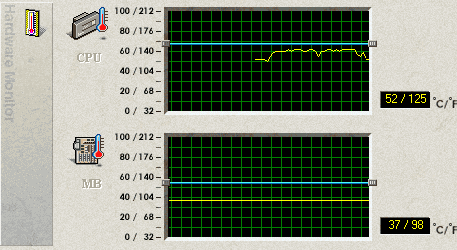 - The Tests
Although the overclocked speed is not too high, the reported results are quite different. The already fast P4 3.73Ghz ED CPU becomes even faster.
SiSoft Sandra 2005 Arithmetic Benchmark
3.73Ghz
4.27Ghz
SiSoft Sandra 2005 Multimedia Benchmark
3.73Ghz
4.27Ghz
The performance in SiSoft Sandra is also much better when we set the FSB form 266 to 305.