Intel Chips To Power Smartphones, Tablets and Ultrabook Devices
Intel today announced a number of advancements across its smartphone business, including a multi-year, multi-device relationship with Motorola Mobility and a handset by Lenovo based on the company's new Intel Atom processor platform. Several smartphones based on the new Atom processor are expected to come to market in 2012.
"The best of Intel computing is coming to smartphones," said Intel President and CEO Paul Otellini. "Our efforts with Lenovo and Motorola Mobility will help to establish Intel processors in smartphones and provide a solid foundation from which to build in 2012 and into the future."
Otellini made the announcements during a keynote address at the 2012 International Consumer Electronics Show. He also detailed Ultrabook category momentum and described how the company is trying to enter the market of mobile devices.
Intel CEO highlighted the Intel Atom processor Z2460 platform, formerly "Medfield," which was specifically designed for smartphones and tablets, and promises to deliver performance with competitive, energy efficiency.
Sanjay Jha, chairman and CEO of Motorola Mobility, joined Otellini onstage and the two executives detailed their companies? multi-year, multi-device strategic relationship. The effort includes smartphones that Motorola will begin to ship in the second half of this year using Intel Atom processors and the Android platform. The collaboration also covers tablets.
Liu Jun, Lenovo senior vice president and president of Mobile Internet and Digital Home, also joined Otellini onstage to debut the Lenovo K800 smartphone based on Intel technology and running the Android platform. Liu Jun said the K800 smartphone will be available in China in the second quarter and will run on China Unicom's 21Mbs network. The smartphone features the low-power Intel Atom processor Z2460 with Intel Hyper-Threading Technology, support for HSPA+ with the Intel XMM 6260 Platform, and the Lenovo LeOS user interface for a localized experience in China.
Another product powered by Atom Z2460 was Lenovo's 10-inch tablet prototype, running Android 4.0.
The Intel Atom Z2460 has a single core running at 1.6GHz, but it supports Hyper-Threading, so the OS is "seeing" is a dual-core processor. The SoC incorporates a the Intel Graphics Media Accelerator, an integrated 2D/3D praphics engine with 400MHz core frequency and support for OpenGL ES2.0, OpenVG 1.1, allowing rendering of 3D graphics and high FPS gameplay, according to Intel. It supports internal display up to 1280 x 1024 and 1920 x 1080 up to fps through HDMI output.
The Atom Z2460 has been manufactured using a 32nm process and also features the Intel Smart Technology (SIT), which enables the CPU core and the rest of the processor to switch off while the OS remains "ON" state. With ultra low power smart L2, the system can instantlt resume from idle states.
Michael Bell, general manager of Intel's Mobile and Communications Group, also joined Otellini onstage to demonstrate the Intel Smartphone Reference Design that aims to shrink device development time and costs for phone OEMs and carriers. This smartphone features sleek packaging, a 4.03-inch high-resolution LCD touch screen, and two cameras delivering advanced imaging capabilities, including burst mode that allows individuals to capture 15 pictures in less than a second with 8-megapixel quality. The smartphone is also equiped with an 1.3 megapixel camera on the front, and had a built-in digital compass and gyro sensors, Wi-Fi, Bluetooth and NFC capabilities. It also supports HSPA+ with the Intel XMM 6260 Platform.
According to Intel, the prototype's battery is is rated for HDMI 1080p video playback 6 hours, audio playback 45 hours, as well as 3G talk time of 8 hours, and standby time of 14 days. Intel did not disclose the capacity of the installd battery, but it is similar to the battery used by a typical smartphone, according to the company. In addition, this reference smartphone was running the Android 2.3.7 Gingerbread OS.
Showcasing the popular Angry Birds application on the phone, Bell pointed to broad Android applications support that allows Intel technology-based smartphones to run the vast majority of Android applications, including those compiled for other architectures.
Otellini said Intel will raise the bar on tablet experiences by offering compatibility with the millions of existing applications and devices; an instant-on, software and apps experience; and support of the Metro user interface. Onstage was the world's first public demonstration of the forthcoming 32nm Intel Atom SoC for tablets and hybrids running on Microsoft Windows 8, codenamed "Clover Trail." The new Soc will replace ther company's Atom Z670 "Oak Trail" SoC for tablets.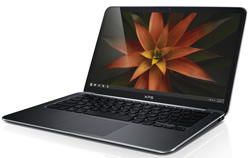 Jeff Clarke, vice chairman of Global Operations and End User Computing Solutions at Dell, joined Otellini onstage to announce the company's first Ultrabook,
the new XPS 13
powered by the Intel Core i7 processor. Scheduled for February availability, the sleekdesign weighs only 2.99 lbs and provides up to 8 hours of battery life.
Intel's engineers will further accelerate Ultrabook innovation in 2012 with 3rd generation Intel Core processors, codenamed "Ivy Bridge," with the help of Intel?s 22nm 3-D Tri-gate transistors. Two Ultrabook concept designs powered by "Ivy Bridge" were demonstrated during the keynote speech.
Intel's CEO promised that these devices will be more secure and eliminate the discussion on trade-offs for computing, like form factor, user interface or performance. He also said Ultrabooks will offer a flagship platform for a premium, no-compromise environment that helps deliver on the Microsoft Windows 8 promise of re-imagining Windows.
Applications specifically suited for the Ultrabook are available from the Intel AppUpSM center. Intel announced a relationship between Intel and Technicolor surrounding M-GO, an app powered by Intel AppUp that will bring high-definition, premium digital content for television, movies, music and apps to Ultrabook devices and other Intel-based devices with Intel Insider in the second quarter of 2012. M-GO will provide movies and TV shows from major Hollywood studios and help manage HD premium content across multiple devices and platforms via a single secure user interface.
Paul Otellini also demonstrated Acer?s new Aspire S5 Ultrabook with built-in Thunderbolt technology running Windows 7 for the first time. Elsewhere at CES, Thunderbolt sightings included Lenovo?s ThinkPad S430 laptop, an AOC display, as well as Seagate and Western Digital external hard-drives. In all, more than 20 Thunderbolt-enabled products were shown that are either shipping now or will be soon. Thunderbolt technology is already found on most lines of Apple Mac computers (MacBook Pro, iMac, MacBook Air, and Mac Mini) and Apple Thunderbolt Display, as well as products from LaCie, Blackmagic Design, Promise, Matrox, and Sonnet. Others including OCZ, Belkin, Elgato, AJA, G-Tech by Hitachi, Atto, Magma, Avid, and Universal Audio have announced products that are expected to be shipping this year.
Belkin has announced a Thunderbolt Dock, which allows a single cable docking solution, and includes USB, FireWire, and DisplayPort connectors.
The major challenge for Intel will be continuing to gain design wins in Windows PCs, which is difficult due to its expense compared to USB and DisplayPort solutions. In addition, there is a marketing challenge of increasing PC users? knowledge of the technology, and its advantages compared to its interface competitors. In related news, Intel also today announced the availability of the latest Intel classmate PCs that will be powered by the new Intel Atom processors. The announcement was made in the opening of BETT (the British Educational Training Tradeshow) in London.
The upcoming classmate PCs offer an enhanced user experience, increased ruggedness, improved battery life and are more affordable. The increased battery life means students may be able to work up to 10 hours on a single charge. The improved ruggedness stems from such features as strengthened corners for shock and vibration absorption, and a keyboard that can withstand prying fingers and improved water resistance.
The new multi-touch and premium writing experiences, in conjunction with palm rejection technology, enable students to write directly on screen. The textured touch screen, special stylus and handwriting recognition software create a "write on paper" experience. The built-in camera, photo view, media player, and drawing applications allow students to create and consume multimedia learning content.
The classroom-ready features and capabilities include LabCam and McAfee AntiVirus. LabCam, a touch-optimized application consisting of six easy-to-use scientific inquiry tools leveraging the camera in different ways, allows students to analyze the visual data present in their photos and videos. Enhancements include classroom management, theft deterrence and webcam companion with anti-shake features for media capture and management, noise filtering, digital archiving, and annotation.
OEMs for the new devices include ASI, Babilon Technologies, Compumax, Computek, CTL, Equus, JP SaCouto, Koodoo, Lanix, Lenovo, M&A, Mustek, NTT System, Paradigit Computers, Positivo, RM, Sigong, Stone and Viper.