Intel Announces Small Business Advantage, Collaborations With Chinese Technology Insitutes And The PCIe 910 Series Of SSDs at IDF
Today at the Intel Developer Forum in Beijing, Intel announced the availability of Intel Small Business Advantage (SBA) for PCs, emphasized the importance of collaborating with China's government and industry and also released the the new PCI-E -based 910 series of SSDs. Intel's executives emphasized the importance of collaborating with China's government and industry to help create new business opportunities for Intel and its 14 million developers worldwide.
"The impact of major global trends, such as the rapidly growing middle class as well as the explosive growth of connected, mobile Internet and cloud computing traffic, is playing out ten-fold in China," said Sean Maloney, executive vice president of Intel Corporation and chairman of Intel China.
"As the world continues to advance, so too must semiconductor technology, and that is never more evident than today with the pending release of Tri-Gate transistors and 22 nm process technology," said Maloney. "Few individuals and industries will be untouched as powerful microprocessors, Internet-connections, and user experience breakthroughs are applied across the worlds of business, healthcare, education and the society at large."
During his keynote presentation, Kirk Skaugen, vice president and general manager of Intel's PC Client Group discussed how Intel is helping drive a change in the personal computing experience for consumers and businesses with new hardware, software and solutions. Ultrabook devices have already begun this transformation, and Skaugen showcased numerous systems on stage and reiterated that more than 75 designs are planned for 2012 with many touch-enabled systems expected. This next wave of Ultrabook devices will be powered by 3rd generation Intel Core processors with Intel HD Graphics 2500/4000.
Intel Small Business Advantage (SBA)
Intel SBA will be available on the 2nd generation Intel Core processors. With Intel SBA, small businesses can maximize business productivity by keeping PCs performing at an optimal level while securing data by reducing the risk of virus disruptions, leakage of confidential data and data loss. Intel SBA is an integrated hardware and software solution that automatically provides regular software updates, strengthens security defenses and conducts maintenance tasks after-hours, even if the computer is turned off. The Intel Small Business Advantage solution is supported by Asus, Dell, Fujitsu and Lenovo as well as multiple Intel's OEMs around the world.
Intel SBA is available on Intel Core i3, Intel Core i5, Intel Core i5 vPro, Intel Core i7 and Intel Core i7 vPro processors with Intel 2012 business chipsets. It includes:
- PC Health Center: PC Health Center automatically runs regular software updates and maintenance tasks after-hours, even if the computer is turned off. The PC will power itself on to update software, defragment disk drives and delete cookies and temporary Internet files. When the tasks are completed, the PC will power itself back down.
- Energy Saver: Intel Core processors with Intel SBA can help reduce energy bills. If an employee forgets to turn off a PC, the Energy Saver feature will power it down automatically, reducing after-hours energy consumption. Energy Saver can power PCs down and up again when needed, and can also turn PCs on as the workday begins so they are ready for the day when employees arrive.
- Intel Wireless Display: Intel Wireless Display enables PC to connect flat panels to a PC?s wireless display to improve collaboration by streaming presentations, videos and websites.
- Software Monitor: Security software is disabled and, too often, is out-of-date, making coverage unreliable. Software Monitor watches security software constantly and alerts the small business owner if it has been compromised. Multiple notification methods and event logs notify users when immediate action is needed. This hardware-based technology adds an extra layer of protection to reduce downtime and expenses caused by viruses and malware, and decrease the risk of data corruption and loss.
- Data Backup & Restore: Data should be backed up automatically and reliably in order to protect vital information. Scheduling backups for off -hours prevents backups from interrupting an employee's workday. If a backup is missed or an error occurs, the software automatically notifies the user. In the event data must be recovered from a backup, a guide helps users through a straight-forward process.
- USB Blocker: Viruses and malware can be inadvertently introduced into businesses through USB ports. USB ports can also remove critical business data from the PC. PCs can be customized to block selected USB devices including mass storage, cameras, printers and more. A password-protected configuration allows for control of input and output while listing exceptions for backup devices.
- Intel SBA can be configured with Intel Anti-Theft Technology on eligible PCs to further strengthen security.
To help address online fraud, all Ultrabook devices will now include Intel Identity Protection Technology, enabling a more secure way to access popular websites. Skaugen announced that RenRen, China?s most popular social networking website, will incorporate Intel Identity Protection Technology as part of its focus on providing secure online experience for its users. Additionally, he disclosed relationships with Feitian Technologies and DynamiCode Company, both second factor authentication security solution services that will incorporate Intel Identity Protection Technology into their products.
During her keynote on the second day of the conference, Diane Bryant, vice president and general manager of Intel's Datacenter and Connected Systems Group, will discuss how the growth of users, devices and data is transforming information technology while also creating new opportunities for developers. With more than 15 billion connected devices expected by 2015 - and the data center and cloud computing opportunities that support this level of connected devices - Bryant will say the key is open, standards-based solutions such as those defined by the Intel Cloud Builders Program.
The Intel Cloud Builders program enables builders to optimize the cloud infrastructure using open-standard solutions optimized for Intel architecture. Intel Cloud Builders brings together tools including more than 70 reference architectures from a range of cloud infrastructure systems and solutions providers, to address challenges facing data center and cloud deployments such as security, manageability, and energy efficiency.
Bryant will share that the newly introduced Intel Xeon processors are at the heart of the data center. The Intel Xeon E5-2600 product family is designed to scale and handle three times more data traffic than today, be more efficient and secure.
Bryant will also outline details of the company?s 2012 processor roadmap for the emerging micro server category, and highlight.
Collaborations With China's labs
Intel Labs also announced new joint research collaboration efforts with Lenovo and China Mobile. Intel and Lenovo's new lab-to-lab collaborative research efforts will address challenges in the mobile Internet area, such as security, context aware computing, cross screen experience and energy efficiency.
The China Mobile Research Institute (CMRI) is applying Intel architecture to wireless base stations to power next-generation mobile network infrastructure. As part of CMRI?s Cooperative Radio Access Architecture (CRAN) vision, Intel Labs China and CMRI are engaging in research and ecosystem development to increase the speed and efficiency telecommunications networks through greater processing power and general computing capabilities. With CMRI and other ecosystem partners, Intel has produced a reference design prototype that demonstrates improvements for lowering total cost of ownership.
Intel also announced today a joint agreement with the Beijing Municipal Government and Institute of Automation of Chinese Academy of Sciences to establish "China Intel Internet of Things" (IoT) Joint Labs to collaborate on IoT-related core technology research, development and business model innovation. The three organizations will invest 200 million RMB (US$31.7 million) over the next 5 years.
IoT is a global technology evolution through which data from billions of devices are connected, intelligently managed and securely interacting over a network.
The foundation of the joint research will address the core technologies associated with IoT including sensing, networking and processing, among others that will help address computing, storage and communication challenges of massive-scale systems derived from the large amounts of data gathered.
New PCI-e-based 910 Series of SSDs
Intel also today showcased the 910 series of SSDs, which come with a PCI-e interface to deliver up to 2GB/s sequential read, 1GB/s sequential write bandwidth and random speeds up to 180,000 IOPS and 75,000 IOPS (read/write). Additionally, the Intel SSD 910 Series is capable of random write endurance up to 14 PB on 8 KB transfer size.
Designed for servers, the new series utilizes High Endurance Technology (HET) for 30X increased endurance over standard-endurance SSDs, according to Intel. Intel's HET SSD solution combines specially ruggerized 25nm MLC Intel NAND flash memory with SSD managment techniques. Additionally, the Intel SSD controller and firmware are enhanced for less NAND wear, NAND error reduction and system error management.
Write endurance specifications measured by Intel while running 100% random 4 KB and 8 KB writes spanning 100% of the SSD using Iometer include:
400 GB version
4 KB Writes: Up to 5 PB (2.5 PB per NAND module)
8 KB Writes: Up to 7 PB (3.5 PB per NAND module)
800 GB version
4 KB Writes:Up to 10 PB (2.5 PB per NAND module)
8 KB Writes:Up to 14 PB (3.5 PB per NAND module)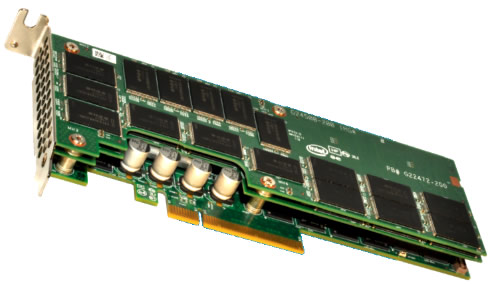 The 910 Series will be available in capacities of 400GB and 800GB. According to Intel, the 800GB version provides 60% greater sequential read performance with 60X greater random read and 20X greater random write performance than eight short-stroke RAIDed 10k rpm SAS HDDs connected to a PCIe Host Adapter. In addition, the Intel 910 Series consumes 5X less space and 2.5X less power.
Pricing for the Intel SSD 910 Series is $1,929 for the 400GB capacity and $3,859 for 800GB. It comes with a 5-year limited warranty.