1. About Nvidia's GTX 580 GPU
Nvidia has finally released the highly anticipated GeForce GTX 580 graphics card. As card based on a new GPU, the GF110, the GTX 580 comes to replace the GTX 480 and also perform better, as the GF110 is more complete and most importantly, it comes with all its features enabled. Remember that the GTX 480 and GF100 were not exactly the the products that NVIDIA first envisioned. Generally, the GF100 shipped through many Nvidia cards had not all of their SMs enabled.
The new GF110-powered GeForce GTX 580 is using around 3 billion transistors, which is the same as the GF100 featured. However, the GF100 comes with all the available L2 cache, ROPs and all the SMs enabled. These are translated in a 6.6% more shading, texturing, and geometric performance for the GTX 580 compared to the GTX 480 at the same clockspeeds.
With GTX 580 taking the $500 spot , Nvidia's GTX 480 will retail at around $400-$420, and the GTX 470 is available at $239-$259, still competing with the AMD Radeon HD 6870. Speaking about AMD, the company does not have a direct competitor for the GTX 580 at the moment, besides the Radeon HD 5970. This is expected to change soon as AMD will release its Cayman GPUs by the end of the year.
The GF110 features 512 CUDA Cores divided up among 4 GPCs, and in turn each GPC contains 1 raster engine and 4 SMs. At the SM level each SM contains 32 CUDA cores, 16 load/store units, 4 special function units, 4 texture units, 2 warp schedulers with 1 dispatch unit each, 1 Polymorph unit (containing NVIDIA's tessellator) and then the 48KB+16KB L1 cache and registers. This architecture is not very different than what we saw with the previous GF100 GPU, at least for the computing side.
The real change comes on the graphics side. GF104's texture units improved this to 4 samples/clock for 32bit and 64bit, and it's these texture units that have been brought over for GF110. GF110 can now do 64bit/FP16 filtering at full speed versus half-speed on GF100. In addition, the GF104 doubled up on texture units while only increasing the shader count by 50%.
The card also features a new high-speed 32x anti-aliasing for keeping the rough edges smooth as well as a new tesselation approach.
The result is what Nvidia call's "the world's fastest DirectX 11 GPU."
Beyond the specific architectural improvements for GF110, NVIDIA has also been tinkering with their designs at a lower level to see what they could do to improve their performance. The company looked at GF110 at a transistor level, and determine what they could do to cut power consumption. So the GF110 includes a new type of transistor, which has better characteristics than those used for the GF100. The result was a lower power consumption without sacrificing performance.
Attached to GTX 580 are also a series of power monitoring chips, which monitor the amount of power the card is drawing from the PCIe slot and PCIe power plugs. By collecting this information NVIDIA's drivers can determine if the card is drawing too much power, and slow the card down to keep it within spec.
Nvidia's new offering also runs quieter with its vapor chamber thermal design. The combination of the new vapor chamber thermal solution and new architectural enhancements make the GTX 580 the fastest and quietest GPU in its class, delivering an increase of up to 35 percent in performance per watt, and performance that is up to 30 percent faster than the original GeForce GTX 480.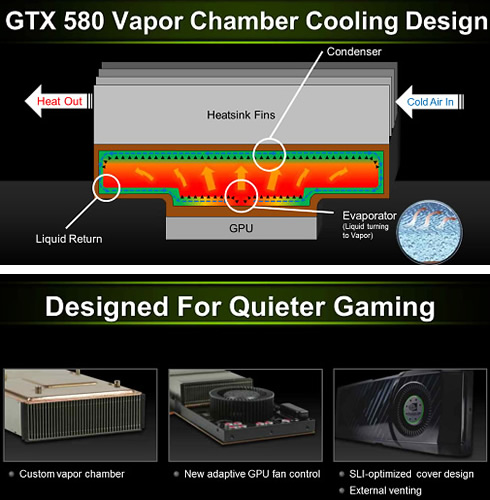 It's time now to see the specifications of the GTX 580. Nvidia released the product with 512 CUDA cores, with a Graphics clock / Processor clock of 772 / 1544 MHz, 1.5GB / 384-bit GDDR5 onboard and a memory speed of 4.0 Gbps: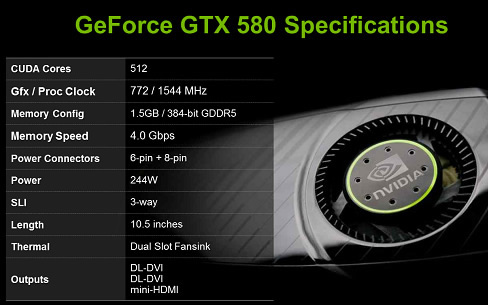 Here is a comparison among the basic specifications of the latest Nvidia graphics cards:
| | | | | |
| --- | --- | --- | --- | --- |
| | GTX 580 | GTX 480 | GTX 460 1GB | GTX 285 |
| Stream Processors | 512 | 480 | 336 | 240 |
| Texture Address / Filtering | 64/64 | 60/60 | 56/56 | 80 / 80 |
| ROPs | 48 | 48 | 32 | 32 |
| Core Clock | 772MHz | 700MHz | 675MHz | 648MHz |
| Shader Clock | 1544MHz | 1401MHz | 1350MHz | 1476MHz |
| Memory Clock | 1002MHz (4008MHz data rate) GDDR5 | 924MHz (3696MHz data rate) GDDR5 | 900Mhz (3.6GHz data rate) GDDR5 | 1242MHz (2484MHz data rate) GDDR3 |
| Memory Bus Width | 384-bit | 384-bit | 256-bit | 512-bit |
| Frame Buffer | 1.5GB | 1.5GB | 1GB | 1GB |
| Transistor Count | 3B | 3B | 1.95B | 1.4B |
| Manufacturing Process | TSMC 40nm | TSMC 40nm | TSMC 40nm | TSMC 55nm |
| Price Point | $499 | ~$420 | ~$190 | |
Features:
Display Support:
Maximum Digital Resolution
2560x1600
Maximum VGA Resolution
2048x1536
Standard Display Connectors
Mini HDMI
Two Dual Link DVI
Multi Monitor
Yes
HDCP
Yes
HDMI4
1.4a
Audio Input for HDMI
Internal
Standard Graphics Card Dimensions:
| | |
| --- | --- |
| Height | 4.376 inches (111 mm) |
| Length | 10.5 inches (267 mm) |
| Width | Dual-Slot |
Thermal and Power Specs:
| | |
| --- | --- |
| Maximum GPU Temperature (in C) | 97 C |
| Graphics Card Power (W) | 244 W |
| Minimum Recommended System Power (W) | 600 W |
| Supplementary Power Connectors | One 6-pin and One 8-pin |
Microsoft DirectX 11 Support
DirectX 11 GPU with Shader Model 5.0 support designed for ultra high performance in the new API's key graphics feature, GPU-accelerated tessellation.
NIVIDIA PhysX technology
GeForce GPU support for NVI DIA PhysX technology, enabling a totally new class of physical gaming interaction for a more dynamic and realistic experience with GeForce.
NVIDIA 3D Vision Ready
GeForce GPU support for NVIDIA 3D Vision, bringing a stereoscopic 3D experience to the PC. A combination of high-tech wireless glasses and advanced software, 3D Vision transforms hundreds of PC games into full stereoscopic 3D. In addi tion, you can watch 3D movies and 3D digital photographs in crystal-clear quality.
NVIDIA 3D Vision Surround Ready
Expand your games across three displays in full stereoscopic 3D for the ultimate "inside the game" with the power of NVIDIA 3D Vision and SLI technologies. NVIDIA Surround also supports triple screen gaming with non-stereo displays.
NIVIDIA CUDA Technology
CUDA technology unlocks the power of the GPU's processor cores to accelerate the most demanding systems tasks – such as video transcoding – delivering incredible performance improvements over traditional CPU's.
NVIDIA SLI Technology
Industry leading NVIDIA SLI technology offers amazing performance scaling for the world's premier gaming solution.
32x Anti-aliasing Technology
Lightening fast, high-quality anti-aliasing at up to 32x sample rates obliterates jagged edges.
NVIDIA PureVideo HD Technology
The combination of high definition video decode acceleration and post-processing that delivers unprecedented picture clarity, smooth video, accurate colour, and precise image scaling for movies and video.
PCI Express 2.0 Support
Designed for the new PCI Express 2.0 bus architecture offering the highest data transfer speeds for the most bandwidth-hungry games and 3D applications, while maintaining backwards compatibility with existing PCI press motherboards for the broadest support.
Dual-link DVI Support
Able to drive industry's largest and highest resolutionflat-panel displays up to 2560x1600 and with support for High-Bandwidth Digital Content Protection (HDCP).
HDMI 1.4a Support
Support for HDMI 1.4a including GPU accelerated Blu-ray 3D support, x.v.Color, HDMI Deep Color, and 7.1 digital surround sound.
Meet the Inno 3D GTX 580 OC
We have in our labs Inno3D's implementation of the GTX 580, the Inno3D GTX 580 OC . As you realize, the card is an overclocked version of Nvidia's design. The card's graphics clock and processor clock is boosted to 820 MHz/ 1640 MHz from the native 772 / 1544 MHz, while the memory runs at 1050 MHz

Here is some more information about the Inno3D GTX 580 OC, as the GPU-Z utility reports: