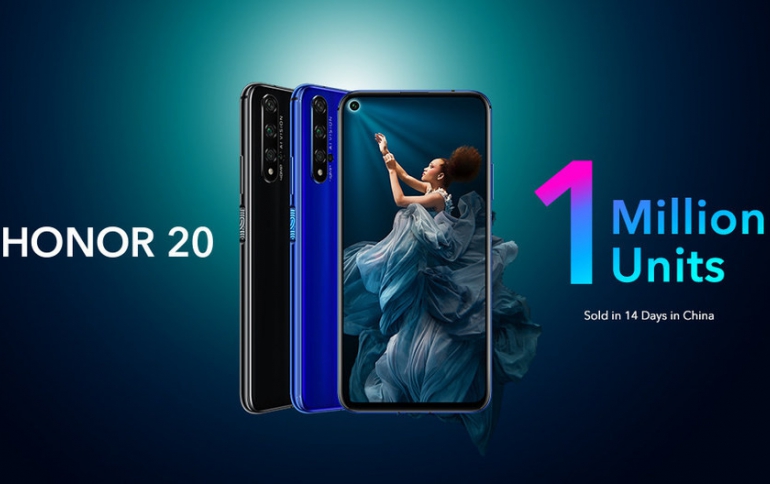 HONOR Kicks off HONOR 20 Global Availability
Smartphone brand HONOR today announced the global availability of its flagship smartphone, the HONOR 20, following a record-high sales performance of more than one million units sold in China in a mere 14 days.
The HONOR 20 will go on sale starting with France, Germany, Malaysia, Russia and UK on 21 June; Italy and The Netherlands on 24 June; India on 25 June; Poland on 28 June and Spain in early July. Availabilities in other markets will follow.
The HONOR 20 Series, which comprises the HONOR 20 LITE, HONOR 20 and HONOR 20 PRO, was launched in London on 21 May. It offers a high-end AI Quad Camera and performance.
Huawei's junior brand is facing cosnsumers' scepticism as a result of the trade war of the U.S. with the China, and the fact that actually the United States used Huawei as a proxy. The US has banned China's domestic companies from engaging in business with Huawei, which includes Honor, though there's been a 90-day reprieve that muddies the situation.
Honor's approach to this global trade drama has been to just keep going with its product plans, in the hope that things will improve sooner rather than later.
In any case, it would be wise to wait until parent company Huawei recovers its working relationship with Google before spending your money on the great Honor devices.
HONOR 20 on Sale List

Countries

On Sale Date

Sales Partners and Links

RRP

Promotion

Russia

21 June

RUB 27,990

Preorder bundle - HONOR FlyPods Lite

UK

21 June

£399.99

Preorder bundle - HONOR Magic Watch

France

21 June

Boulanger (online & offline)

€499.00

Bundle with HONOR FlyPods

Bouygues (online)

Bundle with HONOR Band 4

HONOR Shop La Défense

Bundle with HONOR Watch

HONOR Shop Lyon

27 June

FREE (online & offline)

Bundle with HONOR FlyPods

Germany

21 June

Amazon.de

€499.00

Bundle with HONOR FlyPods

Otto.de

Deinhandy.de

Conrad.de

24 June

Malaysia

21 June

RM 1,699

HONOR SoundStone Portable Bluetooth Speaker, HONOR Band 4 and HONOR Backpack

N/A

Italy

24 June

€499.00

Bundle with HONOR AM61 Bluetooth Earphone

28 June

Unieuro

MediaWorld

Buying Group

The Netherlands

24 June

BOL.COM

€499.00

Bundle with HONOR Band 4 and HONOR AM61 Bluetooth Earphone

Belsimpel

Coolblue

India

25 June

Flipkart

INR 32,999

1. No Cost EMI starting at INR 5500/month

2. Up to 90% Buy Back Gaurantee in 90 days; "Love it or Return it Challenge"*

3. HONOR 20 series users on performing recharge INR 198/Rs.299 will get INR 2200 cashback and 125GB additional 4G

Poland

28 June

Play

PLN 1999

Bundle with flight tickets promo (starting from 1 July)

Spain

Beginning of July

MediaMarkt (online + offline)

€499.00

100 Euro gift card

Grupo Euskaltel

Phone House

Fnac

Worten