GP2X Portable Gaming Console
10. Comparison with PSP
After having played around for one week with the GP2X, a friend lent me his PSP for a direct comparison. But why anyone want to compare the GP2X with Sony's PSP? An obvious reason is that both portable consoles have similar prices. The basic pack for the P2P costs €199 vs €185 for the GP2X. Of course, the PSP giga pack, which includes a case, strap, charger, headphones & 1GB memory card, costs €269. A similar configuration for the GP2X (power pack) costs €30 less (with 1GB of SD card). As we can see, the GP2X is in all cases cheaper.
Looking at the hardware, the PSP has more width than the GP2X. On the bright side, its TFT screen is much better than the GP2X (4.3", 16:9 ratio, 480×272 resolution and 16.77 million colours).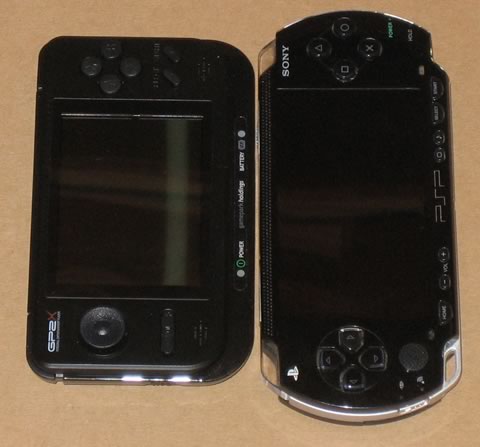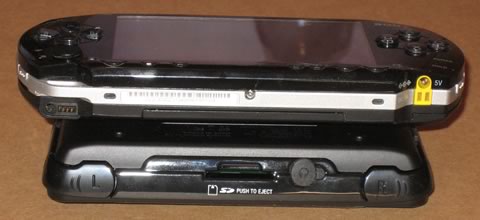 The PSP has something that the GP2X doesn't. Wi-Fi! Yes, the PSP can be used to surf around the internet or transfer files, play games with other PSP consoles. The GP2X doesn't offer networking features, at least out of-the-box. Something we should mention is that PSP's internal battery can last up to 5hours of continuous play, at least according to what its owner told me. With the GP2X, you need to get rechargeable batteries, or spend a fortune on alkaline batteries. That increases the cost, since 4x2700mAh NiMh batteries and a fast charger cost around €50. The PSP has many commercial games available, while the GP2X has only two. The PSP is able to run homebrew applications and of course emulators at full speed, while the GP2X is much less powerful. On the other hand, the GP2X is based on Linux and experienced users can more easily develop/port their favourite applications to the GP2X.
| | | |
| --- | --- | --- |
| Feature | GP2X | PSP |
| Price | 179 Euro | 199 Euro |
| CPU | 200MHz ARM920T host, 200MHz ARM940T | MIPS R4000-based; clocked from 1 to 333 MHz |
| Operating System | Linux-based OS | Sony Os |
| Storage | SD | UMD, MS |
| Connectivity | USB 1.1/2.0 | Wi-Fi (802.11b), IrDA, USB 2.0 |
| Power | 2xAA batteries or AC Adapter | 3.6V 1800mAh battery or AC Adapter |
| Display | 320×240, 3.5 inch, 260,000 colors | 480×272, 4.3 inch (16:9), 16.77 million colours |
| Weight: | 161 g (without battery) | 260g (including battery) |
| Performance | 18~60 FPS with various games at MAME | 50~60FPS with various games at MAME |
| Battery performance | 1~2hours with 2xAA alkaline batteries | ~4.30 hours with included battery |
| TFT LCD performance | Medium | Excellent |
| Video Supported Formats | DivX, Xvid | DivX, Xvid, x264, MPG, WMV |
| Audio Supported Formats | MP3, OGG | MP3, WMA, AAC |