Google I/O: Android N To Bring New Features To Nvidia SHIELD
At Google I/O, Google's annual developer conference, several announcements were made that offer something for all SHIELD users. The Android TV team announced a slew of popular apps coming soon.
If you're a sports fans you'll be able to stream all ESPN has to offer. Music lovers will gain access to Spotify. Movie buffs can enjoy STARZ and ENCORE programming in the new STARZ app. For news junkies, CNN, NPR News and ABC News will soon be available. Family-friendly programming will get a major boost with WATCH ABC, Freeform, Disney Channel, Disney Jr. and Disney XD, and Nickelodeon. Viacom also brings popular shows with MTV and Comedy Central.
Nvidia is also working with VUDU to deliver the latest movies and TV to SHIELD. VUDU will join the list of 4K content providers - including the recently released Toon Goggles - in an over-the-air software upgrade coming soon.
SHIELD is a media streamer with the power of a game console. Its Tegra X1 processor enables developers to bring games, played natively, to SHIELD. Resident Evil 5 is set to join, available May 19.
GeForce NOW, Nvidia's on-demand service that connects you to NVIDIA's cloud-gaming supercomputers, is streaming more day and date titles than ever. Shadwen is now available on the service with Homefront: The Revolution coming soon.
HDR GameStream is also coming to SHIELD. With new, Pascal-based GPUs, gamers will soon be able to stream PC games with HDR to the living room.
On top of being the first media streaming device to output in ultra 4K at 60 frames per second, SHIELD becomes the first smart TV box with Netflix HDR. High dynamic range provides the viewer with expanded range of both contrast and color.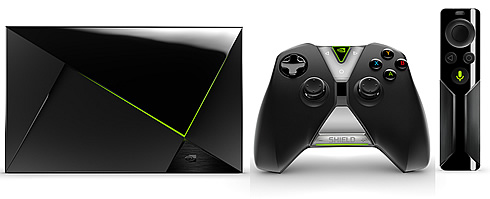 Google also provided a look at future updates coming to Android N. Among the most anticipated are DVR support and multiscreen viewing (picture-in-picture), so you can, for example, download new games on your SHIELD Android TV while you watch video content.
To celebrate all the content coming to SHIELD, for a limited time, Nvidia is including the remote when you buy either the 16GB or 500GB models.