Google Earth 6 Introduces 3D Trees, More Realism
Google today introduced the latest version of Google Earth, the company's interactive digital atlas, featuring new realistic tools. Google Earth 6 integrates Street View and 3D trees. It also offer easy browsing historical imagery.
Google implemented the Street View in Google Earth in 2008 for the first time, enabling users to "fly" into Street View panoramas. In Google Earth 6, the Street View experience is now fully integrated, so users can journey from outer space right to their doorstep in one seamless flight.
Pegman is now docked right alongside the navigation controls - an ever-present travel companion ready whenever users want to get their feet on the street and take a virtual walk around.
"Just pick up Pegman and drop him wherever you see a highlighted blue road to fly right down to the ground. Once there, you can use the navigation controls or your mouse to look around. And unlike our earlier Street View layer, you can now move seamlessly from one location to another as if you're walking down the street by using the scroll-wheel on your mouse or the arrow keys on your keyboard. If you want to visit somewhere farther away, simply click the "exit" button and you'll immediately return to an aerial view where you can easily fly to your next destination," Google explains.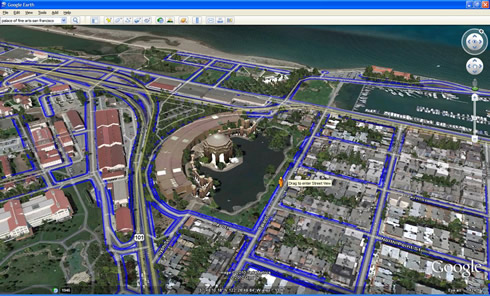 The new Google Earth also includes detailed 3D models for dozens of species of trees. Through the Google Earth Outreach program, the company has also been working with organizations including the Green Belt Movement in Africa, the Amazon Conservation Team in Brazil and CONABIO in Mexico to model the planet's threatened forests.
Historical imagery enables users to visually go back in time to see such things as Warsaw in 1935, London in 1945, and Port-au-Prince Haiti before and after the devastating earthquake of January 2010. With this new version, Google has made it easy to discover historical imagery.
"When you fly to an area where historical imagery is available, the date of the oldest imagery will appear in the status bar at the bottom of the screen. If you click on this date, you'll instantly be taken back in time to view imagery from that time period. You can then browse through all the historical imagery available for that location, or simply close the time control and return to the default view," Google said.
To download Google Earth 6 visit
http://earth.google.com
.