Glacialtech Igloo 5610 Plus Silent
4. Results
As we previously mentioned, we test the cooling efficiency of the Glacialthech cooler using the Intel Core i7-920 CPU at stock speeds, and then after being overclocked.
At stock speed and voltages, Intel's stock cpu cooler kept the CPU's temperature at around 58 degrees C, while the Glacialtech Igloo 5610 PLus Silent was somewhat more efficient with 54 degrees C.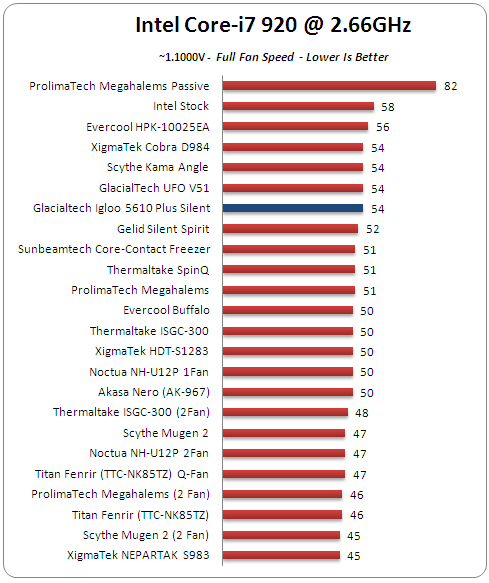 Pushing the Intel Core-i7 920 to work at 3.60GHz, produces even more heat. The Intel stock cooler gave us around 90degrees C and the the GlacialTech Igloo 5610 Plus Silent managed to get the cpu temperature down to 80 degrees C.
But what about noise? The Intel stock CPU is the quietest among all the CPU coolers and the measurement showed a 37dB. At full rotation speed, Glacialthech 's product produced 45dB, a good performance compared with other coolers:
Below you can see a price comparison among some of the currently available CPU coolers on the market. Glacialthech's cooler is found online at ~$21, which is one of the cheapest solutions you can buy.