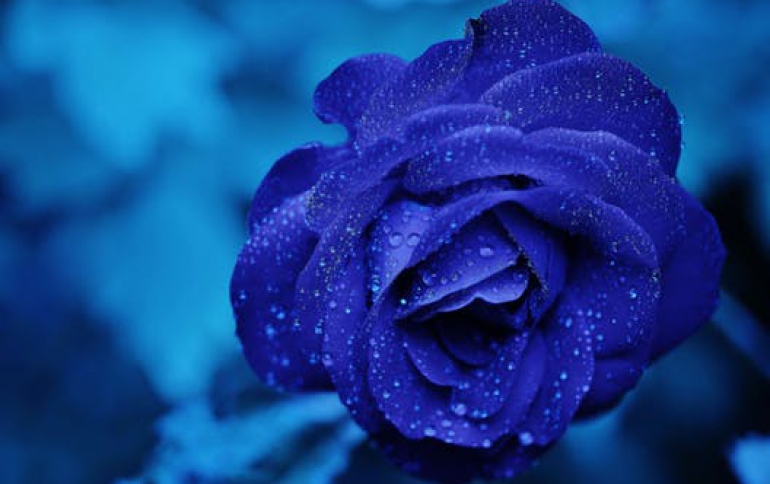 Gigabyte M912V Netbook with 8.9" touch swivel panel
Netbook M912V is the ultimate choice for the next generation of handheld PC. With a revolutionary compact design, it is space-saving and convenient to be carried around. Equipped with 8.9", 1280x768 LCD panel and weighing only at 1.3kg, M912V has a sophisticated and fashionable appearance. The key feature of M912V is that the touch screen display can be rotated 180° to transform into a Tablet PC, offering a whole new inspiring experience.
M912V uses 2.5" SATA HDD 160GB as large capacity, the Express Card slot, the option for HSDPA expansion, and a built-in 1.3M pixels webcam. M912V has a 1.6GHz Intel Atom microprocessor and will initially be available with Microsoft Windows XP or a Linux OS. The company also plans to market the M912 with the Windows Vista Home Basic OS at a later date.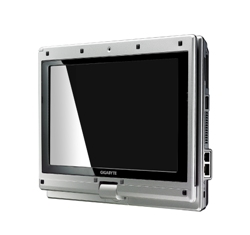 To meet various needs for portability, touch-screen, and multi-media (audio-video entertainment, and Internet browsing), the exterior of the product is cut and thin in its shape and silver/black in its color, featuring lightweight and fashionable design.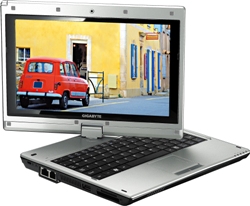 The Latchless design, along with the partially hollow mouse pad and palm rest, allows easy opening/closing and swiveling. The touch pad arrangement and handheld design further make it easier to use. M912 also addresses consumer needs physically (compact size), mentally (excellent multi-media capability and friendly interface), and stylishly (elegant outlooks).
Gigabyte plans to launch M912V by the end of July in Taiwan.