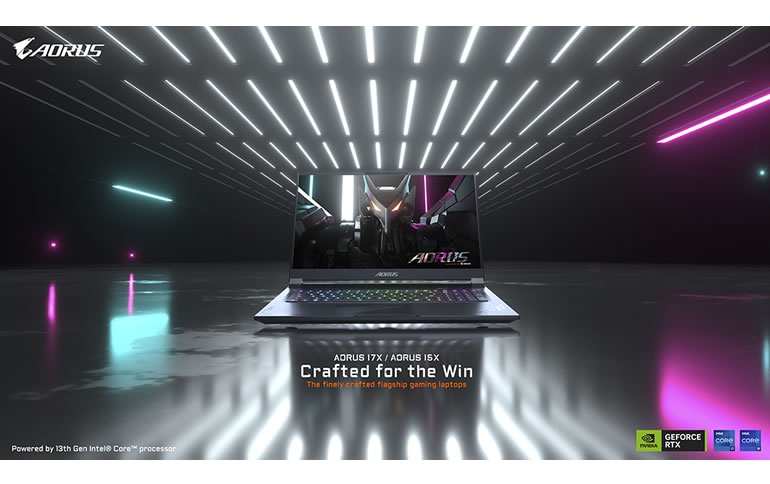 Gigabyte announces new RTX 4070 Ti, laptops and more at CES 2023
GIGABYTE TECHNOLOGY launched GeForce RTX 4070 Ti series graphics cards powered by NVIDIA® ADA Lovelace architecture. GIGABYTE launched AORUS series and GIGABYTE series graphics cards - AORUS GeForce RTX 4070 Ti MASTER 12G, AORUS GeForce RTX 4070 Ti ELITE 12G, GeForce RTX 4070 Ti GAMING OC 12G, GeForce RTX 4070 Ti AERO OC 12G, GeForce RTX 4070 Ti EAGLE OC 12G and GeForce RTX 4070 Ti EAGLE 12G. GIGABYTE has released a series of graphics cards to meet the needs of various consumers. From enthusiasts who pursue ultimate performance and gorgeous RGB appearances, to practical users who value basic performance and durability, all can be adequately satisfied. 
AORUS series – AORUS GeForce RTX 4070 Ti MASTER 12G, AORUS GeForce RTX 4070 Ti ELITE 12G
The AORUS graphics card features the new fan blades with a special surface design, WINDFORCE bionic shark fan increases the static pressure by up to 30% while reducing noise level by up to 3dB at the same time, compared to the regular fans at the same RPM. The larger heatsink module with the angular fins creates more surface area and cooling capacity than ever before. Paired with the vapor chamber in direct touch, multiple heat pipes, and the enlarged screen cooling vent at the back, the AORUS graphics card assures top-notch thermal performance, even at demanding loads. 
AORUS has an upgraded version of the signature triple-ring RGB lights, named "RGB Halo". This beloved feature, offering addressable lighting effects on the rotating fans, will definitely make every build glow in style. The LCD Edge View on the side of the AORUS MASTER graphics card gives users another option to personalize their cards with texts, images, or gifs. One can also monitor critical stats, like power consumption, temperatures, fan rpm, etc. If you don't need the LCD Edge View, the AORUS ELITE will be a good choice. 
On top of the features above, the AORUS graphics card features aerospace-grade PCB coating, a Dual BIOS design with quiet operation mode and ULTRA DURABLE certified components. Due to the 12+3 power phases design and precise power control, the graphics card has lower component temperature, less noise, and less signal interference. In addition to the upgraded metal back plate, the new anti-sag bracket is tailored to the graphics card to prevent the PCB from sagging. It provides an optimized reinforcement and enhances the overall visual appearance.
GIGABYTE Series – GeForce RTX 4070 Ti GAMING OC 12G, GeForce RTX 4070 Ti AERO OC 12G, GeForce RTX 4070 Ti EAGLE OC 12G and GeForce RTX 4070 Ti EAGLE 12G
The GAMING OC is a classic and popular graphics card from GIGABYTE, known for its superior performance and stability. It also inherits the RGB Halo from AORUS. The triple-ring RGB lights offer addressable lighting effects on the rotating fans, which will definitely make every build glow in style. It is the best choice for most gamers. The AERO OC graphics card with its white and silver design is popular among designers and users who prefer a minimalistic style, and is particularly suitable for PC systems with a light color scheme and minimalistic style. The logo on the side of the graphics card was also made of a special material that can display a rainbow effect. The EAGLE OC and EAGLE graphics cards incorporate some futuristic design elements, leading to a unique and personalized identity. Such as cosmic-themed graphics, symbols, and geometric shapes, all strongly displayed on the exterior of the graphics card.
All of the GIGABYTE's GeForce RTX 4070 Ti series graphics cards have used the WINDFORCE cooling system. It features three unique blade fans, alternate spinning, large vapor chamber with direct touch to the GPU, composite copper heat pipes, 3D active fans, and screen cooling to maximize the heat dissipation. The WINDFORCE fans utilize graphene nano lubricant, which extends fan life by 2.1 times, delivering nearly the lifespan of the double ball bearing while providing quiet operation. The onboard dual BIOS switch allows users to choose the SILENT mode for a quieter experience without the need for software installation. The GAMING OC graphics card inherited the RGB Halo from AORUS, and the AERO OC, EAGLE OC, and EAGLE graphics cards have built-in RGB lighting. Users can customize the RGB effects and colors through the GIGABYTE CONTROL CENTER software to create their own PC style. The cards also come with upgraded metal back plate and tailored anti-sag bracket, for optimized reinforcement and better appearance. 
To deliver a better user experience, AORUS, GAMING OC and AERO OC graphics cards provide customers with a 4-year warranty (requires online registration within 30 days of the purchase date). 
For more information, please link to
AORUS GeForce RTX 4070 Ti MASTER 12G https://www.gigabyte.com/Graphics-Card/GV-N407TAORUS-M-12GD#kf
AORUS GeForce RTX 4070 Ti ELITE 12G https://www.gigabyte.com/Graphics-Card/GV-N407TAORUS-E-12GD#kf
GeForce RTX 4070 Ti GAMING OC 12G https://www.gigabyte.com/Graphics-Card/GV-N407TGAMING-OC-12GD#kf
GeForce RTX 4070 Ti AERO OC 12G https://www.gigabyte.com/Graphics-Card/GV-N407TAERO-OC-12GD#kf
GeForce RTX 4070 Ti EAGLE OC 12G https://www.gigabyte.com/Graphics-Card/GV-N407TEAGLE-OC-12GD#kf
GeForce RTX 4070 Ti EAGLE 12G https://www.gigabyte.com/Graphics-Card/GV-N407TEAGLE-12GD#kf
GIGABYTE TECHNOLOGY presents gaming laptops powered by 13th Gen Intel® HX and H Core™ Processors and the latest NVIDIA® GeForce RTX™ 40 Series Laptop GPUs at CES 2023. NVIDIA GeForce RTX 40 Series Laptop GPUs power the world's fastest laptops for gamers and creators. Built with the ultra-efficient NVIDIA Ada Lovelace architecture, the RTX 40 Series GPUs bring a quantum leap in performance with AI-powered DLSS 3 and enable lifelike virtual worlds with full ray tracing. Plus, the Max-Q suite of technologies optimizes system performance, power, battery life, and acoustics for peak efficiency. While peaking performances, the laptops' neat contours also come with varied features to satisfy diversified gaming and entertainment needs. Among them, the AORUS professional gaming series products, AORUS 17X and AORUS 15X are both equipped with top-notch hardware specifications, possessing powerful computing performances that allow players to pursue extreme speed. While AORUS 17 and AORUS 15 are the best portable choices with superior performance for players seeking entertainment and casual gaming, AORUS 16 is applied with a brand-new laptop design that offers comprehensive entertainment. And for the latest AORUS 17H gaming laptop, the top performance, lightweight, and thin size are all combined. All laptop models are being announced at CES2023, unveiling the unprecedented masterpieces that all gamers have eagerly anticipated.
AORUS 17X/15X – Flagship gaming laptop created with remarkable craftsmanship
AORUS 17X and AORUS 15X, the gaming laptops of ultimate performance created with the craftsmanship spirit, are the first to emerge on stage. The one-of-a-kind appearance design was inspired by spaceships exploring the universe, and the RGB Fusion light bar technology is introduced to provide a customizable gaming ambiance. In addition, precise CNC milling technology is applied during production, sculpting the perfect look from a gamer's dream. The DDR5-5600 memory, which is the highest spec in the current market, can unleash premium functionality during heavy computing processes. AORUS 17X is tailor-made for gaming enthusiasts who are eager to demonstrate their masterful skills with the best specs, including the Intel i9-13950HX Processors and NVIDIA® GeForce RTX™ 4090 with a max TGP up to 175W, granting the flagship models groundbreaking dominance. The introduction of the Advanced Optimus: DDS allows the laptops to switch the output modes without any additional settings adjustments, greatly enhancing gaming performances. The WINDFORCE Infinity has evolved once again to achieve superior heat dissipation ability, this year combined with an all-covered vapor chamber and four sets of powerful cooling fans with extremely thin blades of only 0.2mm, improving cooling efficiency by 35%. The adoption of the phase-changing high thermal conductivity material allows the laptop to maximize CPU and GPU performances within the slim body, maintaining proper temperature control and the optimal output state. With the perfect balance of performance and heat dissipation, players will dominate every battlefield. As AORUS 17X and AORUS 15X have ultimate performance, unparalleled heat dissipation technology, and slim yet solid cases designed with craftsmanship spirit, they are certainly the top luxurious choice gamers.
AORUS 17 / AORUS 16 / AORUS 15 Ultra-portable high-performance gaming laptops
The laptops' high portability does not undermine their endless potential, as the ultra-slim bodies of AORUS 17 and AORUS 15 have outstanding and powerful performance capabilities. The newly launched AORUS 16 is a brand-new 16" laptop choice for gamers, with the widescreen adopting a 16:10 golden ratio to present an exceptional display mastering both comfort and aesthetics, elevating the visual extension experience. All three laptops are powered by up to the 13th Generation Intel® Core™ i7 Processors and the latest NVIDIA® GeForce RTX™ 40 Series Laptop GPUs, allowing players to enjoy epic triple-A games anywhere and anytime they want. The Highest QHD (1440p) resolution and high refresh rate of the displays offer every last exquisite visual detail without dropping the butter-like smoothness, and players can enjoy high resolution and high refresh rates simultaneously. All displays of the AORUS Series have passed the TÜV Rheinland certification, which includes a series of rigorous tests ensuring the product's low blue light and free of flicker. The AI Eyecare feature developed by GIGABYTE's software team is also introduced, and based on the lighting of the environment, it can timely adjust the screen brightness, offering the players the best eye-comforting visuals. The displays are also capable of up to 100% cinematic-standard DCI-P3 wide color gamut, accurately presenting all colors. With the powerful performance and the magnificent visual presentation, minus over 20% body thickness, a premium entertainment feast is ready to fire up at any time and any place.
AORUS 17H – A classic revolved: The gaming laptop with 4-side ultra-thin bezel
AORUS 17H has inherited the spirit of the 4-sided super thin bezel design, as a 17"screen is in an almost 15" laptop. With the 90% high screen-body ratio, the visual extension and image immersion are significantly incremented. The comprehensive slim body is equipped with the premium performance next-generation CPU and GPU. The 13th Gen Intel® Core™ H Series i9 Processors give performance excellency, while the NVIDIA® GeForce RTX™ 4090 GPU skyrocketed the computing performance. Also, the WINDFORCE Infinity cooling technology ensures a stable operation during the whole process, unleashing 100% next-gen performance. Regardless of how intense the in-game battlefield is, AORUS 17H's ultra-performance will always guarantee absolute supremacy.
For the pro gamer, the essence of gaming laptops is the high-spec equipment to precisely convey their tactical moves with excellency. The AORUS Series Gaming Laptops offer a long travel keyboard structure that gives accurate neat tactile feedback, allowing you to enjoy the intensity of battle. With GIGABYTE Control Center, an integration setting software developed for professional players, any complex system configuration can be simplified into an intuitive and convenient interface, and with the thoughtful AI Boost technology, it can detect the player's usage status and optimize the performance configuration accordingly. Leaving all the settings to the smart software, players can fully shift their focus on the game itself. All laptop models are equipped with a 99Wh huge capacity battery, extending further mobility as it allows longer usage. Designed with complete I/O ports, the laptops support the output of three displays at most. No more compromises have to be made for any equipment as the peripherals can be expanded on demand.
From January 5th to 8th, GIGABYTE will be at CES 2023 in Las Vegas(#9119 LVCC North Hall), under the theme of 'Power of Computing', exhibiting HPC servers and cooling solutions, enterprise-grade workstations, AI training platforms, autonomous vehicle systems, and next-gen personal computers and laptops. GIGABYTE looks to showcase its data center expertise and industry know-how, to empower users from enterprises to individuals to expand their business endeavors and personal visions. Learn more about GIGABYTE's CES presentations >
GIGABYTE TECHNOLOGY is introducing new members of the AERO Creator Laptop Series with the 13th Gen. Intel® Core™ Processors and NVIDIA GeForce RTX 40 Series Laptop GPUs: AERO 16 OLED and AERO 14 OLED. As the world is lifting lockdown restrictions, the wheels of the world economy have been revived toward the path of recovery. However, post-pandemic work patterns have become the new norm. Consumers' screen time is prolonged due to hybrid work patterns and working from home, whereas the frequency of business trips has also been rising. GIGABYTE conducted in-depth analyses about the criticality of screens for creators on the move, which leads to the development of OLED eye-protection laptops with the world's strictest dual color calibration. With the new laptops, consumers will not only get to enjoy the visual feasts but also be prepared for highly productive creation processes. The GIGABYTE AERO Series has been targeting creators, designers, and office workers, offering strict color accuracy, low blue light eye-protection technology, and lightweight for high mobility as its main features. In terms of product design, after undergoing 88 CNC forging processes, the thorough tempering gives the laptop an exquisite appearance, elegant like a masterpiece of fine art. The "Illusory Iridescent" design concept added more quality details to the silky smooth texture, bringing a touch of aesthetic and inspiration to all work hours. The practicality of the creator laptops is once again elevated and now graced with a sleek artistic sense.
AERO 16 OLED: Every Color Counts
With the rapid rise of the creator economy, GIGABYTE has been designing products tailored for craftsmen, designers, and original creators, innovating year after year. This time, the latest 16" Creator Laptop comes with a 4-side thin bezel 4K UHD+ OLED 16:10 display that has obtained multiple international third-party professional certifications, including the X-Rite™ 2.0 Factory Display Calibration and Pantone® Validated certification, passing dual-color calibration. Therefore, the display's color accuracy has achieved the world's strictest Delta E<1, and an exclusive color calibration performance report can even be automatically generated for each laptop. In addition, the OLED display has also been certified with the TÜV Rheinland low blue light, Flicker-free and Eyesafe® 2.0 eye-protection standards, as GIGABYTE is caring for the user's health with every pixel. The exceptionally slim chassis of 18mm also brings more satisfaction, while the AERO logo at the cover is embedded with unique iridescent light, even when the light is off, a crystal-like multicolored reflection can be seen from different angles, perfectly echoing with the colorfulness of the world, as well as the essence of the creations – telling wonderful stories from different perspectives.
This year, the laptop is upgraded to the 13th Generation Intel® Core™ Processor i9-13900H and i7-13700H Processor. Based on Intel 7 process architecture, users will experience an unprecedented speed of P-core and E-core, enjoying the finest multi-tasking efficiency and loading performance. Equipped with the latest NVIDIA® GeForce RTX™ 40 Series Laptop GPUs, up to NVIDIA GeForce RTX 4070, the ultra-efficient Ada Lovelace architecture brings a quantum leap in performance with AI-powered DLSS3 and advanced ray-tracing effects, allowing creators unleash their creativity and productivity to the fullest. Backed by NVIDIA Studio technologies for creators, the laptop benefits from RTX optimizations in over 110 creative apps, NVIDIA Studio Drivers for the highest levels of stability and performance in creative apps, and exclusive AI-powered NVIDIA tools: Omniverse, Canvas, Broadcast, and RTX Remix.
Pre-installed on the AERO 16 OLED, NVIDIA Omniverse is where creators can connect top 3D apps and collaborate in real-time. It's expanding with Blender enhancements, a new suite of experimental generative AI tools for 3D artists and thousands of new, free USD assets.
With AI technologies, users can expect to witness significant enhancements in terms of rendering effect and special effect processing with multimedia audio-visual editing and 3D model-building software, composing a real accelerator of creative art for content creators.
AERO 14 OLED: Lightweight Leads the Way
For the digital native Gen Z, everyone can be a creator, and more visionaries have been striving to gain fame or influence. A massive number of creators have been yearning to catch the audience's eyes, and any successful high-traffic work can be spread globally within hours. The reality is, possessing the ability to create content has become a must in modern days. Now, GIGABYTE is finally launching the long-awaited AERO 14 OLED Lightweight Creator Laptop to facilitate such ambitions. With a delightful weight of 1.49 kg, it mesmerizes hearts of creative workers, design students, and office workers. Combined with GIGABYTE's patented 4-side bezel-less design and the 2.8K QHD+ OLED 16:10 display, it offers cinema-grade DCI-P3 100% wide color gamut that had passed the VESA DisplayHDR™ 600 TrueBlack certification as well as international certification for third-party color calibration and low blue light eye protection standard. While the chassis size was reduced, not one bit of display quality was compromised. The 13th Gen Intel® Core™ i7-13700H Processor and the 12th Gen i5-12500H Processor fuel the engine of creativity, ensuring output in both creativity and productivity. Powered by the NVIDIA® GeForce RTX™ 4050 Laptop GPU, the NVIDIA Studio platform elevates the efficiency and functionality of creative applications, granting users the freedom to unleash their wildest dreams any place, any time. Creators can grasp flashes of musical inspiration instantly or expand their business layout on the fly, as their career of art and creativity is ready to take off.
To flourish the mobility of creativity, GIGABYTE chose different designs for the charging and specification of the two latest releases. The AERO 14 OLED Creator Laptop is equipped with Type-C as the DC-in interface, and fast charging can be performed with GIGABYTE's Type-C power supplier which complies with the EU's new regulation and will soon become available for all the other consumer electronics. The AERO 16 OLED Creator Laptop has the Thunderbolt™ 4 port on the user's side which supports high-speed transmission, external display, and PD charging, providing the best solution for outdoor power emergencies. Furthermore, both AERO 16 OLED and AERO 14 OLED support the new gen DDR5/LPDDR5's RAM and PCIe Gen4 SSD, accelerating the file reading and writing speed and overall performance. They can support up to three 4K display outputs, come with a microSD card reader to support UHS-II transmission, and have an FHD 1080p webcam that supports Windows Hello facial recognition login and the TPM 2.0 Safety function. While fascinated by the outstanding performance, information security is also guaranteed.
The AERO Creator Laptop series detail information, please visit the official website: https://www.gigabyte.com/Laptop#AERO-series
Giga Computing (a GIGABYTE subsidiary) is an industry leader in high-performance servers, server motherboards, and workstations, is presenting next gen GIGABYTE server hardware and technology that unleashes greater performance, improves energy efficiency, and is ready for a high level of CPU and GPU compute during the Consumer Electronic Show (CES) 2023. The dedicated enterprise area at the GIGABYTE booth will have themes: advanced cooling, GPU-centric solutions, and next gen servers. Additionally, an AI system software platform demo is at the booth.
The Best, Next Gen Cooling
With the incredible performance gains in processor technology, performance density is on the rise. At CES, GIGABYTE is showing how traditional servers and data centers must adapt and adopt solutions at the GIGABYTE booth. To offer a major leap in energy efficiency, visitors can experience and discuss liquid immersion cooling and direct liquid cooling (DLC) solutions, both of which GIGABYTE has products already in the market. The list of new immersion ready servers continues to expand, just like the addition of the GIGAYBTE TO15-Z40 that is an OCP server compatible with all major immersion tanks. Another cooling option at the booth exists with the GIGABYTE H262-ZL0 that provides rapid heat dissipation from eight powerful CPUs in a 2U chassis, thanks to the server design and DLC technology from CoolIT Systems.
HPC and AI Achieve Incredible New Heights
GPUs have been the talk of the town recently as they can better process vast amounts of data and quickly churn out meaningful insights, more so than CPUs alone. However, the marriage of CPU and GPU technology is paramount. At CES, visitors can see GIGABYTE systems that include G492-PD0 with NVIDIA HGX™ A100 8-GPU and Arm-based CPUs from Ampere Computing; G492-ID0 with the same NVIDIA accelerator but for the x86 platform; and G493-ZB0 that supports dual AMD EPYC™ 9004 series processors and up to eight PCIe Gen5 GPUs. These systems provide a glimpse of what is in the market today, and representatives can share about future servers that are coming for Gen5 GPUs in 2023.
Balanced Compute Performance Solutions
Skewed towards CPU compute performance, fast and abundant storage, and networking, the new dual socket R283-Z96 and R183-Z95 servers at CES are optimally balanced to find a home as an enterprise server or for cloud computing. They are both are built for the recently unveiled AMD EPYC 9004 series processors with up to 96 cores and supporting 12-channel memory.
One Stop AI Solution
A live AI demo by MyelinTek will be at the booth to share a complete software stack for deep learning that system administrators, AI model developers, and service providers are already using. In a GIGABYTE workstation, W771-Z00, built for AMD Ryzen™ Threadripper™ PRO 5000WX and support multiple GPUs, users can realize what is possible with an AI platform that has a user-friendly web interface to manage datasets for training models, schedule training jobs, manage multiple servers, and view hardware usage information.
These solutions are now at the GIGABYTE booth, located in the LVCC North Hall, booth #9119.
To submit a query: Contact Sales
Follow Giga Computing on Twitter: twitter.com/GIGABYTEServer
Follow Giga Computing on Facebook: facebook.com/gigabyteserver
Media contact: liam.quinn@gigacomputing.com