GEIL PC2-6400 DDR2-800 2x1GB
2. Test System - Configuration
In order to test the new PC2-6400 DDR2-800 2x1GB Dual Channel modules, we used our ASUS motherboard, the P5WD2-E Premium, based on the 975X chipset, and an Intel Pentium 4 Extreme Edition 3.73GHz processor. Below are some screenshots from CPU-Z.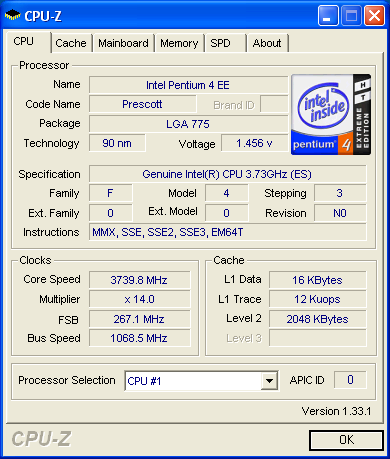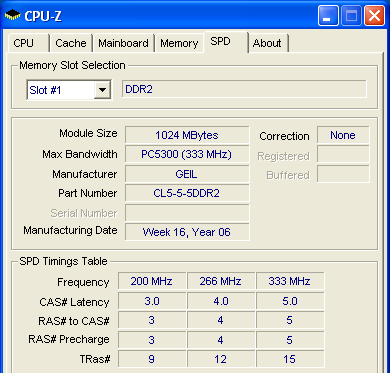 Our first attempts at measuring the performance of the GEIL modules was with the automatic settings from the SPD. This was at 667MHz with CL 5-5-5-15.
We then manually set the memory at its certified speed, 800MHz, with timings of CL 4-4-4-12. This was made without requiring any overclocking since our i975X based motherboard supports up to 800MHz.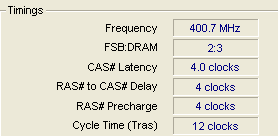 Finally, we tried to find the upper limit of the modules without increasing the timings. With the aid of Memtest86+, we managed to reach 900MHz for the memory. At this point, overclocking our processor was inevitable.
Increasing the FSB from 266 to 300, we reached 4.2GHz for the processor. We also had to increase the CPU and memory voltage.
In the following pages, we will see the differences in performance between the three different settings.
Here's a rundown of our testbed:
System Specifications

CPU: Intel Pentium 4 3.73GHz EE
Cooler: Thermaltake Blue Orb II
Case: none
Motherboard: Asus P5WD2-E Premium
Power supply: Thermaltake PurePower 520W
Memory: GEIL PC2-6400 DDR2-800 2x1GB Dual Channel
VGA: ASUS EAX1600XT Silent
Hard Disk Drive: WD800JD 80GB 7200RPM
OS: Windows XP Pro SP2
Drivers: Catalyst 6.4
DirectX: v9.0c
Benchmarks & Applications used
Memtest86+-1.65
Sisoft Sandra 2005
PcMark05
Performance Test V5.0 ( PassMark)
Half Life 2 - VST
CPU-Z v1.33.1