1. Introduction
The P5WD2-E Premium is a recent release and is the flagship socket 775 motherboard from ASUS, based on the i975X chipset. It has two PCI Express x 16 slots, Crossfire support, while there is a Dual Gigabit LAN and RAID support. High Definition 8-channel audio and eight USB2.0 ports are just some of the board's other features.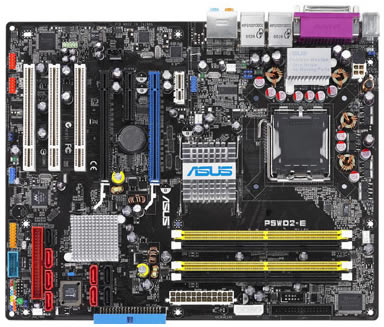 - Features
AI Life Series
AI Life Series motherboards bring lifestyle and personal computing together. To create a peaceful environment, several new and improved innovations are also included to reduce noise and temperature. Don' t change your way of life for a computer. Instead let the ASUS Life Series improve the quality of your life.




Stack Cool 2
Stack Cool 2 is a fan-less and zero-noise cooling solution. It effectively transfers heat generated by the critical components to the other side of the specially designed PCB (printed circuit board) for effective heat dissipation.



AI Quiet
With PCs serving as the entertainment centerpiece and playing a bigger role in our lives, quiet operation is in high demand. No one wants to hear the cooling fan spinning when watching a movie or listening to music. The ASUS AI Quiet function dynamically controls CPU speed and reduces temperature and fan speeds when peace and quiet are what you desire.
SATA on the Go
The motherboard supports the next-generation hard drives based on the Serial ATA (SATA) 3Gb/s storage specification, delivering enhanced scalability and doubling the bus bandwidth for high-speed data retrieval and saves. The external SATA ports located at the back I/O provide smart setup and hot-plug functions. Easily backup photos, videos and other entertainment contents on external devices.

Intel LGA775 Pentium 4 CPU
This motherboard supports the latest Pentium 4 CPU from Intel in LGA775 package. With 1066/ 800/ 533MHz FSB, 1MB L2 cache, Hyper-Threading Technology and core-speeds up to 3.6GHz and beyond, Intel's LGA775 Pentium 4 is one of the fastest desktop processors to date.

Supports Intel® Dual/Single-Core 65nm Processors
This motherboard supports Intel 65nm Pentium D/ Intel Pentium 4/ Celeron processors. ASUS motherboard is the ideal solution to enhance the performance of new generation processors.
Intel 975X chipset
The Intel 975X is the latest chipset designed to support maximum 8GB dual-channel DDR2 667/533 architecture, 1066/800 FSB (front-side-bus), PCI Express x16 graphics and dual-core CPU. Easily build an entertainment PC or create a multimedia environment with its exceptionally high bandwidth. Together with the 4 Serial ATA ports enabled through the SATA 3Gb/s RAID controller integrated in the ICH7R Southbridge, the Intel 975X satisfies multi-task processing and data security.

Intel® MPT (Intel® Memory Pipeline Technology)
The Intel® Memory Pipeline Technology (Intel MPT) delivers additional system-level performance by optimizing memory access between CPU and system memory, and allows increased performance at standard operating specifications.

ATI CrossFire Technology
ATI's CrossFire boosts image quality along with rendering speed, eliminating the need to crank down screen resolutions to get the high image quality you want. CrossFire ignites with the higher antialiasing, anisotropic filtering, shading, and texture settings you desire. Adjust your display configurations, experiment with your advanced 3D settings, and check the effect with a real-time 3D-rendered preview within ATI's Catalyst™ Control Center to rule your CrossFire system.
PCI Express Architecture
PCI Express is the latest I/O interconnect technology that will replace the existing PCI. With a bus bandwidth 4 times higher than that of AGP 8X interface, PCI Express x16 bus performs much better than AGP 8X in applications such as 3D gaming. PCI Express x1 also outperforms PCI interface with its exceptional high bandwidth up to 500MB/s. The high speed PCI Express interface creates new usages on desktop PCs e.g., Gigabit LAN, 1394b, and high-speed RAID systems.
Fanless Design
Cooling fans, though a popular thermal solution, also come with noise and malfunction likelihood. ASUS Motherboard's fanless concept is specifically created to provide a cool environment without all the baggage. ASUS has devoted special efforts to address the thermal issues across the motherboard, and most notably the areas that reside the CPU, power, Northbridge and Southbridge. The heat sinks and strategic board layout are tailor made to dissipate heat in the most efficient manner. With the addition of Stack Cool 2, users can even overclock without a noisy, bulky fan.

Native DDR2 800 Support
To attain top performance, ASUS engineers successfully unleashed the true potential of DDR2 memory. Native DDR2 800 maximizes system performance by eliminating the bottleneck when overclocking both the CPU and memory, providing great performance for 3D graphics and other memory demanding applications.
ASUS Hyper Path3
Data transfers within the system are made possible by various mechanisms that synchronize the sending and receiving of commends among components. Unfortunately, these mechanisms cause data transfer delays known as latency time. This unique feature significantly shortens latency time during data transfers, allowing users to experience the real power of their computers.

AI NOS
Applications such as 3D games and video editing demand a huge chunk of system resource.
Inject ""nitrous oxide"" into your CPU! The patented AI NOS™(Non-delay Overclocking System) technology intelligently detects system load and automatically boosts performance for the most demanding tasks. Unlike other dynamic overclocking techniques, AI NOS™ reacts much faster to satisfy your unending need for speeds .

PEG Link
This latest technology, PEG (PCI Express Graphics) Link Mode, is a unique feature that enables users to boost graphics card performance for superior video quality.
PEG Link allows users to raise GPU and VGA memory throughput via the motherboard BIOS the same way system bus and memory bus are tweaked. PEG Link Mode enables powerful video performance on DX8 and DX9 applications. ASUS engineers carefully fine-tuned the parameters for every single PCI-Express card to provide system stability during high-speed graphics operation.


Precision Tweaker
Precision Tweaker is designed for serious overclockers. It offers ways to raise system performance inch-by-inch and step-by-step to achieve maximum performance! This is about getting the most out of your machine, and taking pride in your customized computer. Precision Tweaker provides overclocking options for all major parts of the system: CPU, Memory, PCI-Express, and Front Side Bus.

- vDIMM
Take control of how much power is going into the emory modules. ASUS gives you 12-step voltage control to the DIMM
- vCore
Find out ""exactly"" how much power your CPU needs. Fine-tune it with 0.0125 volts at a time!
- PCI-Express x16 Frequency
Explore the frequency options of your PCI-Express x16 graphics card
- SFS
SFS (Stepless Frequency Selection) allow FSB tuning from 100MHz up to 450MHz at 1MHz increments.
Dolby Master Studio
A person who truly knows good entertainment appreciates good acoustic presence. AI Life Series motherboards offer 8-channel audio output and sound spec higher than that of DVD. Enjoy true home theatre experience with the supreme Dolby Master Studio and hear your movies in 7.1 surround sound. With the P5WD2-E Premium, appreciate the quality of sound, and indulge your sense of hearing.
- Dolby Prologic IIx -Dolby Digital EX
- Dolby Headphone -Dolby Virtual speaker
- Dolby Digital Live

Dual Gigabit LAN
The integrated dual Gigabit LAN design allows a PC to serve as a network gateway for managing traffic between two separate networks. This capability ensures rapid transfer of data from WAN to LAN without any added arbitration or latency. No more bottleneck to handle large amounts of data such as video, audio, and voice.
IEEE 1394a
IEEE 1394a interface provides high speed digital interface for audio / video appliances such as digital television, digital video camcorders, storage peripherals & other PC portable devices.
Compliance with the RoHS Directive
The motherboard and its packaging comply with the European Union's Restriction on the use of Hazardous Substances (RoHS). This is in line with the ASUS vision of creating environment-friendly and recyclable products and packaging to safeguard consumers' health while minimizing the impact on the environment.
S/PDIF-out on Back I/O Port
This motherboard provides convenient connectivity to external home theater audio systems via an optical or coaxial S/PDIF-out (SONY-PHILIPS Digital Interface) jack. It allows to transfer digital audio without converting to analog format and keeps the best signal quality.
WinDVD Suite
ASUS motherboards, intensifying leadership in the IT industry, now bundle the versatile InterVideo WinDVD Suite. This multifaceted software set includes the latest multimedia software, bringing forth the multimedia features of ASUS motherboards to the best! (OEM version)
The specifications are listed in the table below:
CPU
LGA775 socket for Intel® Pentium 4/Celeron CPU
Support Intel Pentium® Processor Extreme Edition & Intel Pentium® D Processor
Support Intel next generation 65nm CPU
Compatible with Intel® 05B/ 05A and 04B/04A processors
Intel® Hyper-Threading Technology ready
Chipset
Intel® 975X
Intel® ICH7R
Front Side Bus
1066/ 800/ 533 MHz
Memory
Dual channel memory architecture
4 x 240-pin DIMM sockets support max. 8GB DDR2 800/ 667/ 533 ECC and non-ECC memory
Native DDR2 800 Support
Intel® MPT (Intel® Memory Pipeline Technology)
ASUS Hyper Path3
Expansion Slots
2 x PCI Express x 16 slot for discrete graphics card
1 x Universal PCI-E (max. x2 speed)
1 x PCI Express x 1
3 x PCI
CrossFire
Support ATI CrossFire graphics cards (both @ x8 mode)
Storage/RAID
Intel® ICH7R South Bridge:
*1 x UltraDMA 100/66/33
*4 x Serial ATA 3.0Gb/s with Intel® Matrix Storage Technology with RAID 0, 1, 5, 10 support

Marvell® 88SE6141 SATA/ATA controller
*4 x Serial ATA 3.0Gb/s
(Note: The SATA_RAID4 connector and External SATA port can not be used simultaneously)
*1 x External Serial ATA 3.0Gb/s
*1 x UltraDMA 133/100/66
LAN
Dual Gigabit LAN controllers
*2 x Marvell 88E8053 Gigabit LAN Controller, both featuring AI NET2
Audio
Realtek ALC882M High Definition Audio 8-channel CODEC
Support Multi-streaming, Jack-sensing and Jack-retasking functions
Coaxial, Optical S/PDIF out on back I/O port
Features Dolby® Master Studio technology
IEEE 1394
TI 1394 controller supports 2 x 1394a ports
USB
Max. 8 USB2.0/1.1 ports
ASUS AI Life Features
Stack Cool 2 patented fanless cooling system
"SATA on the Go" External SATA connector
AI Quiet
Overclocking Features
AI NOS™ (Non-delay Overclocking System)
ASUS CPU Lock Free
ASUS PEG Link
Precision Tweaker:
- vDIMM: 12-step DRAM voltage control
- vCore: Adjustable CPU voltage at 0.0125 increment
- SFS (Stepless Frequency Selection): allowing FSB tuning from 100MHz up to 450MHz at 1MHz increment
- PCIe x16 Frequency: allowing PCIe x16 frequency from 90MHz up to 150MHz at 1MHz increment
AI Overclocking (intelligent CPU frequency tuner)
Adjustable FSB/DDR ratio. Fixed PCI/PCIe frequencies.
ASUS AI Booster utility
ASUS C.P.R.(CPU Parameter Recall)
Other ASUS Special Features
CrashFree BIOS 2
Q-Fan2
Multi-language BIOS
MyLogo2
BIOS
8 Mb Flash ROM,AMI BIOS, PnP, DMI2.0, WfM2.0, SM BIOS 2.3, PXE & RPL
Manageability
WOL by PME,WOR by PME, Chassis Intrusion
Back Panel I/O Ports
1 x Parallel
1 x Optical + 1 x Coaxial S/PDIF Output
1 x PS/2 Keyboard
1 x PS/2 Mouse
2 x RJ45
4 x USB 2.0/1.1
1 x External SATA port
8-Channel Audio I/O
Internal I/O Connectors
2 x USB 2.0 connectors supports additional 4 USB 2.0 ports
2 x IDE connector
1 x Floppy disk drive connector
8 x Serial ATA connectors
(Note: The SATA_RAID4 connector and External SATA port can not be used simultaneously)
2 x IEEE1394a connectors
1 x COM connector
1 x GAME/MIDI connector
CPU / 2 x Chassis / Power Fan connectors
Front panel High Definition Audio connector
Chassis Intrusion connector
CD audio-in connector
24-pin ATX Power connector
System panel connector
4-pin ASUS EZ Plug connector
2 x 4-pin EATX12V Power connector
Support CD
Drivers
ASUS PC Probe 2
ASUS LiveUpdate Utility
Anti-virus software (OEM version)
Accessories
InterVideo® WinDVD Suite (OEM version)
1 x IEEE1394a port module
6 x SATA cables
3 x SATA power cable for 6 devices
1 x 2-port USB2.0 / Game module
1 x COM Port module
1 x UltraDMA 133/100/66 cable
1 x IDE cable
1 x FDD cable
1 x I/O Shield
User' s manual
Form Factor
ATX Form Factor, 12"x 9.6"(30.5cm x 24.5cm)