1. Introduction
A few weeks ago, we looked at the LG GSA 5169D, an external multi device, which featured all the latest technologies except for LightScribe. Today, we will be reviewing the LG GSA 2166D, a Super multi drive, which supports all the latest formats including Lightscribe, enabling the end user to further customize his burned CD media.
The drive supports the standard 16X burning speed for both the +R and -R DVD formats, 8X and 6X for DVD+RW and DVD-RW respectively, while the +R DL offered maximum writing speed is 8X and 4X for -R DL.
- Features
• With Lightscribe, disk label printing can be completed in under 20 minutes (530 TPI)
• All formats compatible DVD +R/RW, DVD-R/RW, DVD-RAM
• Dual layer recording enables storage of up to 8.5GB (DVD+R/-R DL)
• USB 2.0 Interface
• Portable, both PC and Mac compatible
• 2MB buffer memory with buffer under run prevention technology
- Specifications
Model
LG GSA-5169D
Colour
Black
Interface type
USB 2.0
LightScribe Label Printing
Printing Time
1070TPI 12cm Entire Disc less than 36 minutes
800TPI 12cm Entire Disc less than 28 minutes
530TPI 12cm Entire Disc less than 20 minutes
Weight (kg)
1285.9g
OS-Compatability
Windows 2000 Professional, XP Home & Prof, ME(Not support LightScribe)
Access time
DVD-RAM
250 ms
DVD-ROM
140/175 ms
CD
120 ms
Buffer Memory
2MB with buffer under run prevention technology
Data transfer rate
CD
Max 7,200KB/s
DVD
Max 22.16 Mbytes/s
Dimensions W x D x H (mm)
160 x 230 x 50
Disc Loading Method
Motorized Tray
Writing Method
DVD-RAM
Random Write
DVD+R
Sequential Recording,Sequential Recording,Random Write
CD-R / RW
Disk-at-Once, Track-at-Once, Session-at-Once, Packet Write
DVD-R
Sequential Recording
DVD-R /RW
Disk-at-Once,Incremental Recording Overwrite
DVD-RW
Sequential Recording
Write Speed
DVD+R
2.4x, 4x CLV, 8x ZCLV, 12x PCAV, 16x CAV
DVD-R
2x, 4x CLV, 8x ZCLV, 12x PCAV, 16x CAV
DVD+RW
2.4x, 4x CLV, 8x ZCLV
DVD-RW
1x, 2x, 4x CLV, 6x ZCLV
DVD-RAM
2x, 3x, 5x CLV(Ver.2.2)
CD-R
16x CLV, 24x ZCLV 32x, 40x,48x CAV
CD-RW
4x, 10x, 16x CLV, 24x, 32x ZCLV
DVD+R DL
2.4x, 4x CLV, 6x, 8x ZCLV
DVD-R DL
4x CLV
Read Speed
CD-ROM
Max 48x
DVD-ROM
Max 16x
Below are the drive's main specs as given by NeroInfoTool, DVDInfoPro and VSO inspector: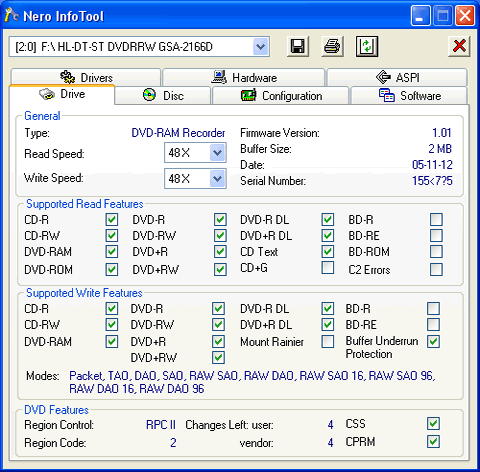 - Retail package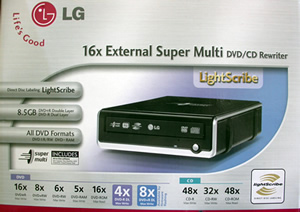 The retail package contains everything that is necessary to set up the drive and use all of its features, including all required software. The package contains:
The External Super Multi drive GSA-2166D
LG DVD Writer Solution CD containing

Nero Express
Nero BackitUp
Nero Cover Designer
InCD
Cyberlink Power Producer Gold
Power DVD
Owner's manual.

a USB 2.0 Cable
a Power Adapter/Cord for the power supply
-The Drive
Simple in design, the LG GSA-2166D comes in one color only, black, as we can see in the pictures below. The front bezel carries the following logos:
SuperMulti
RW DL
LightScribe
DVD Multi Recorder
and of course, LG
On the bottom right are activity LED indicator and the eject button.

On the rear panel, the drive has the USB port and the DC Power Supply connection. As we said, a simple design.
- Installation
The drive was installed under WindowsXP and was recognized as "HL-DT-ST DVDRRW GSA-2166D ". The drive came with the latest available firmware installed (firmware revision 1.01), and as no further firmware releases had been made, we moved straight to the tests.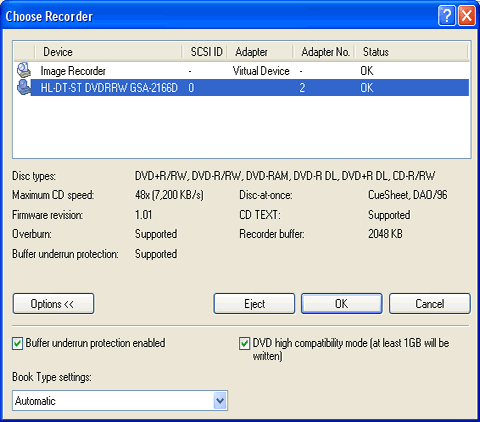 For comparison, we will be posting the results of the 2166D along with the results of the Samsung SE-W164C and LiteOn 1653S external drives.