Foxconn Rattler P67 review (Quantum Force)
6. Final thoughts
The overall design of the Foxconn Rattler P67 motherboard board is very good, and the black and red color-schemes have always been very popular for motherboards yet most of the manufacturers. The board has all of the elements you would expect. SATA 6G, USB3.0, onboard power/reset buttons, CrossfireX support and so on. On the other hand, the available IDE slot is useless unless you are planning to use old HDDs. The IDE slot could be replaced with SATA ports.
Some of the most popular manufacturers - ASUS, ASRock and MSI have all incorporated UEFI BIOS onto their LGA1155 motherboards yet with the Rattler, Foxconn are using a standard BIOS.
Foxconn have also integrated overclock buttons on the actual PCB. These overclock buttons may be useful for amateur overclockers, but in this case are pointless, as they only allow you to adjust the BCLK, which does not offer any serious overclocking. It would have been far better for Foxconn to allow the multiplier to be tweaked via these overclock buttons.
Making some quick tests unveiled that the performance of the Foxconn Rattler should be in par with the already tested Asus Sabertooth. We did not face any serious stability issues, except some blue screens when we used the system monitoring information software. However, the Asus' "smarter" BIOS will automatically overclock the CPU offering higher performance under benchmarks.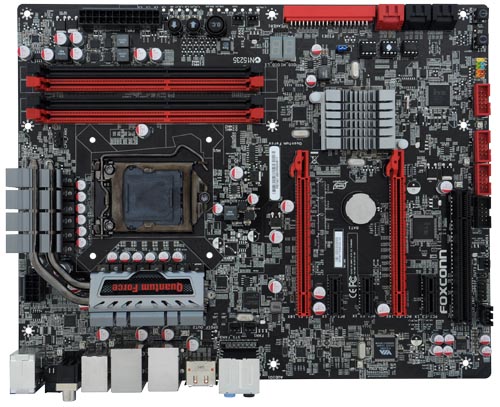 Our biggest disappointment was the fact that the BIOS showed a strange behavior with our retail Intel 2500K CPU, so we couldn't perform any serious overclocking tests. Under the latest BIOS Ver. P04/P05, the CPU Core multiplier was not appearing in the BIOS menu. We hope that this will be fixed with a new bios update.
Overall, we feel that the motherboard has a great potential to become a great P67 platform. However, the BIOS issues cannot be neglected and gives us the feeling of an incomplete motherboard. Available at the same price range of the majority of the P67 motherboards, it is not the best purchase, at least for now. With better implementation of features and BIOS, there is no reason why Rattler cannot be improved.
Positive
Very good build quality
Great design / looks
Components remain really cool with an additional fan installed
Stable operation
SATA2 & SATA3 ports
Two USB3.0 ports at the rear panel
Power & reset buttons on the board
Dual Bios offers the possibility to run two bios and eliminate flashing issues

Negative
Doesn't support XMP memory profiles
Onboard debug LED is useful, but manual doesn't include any explanation
Overclocking seems impossible, at least with our retail Intel i2500k
IDE port could have be removed in favor of additional SATA ports