Foxconn Q9657MC Motherboard
13. Intel GMA3000 chipset Tests
We got the latest available driver pack (14.25) for all tests: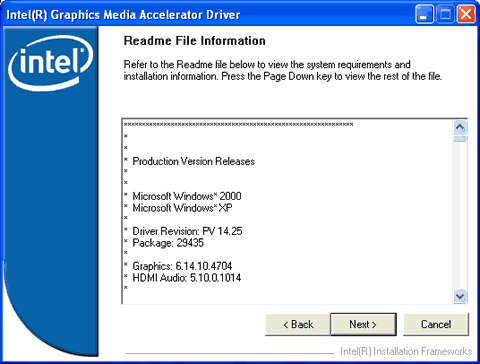 and after rebooting, we checked the display properties:
Both core and memory are clocked at 400MHz:
Intel's control panel has several tabs available: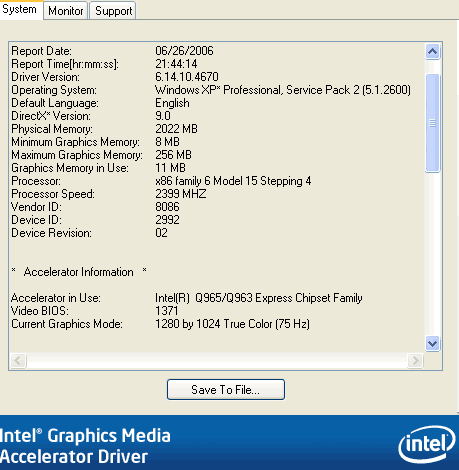 Next, we tried to run several benchmarks to see how the Intel GMA3000 would perform:
In the PCMark05 test, the Intel GMA3000 managed 1653 points. In comparison, the Nvidia 7600GT is around 5142.
In 3DMark 2005, we managed 836 points and in 3DMark06 317 points. Note that on one occasion, the system rebooted, maybe due to stress that the 3D Mark benchmark puts on the graphics chipset.
Prey worked, but only at 5FPS. Changing resolution and quality settings didn't improve performance
F.E.A.R - according to the selected visual improvements, the built-in benchmark gave from 5~25FPS. So if you drop visual quality, the game can be very playable!
NFS Carbon - according to the selected visual improvements, performance can be either bad or good. With medium visual quality, we got 20FPS, a rather high value.
NBA Live 07 - with all visual quality improvements on, the game was very smooth, around 30FPS!
SplinterCell/NeverWinterNights 2 - both games refused to work
.
All game results show improvements over the GMA950 series. A more interesting test would be playback of Mpeg2, Mpeg4 and HD content. We can say from the test results that the CPU % usage as low during most tests:
| | | | |
| --- | --- | --- | --- |
| Player | Mpeg2 | Mpeg4 | WMV 720p |
| Windows Media Player Classic 6.4 | 5% | 6% | 20% |
The Intel GMA3000 chipset seems to be capable of handling even demanding HD content (WMV 720p). With Media Player Classic, we had very low CPU % usage, indicating that even though it's a IGP, users can view Videos at top speed and quality.