3. Bios
The BIOS is from Phoenix: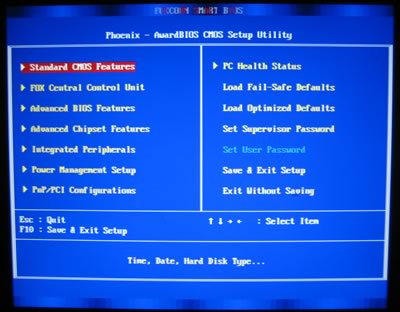 In the "CPU Feature", we can disable SpeedStep and allow overclocking capabilities: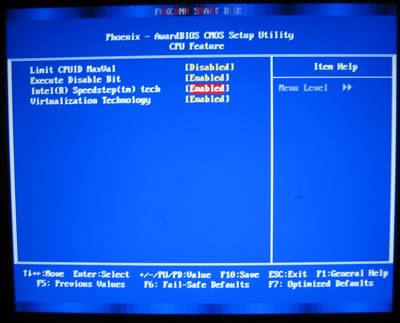 In the "FOX Central Control Unit", we can control all the major functions of the board. For our tests, we will set all functions manually, over-riding the auto settings:
FSB can be range from 266MHz up to 600MHz. We will see later on if this is achievable:
The North Bridge chipset controls DRAM. By default, all settings are at Auto. But users can take control and adjust the memory timings for better performance:
DRAM System Memory Frequency has 4 settings to choose from, SPD to DDR2-800MHz.
Each setting represents a different FSB:RAM ratio, so be careful what you select:
DDR2-533 (1:1)
DDR2-667 (4:5)
DDR2-800 (2:3)
Memory, CPU, FSB, NB, SB and ICH voltages can be set according to the following table.
BIOS Setting
Feature:

CPU Clock Multiplier

CPU bus frequency

266 to 600MHz in 1MHz steps

CPU voltage

Normal to +0.3V in 0.0125V increments

DRAM voltage

Normal, -0.15V to +0.6 in 0.05V increments
(2.4V max)

PCI Express frequency

Locked

i965 MCH voltage

Normal, -0.12V to +0.24V in 0.04V increments

FSB voltage

Normal, -0.09V to +0.18V in 0.03V increments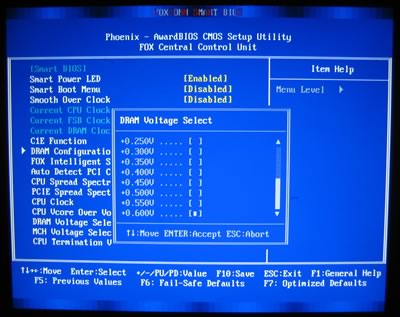 If you overclock the CPU core, here is a suggested configuration:
Hardware monitor is useful to see how hot your CPU runs: