11. Overclocking
The Foxconn P9657AB isn't exactly advertised as an overclocking champion. We were very curious to see how this board would perform with our test setup. There were some problems with overclocking, at least when compared with other overclockable motherboards:
The P965 doesn't support setting the internal CPU multiplier from within the BIOS. This means limited overclocking possibilities, especially with CPUs like the E6600 and higher. There shouldn't be a big problem for E6300 CPUs however.
The P965 doesn't offer many FSB:RAM ratios, besides the "usual" 1:1, 4:5 & 2:3. Asus boards offer up to 1:2, unleashing the DRAM speed, especially with the proper "fast" memory
If an overclocking attempt fails, the system won't reset the memory/FSB settings to default, so in most cases it won't POST. Therefore, you have to clear the CMOS to return to default settings, which is rather inconvenient.
Having taken note of the above, we can now proceed to the actual tests. Without modifying the voltages, we pumped up the FSB to 330MHz and our E6600 reached 2.978GHz. While we could go higher, the system was not stable. In comparison, the P5B Deluxe with the exactly same setup can go up to 350MHz FSB: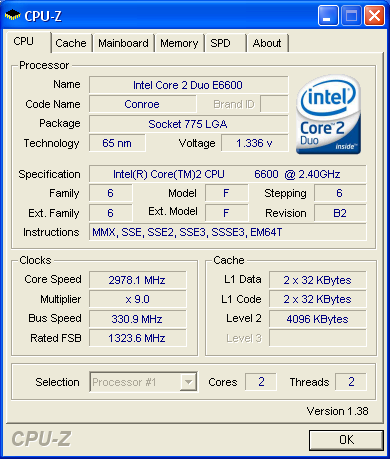 Due to the fact that we cannot lower the internal CPU Multiplier, we couldn't find out how much higher this board could go. We looked all over the net at other reviews and there were indications that the Foxconn P9657AB in most cases could reach ~350MHz FSB. Certainly not the best overclocking board we have tested for the P965 platform.