1. Introduction
- Introduction
Foxconn has a long tradition of releasing quality motherboards with integrated VGA chipsets on board. In this review, we will examine their latest proposal for the AM2 socket, a design with a different approach, based on VIA chipset as opposed to Nvidia/ATI designs.
- Foxconn K8M890M2MA-RS2H
The Foxconn K8M890M2MA-RS2H is based on the VIA K8M890 + VT8237R-plus, which supports AMD Sempron, Athlon 64, Athlon 64FX, Athlon 64X2 processors for Socket AM2. It features 2000 MT/s HyperTransport FSB and Dual channel DDR2 800/667 x2 DIMMs (max 2GB).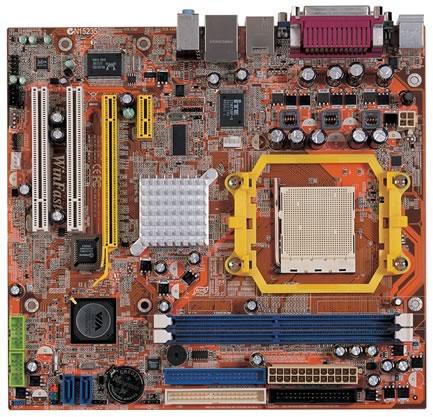 - Main features
Size: mATX form factor - 9.6" x 8.8"
Microprocessor: Supports socket AM2 for AMD Athlon TM 64 FX / Athlon 64 X2 Dual-Core / AthlonTM 64/ Sempron processors
Supports HyperTransport up to 2000MT/s
Chipset: VIA K8M890 (North Bridge) + VT8237R Plus/VT8237A (South Bridge)
System Memory: Two 240-pin DDRII slots, Supports Dual Channel DDRII 800/667/533 memory up to 2GB
Eight USB 2.0 Ports
Onboard Serial ATA supports two SATA devices with RAID 0, 1,0+1 and JBOD
Onboard LAN supports 10/100/ Mbit/sec Ethernet
Onboard Audio (5.1), AC'97 2.3 compliant, supports SPDIF output
Two PCI slots, 1x PCI Express 16X slot and 1x PCI Express 1X slot
Green Function: Supports ACPI, S0, S1, S3, S4 and S5
PCI 2.3 Specification Compliant
Supports PC Health function (capable of monitoring system voltage, CPU temperature, system temperature and fan speed)
- VIA K8M890
The VIA K8M890 chipset has an Integrated Graphics Processor (IGP) and PCI Express connectivity. VIA K8M890 delivers DirectX 9 graphics support with hardware pixel shaders to meet the requirements of the upcoming Windows Vista operating system, and rising high definition video requirements. Integrating support for the latest PCI Express graphics cards and high speed peripheral devices, the VIA K8M890 supports the full range of AMD Athlon64 and AMD Sempron processors.
At the core of the VIA K8M890 North Bridge lies the all new VIA Chrome9 IGP, delivering a rich visual experience through the implementation of innovative features such a 128 bit 2D/3D engine with dual pixel pipeline. The K8M890 also features extensive display support for all HDTV output formats including 1920x1080p and additional advanced graphics capabilities include the Chromotion Video Display Engine, comprehensive de-interlace support, and DuoView for enhanced productivity and presentation capabilities. The K8M890's highly flexible architecture also allows for an external PCI Express x16 port for optional graphic card upgrades.

The VIA K8M890 integrates VIA's Hyper8 technology supporting a 1GHz/16-bit (upstream and downstream) HyperTransport processor-to-chipset link, that delivers up to 8GB/s of bandwidth to help ensure all AMD64 processor-based systems achieve their full performance potential. The VIA K8M890 benefits from VIA's unique V-MAP (VIA Modular Architecture Platform) architecture that facilitates faster product development and speeds up time to market, and features the high-throughput Ultra V-Link interconnect running at speeds of up to 1GB/s between the North and South Bridge.
North Bridge
Processor Support
AMD Athlon64 & AMD Sempron Single/Dual Processor Support
Front Side Bus
1GHz/16-bit (Upstream & Downstream) HyperTransport Bus Link
Graphics / Video
Integrated VIA Chrome9 IGP

DirectX 9.0 engine
Pixel Shader 2.0
Dual pixel pipelines
128-bit 2D/3D engine
250MHz engine clock speed
Optional external PCI Express x16 interface
- VT8237R Plus South Bridge
The VIA VT8237R has been designed from the ground up to meet the increasing demands of today's software while providing all the necessary headroom for the data-intensive applications of tomorrow. Previously confined to niche enterprise and enthusiast segments, the VT8237R brings to the mainstream for the first time the latest high performance storage technologies, Serial ATA and RAID, as well as a host of connectivity features such as USB 2.0 and 10/100 Mbps Fast Ethernet, as well as the Ultra V-Link chipset interconnect with over 1GB/s of bandwidth.
The VIA VT8237R comprises four distinct application segments: the new VIA DriveStation Controller Suite with the first native support for Serial ATA RAID, the VIA Advanced Connectivity Suite that includes support for eight USB 2.0 ports, the VIA Vinyl Multi-channel Audio Suite for superlative onboard sound, and the VIA Modular Architecture Platform (V-MAP) providing maximum flexibility to motherboard manufacturers. As PC audio becomes an increasingly crucial factor in purchase decisions, the VT8237R provides support for the VIA Vinyl Multi-channel Audio Suite, delivering a platform solution to enable the highest levels of onboard audio performance. Enabling six-channel and the only 8-channel onboard solution, with support for 24/96 resolutions, the VT8237R with VIA Vinyl Audio delivers a full featured, rich, warm audio experience.
- Full specifications
Processor:

AMD Sempron, Athlon 64, Athlon 64FX, Athlon 64X2 processors,
Socket AM2

Chipset:

VIA K8M890 + VT8237R-plus

Front Side Bus:

2000 MT/s HyperTransport

Memory:

Dual channel DDR2 800 / 667 x2 DIMMs, Max 2GB

VGA on Die:

Integrated

Expansion Slots:

1 X PCIe x16, 1 x PCIe x1, 2 x PCI

IDE:

ATA 133 x 2

Serial ATA(SATA)/RAID:

Serial ATA x 2 with RAID 0, 1,JBOD

Audio:

5.1 channel, Realtek ALC653 (AC'97)

LAN:

10/100 M LAN, Realtek RTL8100C

IEEE1394:

N/A

Back Panel I/O Ports:

1 x PS/2 keyboard
1 x PS/2 mouse
1 x parallel
1 x VGA
4 x USB 2.0
1 x RJ45
1 set 5.1 channel Audio jacks (3 jacks)
1 x Serial Port

Internal I/O Connectors:

x USB 2.0 headers, support 4 ports
1 x front audio header
1 x RM
1 x IrDA header
1 x CD IN
1 x AUX IN (reserve)
1 x COM2 header
1 x speaker
1 x Front panel
1 x SPDIF out header
1 x Buzzer

BIOS Features:

LPC-4Mb, ACPI 1.0b, APM 1.2, PnP 1.0a, SMBIOS 2.3, USB 2.0, WfM 2.0

Support CD:

Drivers, Super Utilities, DirectX, Adobe Reader, Norton Internet Security, Manual & Raid Manual, Wordperfect

Standards/Manageability:

P USB 2.0, WfM 2.0, DMI 2.0, WOL by PME, LPC 1.1 Interface

Special Features:

CnQ, HDA, SuperRecovery, SuperBoot, SuperBIOS-Protect, SuperSpeed, SuperStep, SuperLogo, SuperUpdate, Humanity Technology

Form Factor:

Micro ATX (9.6" x8.8")