9. VIA Chrome9 IGP chipset
- VIA Chrome9 IGP chipset
This is the first time we have laid our hands on a motherboard with VIA's Chrom9 IGP chipset. After reading VIA's press release, I was very curious as to how well the inter grated chipset would perform, since it is known that its capabilities are rather limited. After removing the MSI 7600GT graphics card, we set the shared memory size to 128MB and used Everest Ultimate 2006 to check the specifications.
As we can see, the Chrome9 IGP has 250MHz GPU and 350MHz Ram clocks. We installed the latest available driver pack, and after a reboot we checked display properties: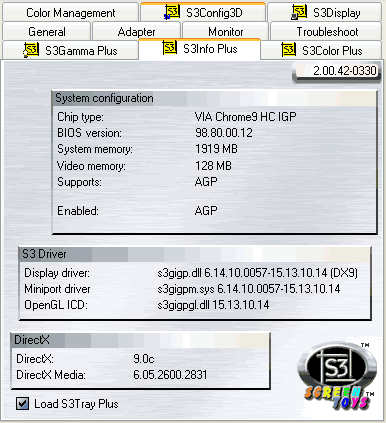 Next, we tried to run several benchmarks to see how VIA's Chrome9 IGP would perform. Unfortunately, most of the tests refused to run or worked very slowly. For example, Prey worked at a low 2.5 FPS, while NBA Live 07 with low visual quality settings, couldn't manage more than 15FPS. To give you an idea, in comparison Intel's GMA 950 had 10 and 30FPS respectively in both tests. So, don't expect much from VIA's Chrome9 IGP, at least in gaming.
Next, we were curious as to how the IGP would perform when playing back Mpeg2, Mpeg4 and HD content. We can say from the test results, that the CPU % was low in most tests:
| | | | |
| --- | --- | --- | --- |
| Player | Mpeg2 | Mpeg4 | WMV 720p |
| Windows Media Player 10 | 10% | 22% | 20% |
| Windows Media Player Classic 6.4 | 8% | 19% | 24% |
The most "difficult" test was playback of a WMV 720p file. The highest CPU % we saw was ~24% from MPC (Media Player Classic), whereas Windows Media Player had somewhat lower CPU%. In any case, this motherboard can be used to playback HD content, even with the integrated VGA card.