2. Package
For our testing purposes, Evermore sent us the retail package that includes:
The DL-200BT GPS receiver
A cigarette lighter adaptor (with USB output)
An AC/DC adapter
A mini USB cable (for charging from the PC)
A Li-Ion battery
A CD with manual and test software
The current price of the product is around US$147.00, as found around the net.
The DL-200BT is almost twice the size of the Globalsat BT-338.
On the front, there are several LEDs (explained later on) indicating among other things, GPS status. At left, there is an antenna MMCX jack, while on the right, the on/off switch, an AC/DC jack and a mini din 6 pin port (used to connect with USB interface, however this cable is not provided in the retail package)...
The Li-Ion battery is rated at 1100mAh 3.7V:
The external dimensions are 98x47x31mm with a weight of 95gr. There are four leds, with the following blinking behaviour: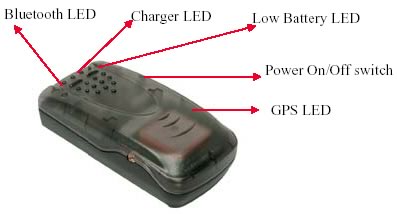 Something else included in the package, is an anti-slide rubber mat. You can put the mat on your car dashboard, to help keep the device from sliding about. However, from our experience, and we've seen this with other devices that have had the same mat, at least in our BWM 320, the device was more stable without the mat. Again it depends upon where you plan installing it.