LG Optimus G LTE Smartphone Shipping Next Month
Today LG has officially announced the launch of the Optimus G, the company's new flagship quad-core smartphone with features such as a voice-activated camera. LG's handset business, which was slow to move into smartphones and has largely failed to win consumers from sector leaders Apple and Samsung, hopes the new 'Optimus G' will help it compete against Google's Motorola, HTC and ZTE and Huawei.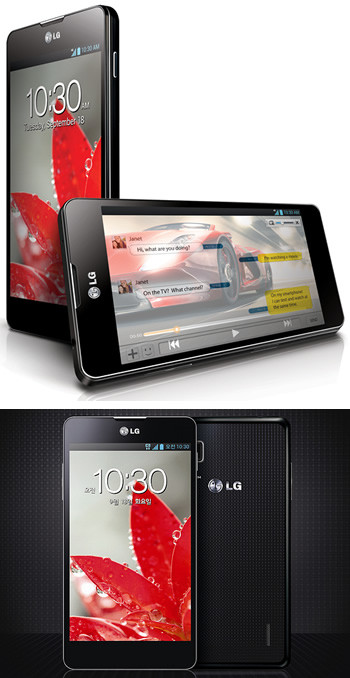 LG's Optimus G, which uses Google's Android platform, will go on sale next week in South Korea for 1 million won ($900), and later in Japan and the United States.
The Optimus G is powered by the Snapdragon S4 Pro quad-core processor (1.5GHz Quad-Core Krait) and packs technologies for enhanced viewing and longer battery life. The new battery from LG Chem has a longer life of 800 cycles, an improvement over existing mobile phone batteries.
LG has also designed the device with attention to detail and design. The phone features a completely black body with a patented the Crystal Reflection finish, which is applied to the back of the Optimus G for a luxurious look. Crystal Reflection gives the Optimus G's back cover the ability to display different patterns depending on the viewing angle and lighting. Laser cutting also gives the Optimus G a clean finish with metallic highlights.
LG says that the new phone doesn?t only enable multi-tasking but "cross-tasking" of activities without limitations. If multi-tasking applies to running various applications at the same time, cross-tasking applies to complex tasks that can be completed simultaneously without having to compromise other tasks. Some new features that will be included into the Optimus G are:
- QSlide Function shows two different screens simultaneously on one display. As it doesn't just show a part of the screen but the entire screen of both functions, the user can complete two tasks concurrently - such as sending a text message or searching the web while watching a video;
- With Live Zooming, users can zoom in up to five times while the video is being streamed for a close-up of one?s child while watching a recorded video from a school recital;
- Dual Screen Dual Play not only allows mirroring between the smartphone and a TV, it also has the ability to display different content on each screen wirelessly. For example, a slide presentation can be displayed on the TV while the Optimus G shows the accompanying speaking notes;
- QuickMemo allows users to write, draw, or jot a memo with their finger directly on the captured screen for sharing instantly with others as an attachment or a URL. The QuickMemo can also be used as an overlay feature - like jotting down a number using the QuickMemo and directly dialing the number while the number is on the top layer;
- Screen Zooming allows for the zooming in and out of lists in music player, email, text messages and photo gallery. It also offers the ability to change the font size and screen layout;
- Application Link launches preset applications (email, calendar, weather, etc.) when the alarm is turned off - making preparation time in the morning go a little faster with all the information on your screen;
- Icon Personalizer allows users the ability to customize icons by editing size and adding images so the most frequently used apps can be most easily accessible.
In addition, the phone is utilizing a 13MP camera with features such as automatic shutter speed adjustment; Time Catch Shot enables users to choose the best among various shots taken before the shutter button is pressed; Cheese Shutter takes photos with voice activation command; Low Light Shot Noise Reduction employs a light monitoring system and activates when the camera is used in a low-light situation.
The phone has a 4.7-inch screen (1280 x 768 pixels) with a sharper picture quality than both the iPhone and Samsung's Galaxy S III. behind the development of the screen are display technologies such as the Zerogap Touch and True HD IPSPlus Display from LG Innotek.
Park Jong-seok, president of LG's mobile business, told reporters that LG was not considering using different operating systems such as Microsoft's Windows for its phones.
Key Specifications:
- Chipset: Qualcomm Snapdragon S4 Pro processor with 1.5GHz Quad-Core Krait CPUs and LTE
- Operating System: Android 4.0 Ice Cream Sandwich
- Network: 2G / 3G / LTE
-Display: 4.7-inch WXGA True HD IPSPlus (1280 x 768 pixels) / 15:9 ratio
- Memory: 32GB
- RAM: 2GB DDR
- Camera: 13.0MP or 8.0MP rear / 1.3MP front
- Battery: 2,100mAh (570Wh/L) / Talk time: 15 hours / Standby: 335 hours
- Size: 131.9 x 68.9 x 8.45mm
- Weight: 145g
- Other: Bluetooth 4.0, Wi-Fi, USB2.0 HS, A-GPS, MHL and DLNA, NFC