5. Final words
The Evercool HPK-10025EA is a product aims at HTPC users, aka cases with small height and increased demand for efficient heat dissipation. The product is possibly the most compact CPU cooler we have ever tested in our labs. It packs an 100mm fan at the top and H.D.T. design for the base, which is also met in many other CPU coolers. Pairing this product with an Intel Core i7-920 gave us a good overview of the product's features.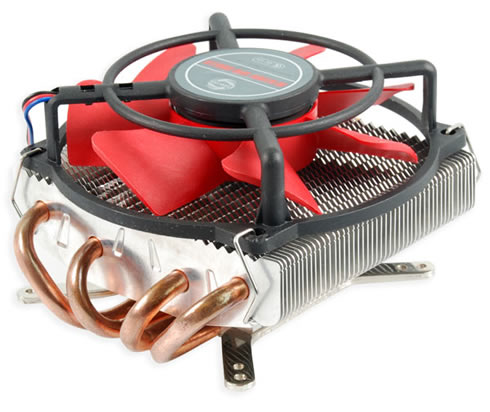 Let's summarize the facts:
According to our tests, the Evercool HPK-10025EA lowered the temperature of the Core i7-920 by 8 degrees Celsius compared to Intel's stock solution, especially under overclocking. When the CPU was running at stock voltages, the cooler was lowered the temperature of the CPU by just 2 degrees C.
At full RPM., the noise we measured was 48dB, which is noisier than what the Intel stock fan.
The retail price ( ~$25) of the product reflects its target group. We have to do with one of the cheapest cpu coolers you can buy for the iNtel Core i7 platform.
Overall, the Evercool HPK-10025EA is a decent product that will lower the temperature of your processor compared with the CPU bundled with your Core i7 processor. The cooler will do a nice job under overclocking too. But its main advantage is its small dimensions, which make it ideal for HTPC users.
| | |
| --- | --- |
| Retail package | |
| Design | |
| Motherboard compatibility | |
| Installation time | |
| Copper Base quality | |
Pros:
+ Good retail package
+ Works Intel LGA1366/775 platforms
+ Low retail price
+ Will lower the temperatures of your processor compared with the stock cooler
+ Good noise level when fan is operating at low speed
Cons:
- Doesn't support AMD platform
- Relatively low cooling efficiency when Core i7 runs at stock voltages