3. LiteOn SOHD-167T
DVD-ROM Roundup Vol.4 - Page 3
LiteOn SOHD-167T
The SOHD-167T is the latest internal half-height DVD-ROM from LiteON. The drive supports 16X DVD-ROM and 48X CD-ROM reading speeds.
- Specifications
LiteOn

SOHD-167T

Interface

ATAPI - E/IDE

Read Speed

DVD-ROM: 16X Max (21,350KB/sec)
CD-ROM: 48X Max (7,200KB/sec)

Access Time

DVD: 105ms ( typical )
CD: 95ms ( typical )

Supported Disc Format

Multi-Read
UDF, all DVD single/dual layer
( PTP, OTP ), DVD-R, DVD-RW, DVD+RW,
CD, CD-R, CD-RW
ISO-9660, all CD-ROM formats both 8cm & 12cm discs

Buffer Size

512KB

Supported Disc Diameter

8cm/12cm

Mount Position

Horizontal/Vertical

Dimensions (W x H x D)

145.8 x 41.3 x 170.0mm

Weight

0.8Kg
The drive uses a 512KB buffer memory and below we can see the supported reading formats. Note that DVD-RAM reading is not supported, but the drive can read DVD+R DL.
DVDInfoPro gives us some additional details about the drive's capabilities as well:
The drive's model name, SOHD-167T, is coded according to the SONY Alliance Models ODD Naming Rule:
S: SONY
O: Optical
H: Half-Height Optical Loader
D: DVD-ROM ODD Type
16: Main reading DVD speed
7:
T: ???? Pickup Supplier
Lastly, let's see what additional information KProbe software returns for LiteON based drives:
- The package
The retail box includes the internal drive, one audio cable for the internal connection with the motherboard, mounting screws, quick installation guide and one CD with PowerDVD 5 Software, Manual and DOS driver.
On the front, on the disc tray there are the DVD-ROM and the compact disc logos. The phone jack, sound level control and the activity indicator light are located on the left side, below the disc tray. On the right side there is the eject button.
On the rear panel you can see the analogue and digital outputs (SPDIF), the IDE connection and the power input.

The drive is a half-height internal device, much shorter than the usual CD/DVD recorder, making installation an easy task for PCs with small footprint.
Removing the screws and opening the drive's cover voids the drive's warranty. For reference reasons, we post the following pictures. You can click on the mainboard picture for a higher resolution image: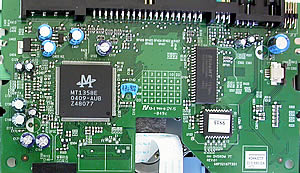 Inside the LiteOn SOHD -167T there are the MT1828E an optical disk controller chip and the MT1816E for the analog signal process both from MediaTek Inc. The board as well as the servo control comes from SONY.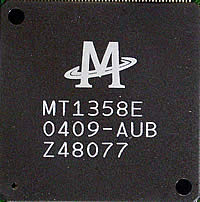 - Installation
The drive was installed as secondary master and WindowsXP recognized it as "LITE-ON DVD SOHD-167T". The drive arrived with firmware v9S13. The main tests has been made with the firmware revision v9S14.
- Testing software
In order to perform our tests we used: