CyberLink Launches PowerDVD 7
CyberLink today launched the latest version of its DVD player software, PowerDVD. The software will be available in both online and in retail versions. There will be two online versions. The Standard version is priced at priced $49.95, the Deluxe version costs $69.95, while an enhancement pack providing optimized H.264 performance for ATI Avivo and NVIDIA PureVideo graphics cards will be available later in the year. Prices for the upgrade are tarting at $19.95, according to Cyberlink.
The two retail versions will be availablein stores for $39.95 (Power DVD 7) and $59.95 (CyberLink PowerDVD 7 Max).
New features for PowerDVD 7 include:
- Integrated support for high-definition H.264 playback
In addition to support for a wide range of video and audio formats and discs, PowerDVD 7 Deluxe pack features integrated support for playback of high-definition MPEG-4 AVC (H.264) video content.
- Five interface modes, new skins and colors
- Say-it-Again - one-click dialog looping
With one click, PowerDVD automatically loops to repeat the last scene: images, soundtrack and subtitles.
- Read-it-Clearly - moveable subtitles
Using a standard-sized monitor, users can select to watch the subtitles of a widescreen (16:9) DVD within the black bars on the top and bottom of their monitor. PowerDVD automatically provides a subtitle location after analyzing the screen size and ratio.
- See-it-All - automatically activated time stretching for when mobile PCs run low on power
See-It-All runs automatically when a notebook is disconnected from AC power, calculating the battery life versus the remaining movie length. The feature users time stretching to gently increase the movie pace by up to 1.25 times the normal speed, helping users catch as much of their movie as possible without giving the feeling of fast-forwarding.
- Power-saving settings for notebooks and an onscreen battery meter
- UPnP media player support and premium content protection
PowerDVD supports access to audio and video files over a UPnP digital home network PowerDVD is compatible with CyberLink MediaServer and other compliant UPnP servers. In addition, the software implements protection standards for premium content?including VCPS and CPRM. These rules, including copy once and copy never, will prevent non-compliant players from accessing protected content.
VCPS is a technology for encrypting video recordings on DVD+R/+RW discs. VCPS enables direct digital recording of "copy-once" content from satellite and cable sources.
The Video Content Protection System (VCPS) allows cable content marked as "copy once" to be burned onto VCPS-enabled DVD+R and DVD+RW optical digital media. The implementation of VCPS in DVD+R/+RW equipment and discs is not mandatory, but equipment and discs without VCPS capability are unable to record or playback digital TV broadcast in the USA that is protected with the Broadcast Flag.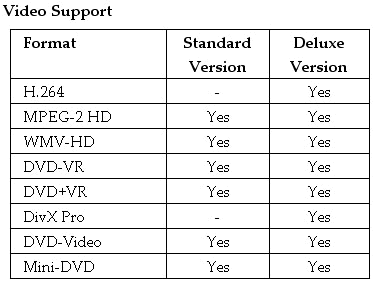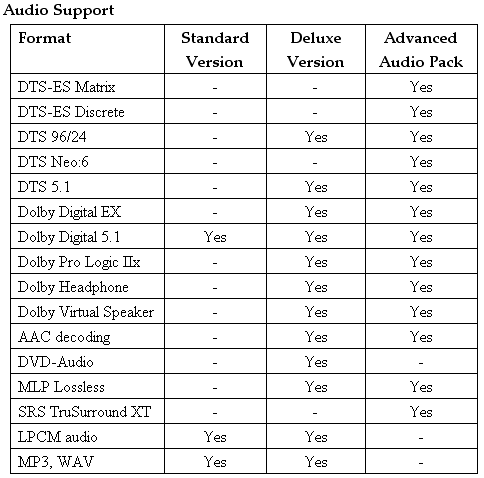 Add-on packs are expected to unlock hidden Hollywood content and will expanding video and audio features. Planned releases for this year are:
- HD DVD Pack - supports playback of HD DVD discs.
- BD Pack - supports the playback of Blu-ray Discs.
- HD264 Pack - optimized for ATI Avivo and NVIDIA PureVideo graphics cards
- InterActual Pack - unlocks features on DVDs containing InterActual content.
- Advanced Audio Pack - provides an upgrade set of Dolby, DTS and SRS formats.