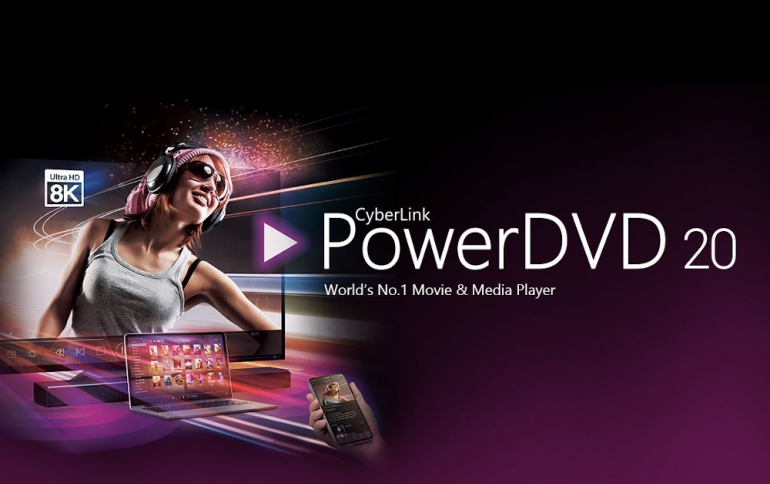 PowerDVD 20 Embraces The Cloud Technology
CyberLink Corp. today announced the release of PowerDVD 20, the latest version of its movie and media playback software.
PowerDVD 20 builds on CyberLink's media technology and integrates a cloud-based viewing and streaming experience for enjoyment of all contents anywhere. At home, users can share content between Wi-Fi connected PCs, TVs and devices. Remotely, they can now upload media to their personal CyberLink Cloud, allowing access to their videos, photos and music on any device, no matter where they are.
By syncing with CyberLink Cloud, PowerDVD 20 offers a cross-device experience. Users can pause media on one device and continue watching on other PCs or mobile devices right where they left off. PowerDVD 20 also extends cross-device integration to friends and family. It is as simple as sharing a link that allows them to view the content on their browser.
CyberLink also announced the release of CyberLink PowerPlayer 365. An all-in-one media player and a personal media server with all the features of PowerDVD 20 – such as casting, YouTube pin, and even support for VR and 360 content. CyberLink PowerPlayer 365 differs only from PowerDVD 20, with the latter extending media playback support to DVD and Blu-ray discs.
In addition to offering a new cross-device playback and sharing features, PowerDVD 20 benefits from a number of new features such as an information and artwork database, and AI-based facial recognition capabilities. And it continues to guarantee audio and video playback for Ultra HD Blu-ray, Blu-ray, and DVD, as well as major file formats and codecs, and 360˚ video. PowerDVD 20 users can also enjoy spatial audio support for 360˚ videos.
PowerDVD 20 is available for purchase from CyberLink's online store.
Version Pricing
PowerDVD 365: US$54.99/12 months
PowerDVD 20 Ultra: US$99.99
PowerDVD 20 Pro: US$79.99
PowerDVD 20 Standard: US$59.99
CyberLink PowerPlayer 365 US$39.99/12 months, US$9.99/ per month