Crucial X8 1TB External SSD review
2. Performance
For our tests, we used CrystalDisk Mark 6 and the ATTO Disk benchmark.
For 1GB files, the Crucial X8 Portable SSD is as almost fast as the Samsung T7, although the Sandisk Extreme Portable Pro SSD is faster.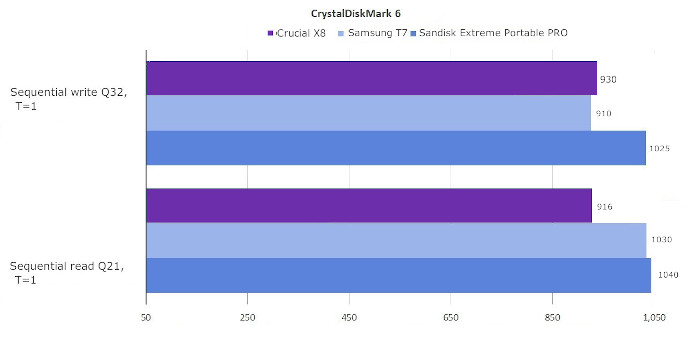 Crucial claims a transfer speed of up to 1050MB/s for both reading and writing. We measured about 930 MB/s for Seq read and 930 MB/s forSeq write, which are pretty close to what we expected. The ATTO benchmark gave a bit slower read speeds at up to 880 MB/s.
However, in the 450GB write test the one test where the X8 Portable SSD fell short:

It seems that real-life performance does not exactly match the synthetic benchmark results. The X8 Portable SSD's 450GB write test pushed the limits of the drive's caching techniques. Most external SSDs maintain at anywhere from 400MBps to 600MBps. The Crucial X8 Portable SSD wrote at almost 600MBps for the first 190GB or so, then it sank to 80MBps for the rest of the test. As a result, it took much longer for Crucial's drive to finish the task, as you see in the above graph.
Again, remember that the Crucial X8 will reach that speeds only when connected through a USB 3.2 or Thunerbolt 3 interface. If you put the X8 into a standard USB 3.0 port (USB 3.1 Gen. 1) you will only be able to achieve a top speed around 480MB/s, reading and writing, hitting the bandwidth limitation of that interface, as you see below: