Crucial Releases Very Affordable BX500 Series of SSDs
The new Crucial BX500 series of SSDs have been offically released, bringing the speed of flash memory to your laptop or desktop computer without the price.
The new entry-level SSDs is available in a 2.5-inch form factor and 120GB, 240GB and 480GB capacities and are using Micron 3D NAND chips. As a SATA III SSD, the drive is not offering ther blazing speeds of NVMe models. You get a sequential performance of up to 540MB/s read and 500MB/s write.
The typical SSD technologies are here as well - multi-step data integrity algorithm, thermal monitoring, SLC write acceleration, active garbage collection, TRIM support, self-monitoring and reporting technology (SMART) and error correction code (ECC).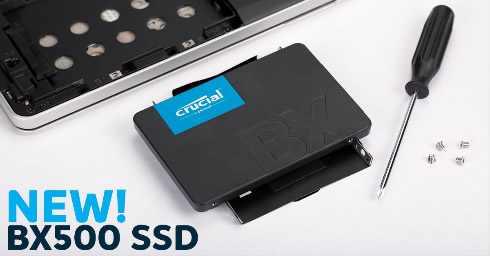 Other features include:
Life Expectancy (MTTF): 1.5 million hours
Endurance:

120GB drive: 40TB Total Bytes Written (TBW), equal to 21GB per day for 5 years
240GB drive: 80TB Total Bytes Written (TBW), equal to 43GB per day for 5 years
480GB drive: 120TB Total Bytes Written (TBW), equal to 65GB per day for 5 years

Thermal Monitoring
SLC Write Acceleration
Limited three-year warranty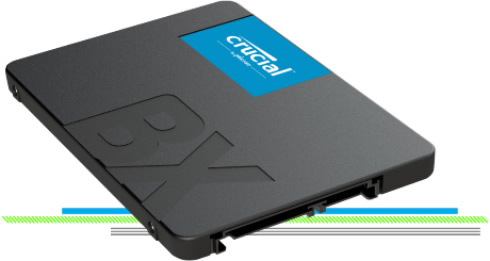 Pricing is surprisingly low; Crucial is quoting $29.99 for the 120 GB model, $49.99 for the 240 GB one and $89.99 for 480 GB worth of BX500 storage. Acronis True Image for Crucial cloning software is also buncled with each SSD.