Crucial Adrenaline 50GB SSD review
2. The package
The drive retails in the package illustrated below. It includes the SSD, a 3.5" bracket mounting bracket, mounting screws, an installation guide and a SATA cable.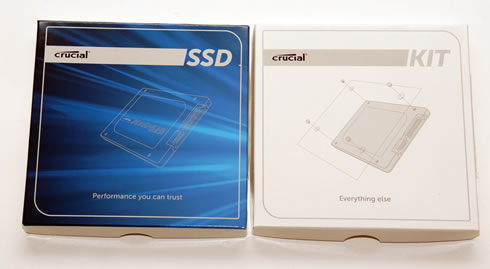 The 50GB Crucial Adrenaline's design is not any different than what we have seen in drives from Crucial and Micron: a simple case with a metallic gray paint covering a metal alloy body.
The front of the Crucial Adrenaline offers the industry-standard SATA power and data connection. Notice that there are no service pins here for firmware flashing modes. All updates are handled through burning an ISO image to a CD and flashing the firmware through low-level operating system.

A label at the bottom side of the drive includes product information as well as a serial number for the DataPlex software, a mandatory install to get things going.
Like all SSDs, the Adrenaline cites very low power consumption figures, at idle it uses less than 100mW and when active consumes just 150mW. The drive also measures 100.5 x 69.85 x 9.50mm and weighs 75 grams.
At the heart of the drive there are a Marvell SATA 6Gb/s controller, 8GB Micron 29F64G08CFACB NAND pieces and the Marvell 88SS9174-BLD2 processor. The NAND chips are placed in both sides of the circuit board.
The drive's physical capacity is therefore 64GB, but some of that is set aside for over-provisioning, leaving the user with an actual cache size of 50GB.
The Adrenaline SSD came with firmware Ver. 0390 installed. We the Crucial SSD Firmware update utility to update the firmware to Ver. 000F: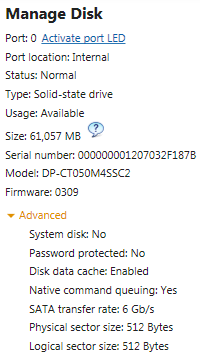 According to Crucial, changes between version 0309 and 000F include the following changes:
Improved compatibility with certain SAS expanders and peripheral RAID cards
Improved stability under extremely heavy workloads
Improved data protection in the event of unexpected, asynchronous power loss