Corsair XMS TWINX1024-3200XL
1. Introduction
Corsair has been one of the biggest memory module manufacturers since 1994. Their XMS product series is designed for the unique demands of the serious enthusiast community. XMS stands for eXtreme Memory Speed. The XMS family includes XMS2, high performance DDR2 modules, XMS Xpert (the first modules with real-time display of parametric data), XMS Pro Series (gaming memory with real-time activity LEDs) and XMS Classic with black or platinum heat spreaders.
In this review, we will be testing the XMS TwinX 1024-3200XL RAM modules, part of the XMS Classic series with black heat spreaders. These DDR memory modules are clocked at 400MHz.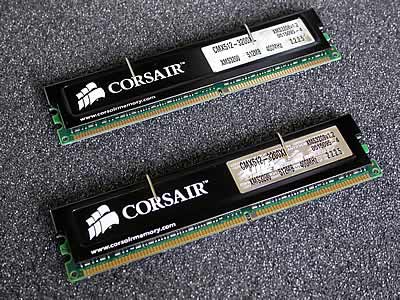 Corsair uses Samsung's K4H560838F memory chipsets for its Memory modules. The K4H560838F is 268,435,456 bits of double data rate synchronous DRAM organized as 4x 8,388,608 / 4x 4,194,304 words by 4/16bits, fabricated with SAMSUNG's high performance CMOS technology. Synchronous features with Data Strobe allow extremely high performance up to 333Mb/s per pin. I/O transactions are possible on both edges of DQS. Range of operating frequencies, programmable burst length and programmable latencies allow the device to be useful for a variety of high performance memory system applications. Below you can see a list of features for these chipsets.
200MHz Clock, 400Mbps data rate
VDD= +2.6V ± 0.10V, VDDQ= +2.6V ± 0.10V
Double-data-rate architecture; two data transfers per clock cycle
Bidirectional data strobe L(U)DQS
Bidirectional data strobe(DQS)
Four banks operation
Differential clock inputs(CK and /CK)
DLL aligns DQ and DQS transition with CK transition
MRS cycle with address key programs
- Read latency 3 (clock) for DDR 400
- Burst length (2, 4, 8)
- Burst type (sequential & interleave)
All inputs except data & DM are sampled at the positive going edge of the system clock(CK)
Data I/O transactions on both edges of data strobe
Edge aligned data output, center aligned data input
LDM, UDM for write masking only (x16)
Auto & Self refresh
7.8µs refresh interval(8K/64ms refresh)
Maximum burst refresh cycle : 8
66pin TSOP II Pb or Pb-Free package(RoHS compliant)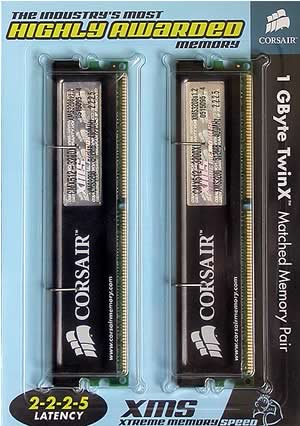 - Specifications
Below you can see the specifications table for the Corsair TwinX 1024-3200XL RAM modules.
| | |
| --- | --- |
| Part Number | TWINX 1024-3200XL |
| Package | 1024MB kit (2x512MB) (dual rank) |
| CAS Latency | 2-2-2-5 |
| Test Voltage | 2.75 V |
| Speed | DDR 400 MHz (PC3200) |
| Type | 184-pin DDR SDRAM |
| Error Checking | Non-ECC |
| Registered/Unbuffered | Unbuffered |
| Heat Spreader | Black Finish Aluminum Heatsinks |
| Manufacturer Warranty | Limited lifetime warranty |
| Quality Control | Two matched modules paired immediately after testing |